When remodeling or installing a kitchen in a mobile home, cabinets are a very big deal. Money, space, style and a host of other issues all need to be considered and balanced to give you the result you want. However, even with limited space, there are many mobile home kitchen cabinet ideas that you can use to turn your kitchen into the sort of space you've always dreamed of.
Ideas to Save Money
Kitchen cabinets don't come cheap. If quality and style are high on your list, your wallet is in for a rough ride.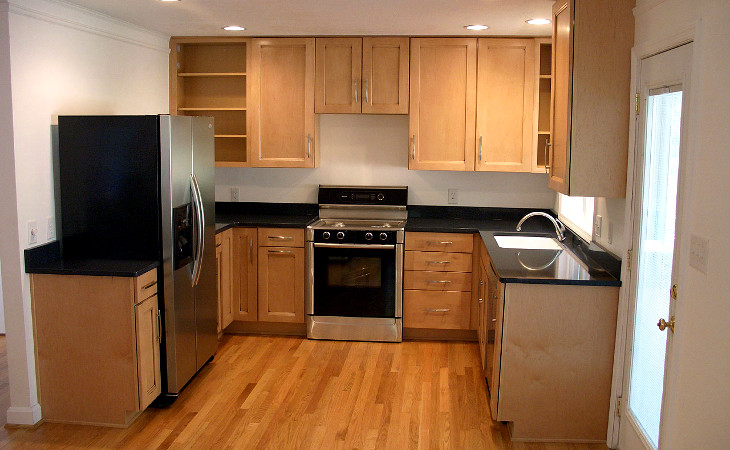 Don't worry though, there are plenty of tricks you can use to get kitchen cabinets that look like they cost thousands of dollars for only a fraction of the amount.
Build the cabinets, buy the doors
How often do you really look at the walls of your cabinets? Probably not that often. The beauty of kitchen cabinets is usually centered on the doors since most of the other parts are normally hidden. Therefore, by building a cabinet that is sturdy and functional but inexpensive and then buying a door with all the right trimmings, you'll get to enjoy the best of both worlds.
The quality of your work may not be as good as something built by a professional, but with the right door, no one will ever notice. Materials such as prefinished plywood make the work even easier since you won't have to spend again on finishing processes like sanding.
The downside is that building your own cabinets requires that you have the necessary tools such as saws and drills. You can buy or rent these tools depending on your future woodworking plans. You'll also need to brush up on your woodworking skills.
Reuse old cabinets
You have to resist the temptation to swing a hammer at your old cabinets no matter how much you hate them. A cabinet may be failing you as a unit, but this doesn't mean the individual pieces are useless.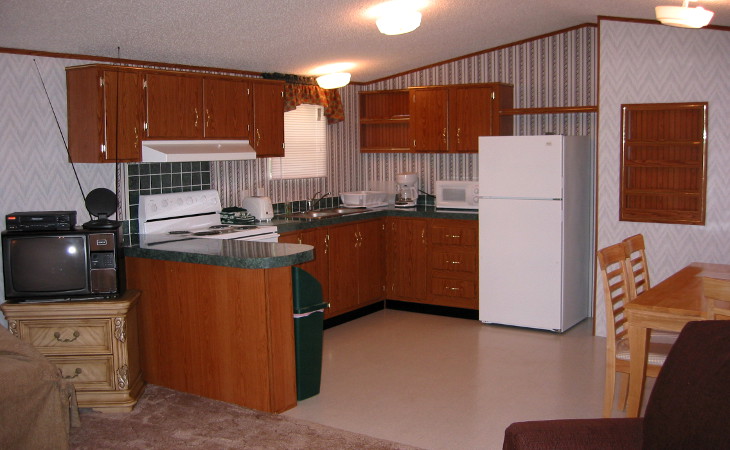 The outer walls of the cabinets are the largest individual pieces and these walls are an excellent example of parts you can recycle. If these can't be used to make walls for the new cabinets you can still cut them into smaller pieces that you can use to make:
Partitions inside the new cabinet
Smaller cabinets
Drawers
Smaller portions of the cabinet walls e.g. the toe kick
It's not just old cabinets that can be recycled when making new cabinets. Old wood and sheet metal are regularly used to add style and flair to ordinary cabinets and remnant granite can give you the granite countertop you've always wanted at a much lower cost.
On the other hand, avoid reusing hinges and other moving parts since these tend to wear with time.
Replace the hardware and repaint the wood
Your cabinets may look like their time is up because they're sagging off the walls or their doors are loose. However, sometimes all it takes to have your cabinets looking and working like they are brand new is a change of hardware. Changing the hinges and handles/knobs and tightening or replacing a few screws may be all you need to have cabinets that function as well as they did in the beginning.
A fresh coat of glossy paint can bring a vast improvement to the appearance of your cabinets too.
Design around the existing utilities
When replacing your cabinets, you may end up spending a fortune on something that has nothing to do with the cabinets i.e. utility lines. If the new layout for your cabinets comes with a change to the layout of the utilities, the job could become a lot more expensive.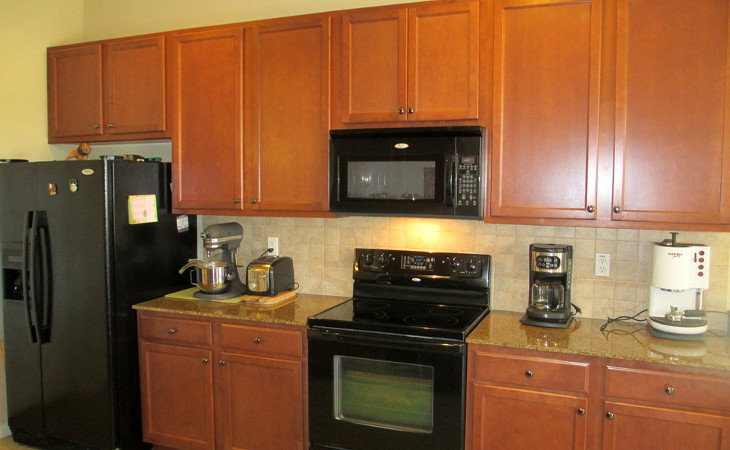 Try implementing designs in which the layout of appliances that use plumbing systems such as dish washers, sinks and gas stoves is the same as the original. Electrical appliances can however be used with a little more flexibility as long as they are never too far from a socket.
Go for fewer details
Small details in the design of your cabinet can raise the cost. Since such details are more of a want than a need, try not to go overboard. Details you should avoid if possible include:
Corbels
Full-extension drawer slides
Soft-close drawers
Crown molding
Decorative legs
Glass door fronts etc.
However, some of these details can add to the resale value of the cabinets. If you think you may resell the cabinets in the not too distant future, you shouldn't do away with the idea of these additions entirely. You could also consider cheaper styling alternatives such as painting or staining.
When saving on cost remember that…
You can save a lot by substituting materials: There are many types of wood to choose from and you don't have to go for the expensive option to get the best in terms of style and functionality. Even pressed wood can last for years if it's of the right quality.
Never sacrifice functionality: Even with the cut backs, your cabinet should still be able to do its job perfectly.
Don't cheap-out on the installation: Installing cabinets involves more than just putting them up against a wall. Poorly installed cabinets can fall off or even damage the wall behind them. Leave the installation to the experts unless you really have to do it by yourself.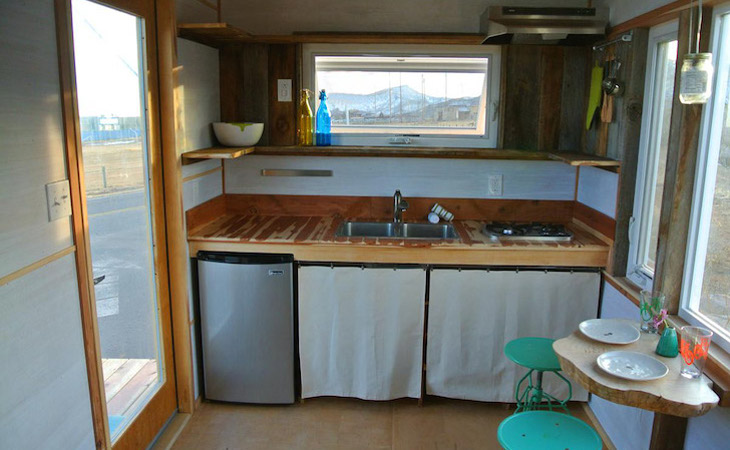 Ideas to Save Space
There's almost no chance you'll ever have too much space inside your mobile home. Trying to make the most of the available space is one of the reasons why there are usually so many cabinets inside the kitchen. Rather than simply putting in more cabinets, there are some clever tricks you can use to create more storage space in your existing cabinets.
Drawer inside another drawer
It's like Inception, but for drawers. Drawers are important when you need to keep your kitchen properly organized. Normally, more drawers means having to build a whole new cabinet. An unconventional approach is to take advantage of the top space in your existing drawers which usually goes to waste.
The trick is to build a drawer that is small enough to fit inside the existing drawers and just like that, you'll have two drawers in one. If there is enough space, you could even put in a tiered drawer. Two approaches you can take for the installation are:
Drawer slides: These work well if you want the new drawer to be permanently in place. Using drawer slides will require a little more work since they have to be attached to the inner walls of the existing drawers.
Shelf pins: Shelf pins can allow your drawer to slide on top of the walls of the existing drawers. This is a quick and easy solution and if you need greater access to the original drawer, removing the smaller drawer is as easy as picking it up.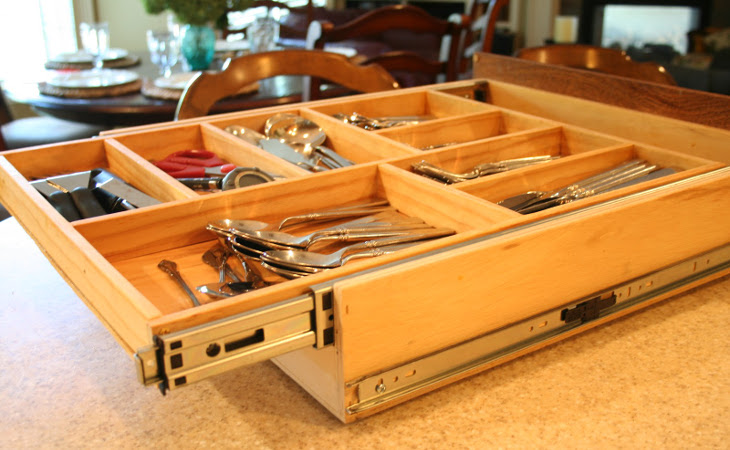 Make greater use of the doors
Doors are some of the most underutilized parts of cabinets. Your cabinet doors can do more than just open and close, they can also hold things. A few examples of how you can get more out of your cabinet doors include:
Adding a rack: A small rack on the inside of the cabinet door can be the solution to many problems. Have you ever wondered how to get your cutting boards out of the way when you're not using them? A door rack for the cabinet underneath the sink will hold a few cutting boards easily and something similar in the upper cabinets makes an excellent spice rack.
Add some hooks: Hooks on the inside of your cabinet doors can be used to hang many items ranging from spoons and measuring cups to food wrappers and garbage bags. To ensure you don't damage the doors, use adhesive hooks or install the hooks on a separate board which you can then glue onto the inside of the cabinet door.
Add a magnetic sheet or a whiteboard: If the kitchen is your center of operations, you obviously have a few odd things lying about such as grocery or to-do lists, car keys, family photos, stickers etc. With a magnetic sheet you can have a simple place where you can keep such things. A whiteboard is also a good addition if you're always writing things down. Just remember that using a magnetic sheet will require some sort of metallic frame for the various items.
Reclaim the space under your sink
Almost anyone who's ever had a sink is guilty of using the space underneath it as the 'anything goes' area. Reclaiming this space is extremely simple and the result is more storage space especially for items you don't normally know what to do with or those you don't want in contact with other things in the kitchen.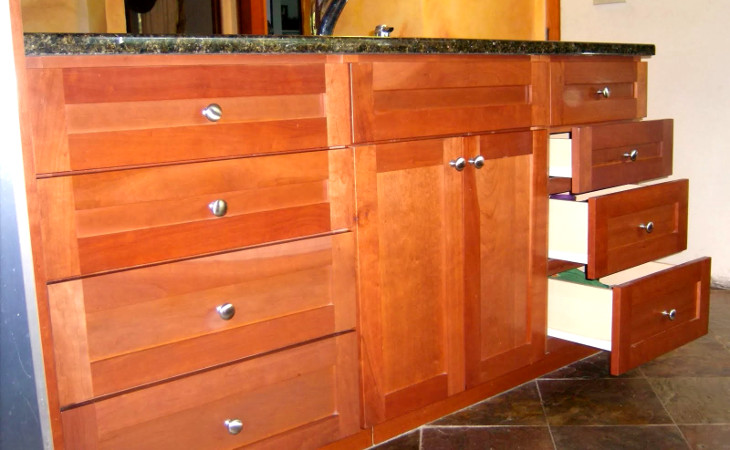 There is a variety of movable shelves, racks and other storage solutions that are purpose built to fit in the space under the sink. Most of these solutions make it easier to organize the items that you put here.
Therefore, you can still use it as the 'anything goes' area but you'll have separate spaces for the different items so they are easier to find when you need them. Some of the items you can store here include:
Cleaning supplies – If you don't like your soaps, brushes, sponges etc. out in the open when they aren't in use, you can conveniently keep them under the sink
Cosmetics and toiletries – Storing your toiletries and cosmetics here is very convenient in case you have limited space in the bathroom(s).
Spare supplies – If you like to shop in bulk, you can store the extra stuff in this space especially cleaning supplies and the like.
Pull-out recycling center
Having your bins out in the open means they're in your way and this can limit the space in which you move around in. Pull-out recycling centers are quickly becoming part and parcel of mobile home kitchens. If your mobile house didn't come with one, it's quite easy to install one.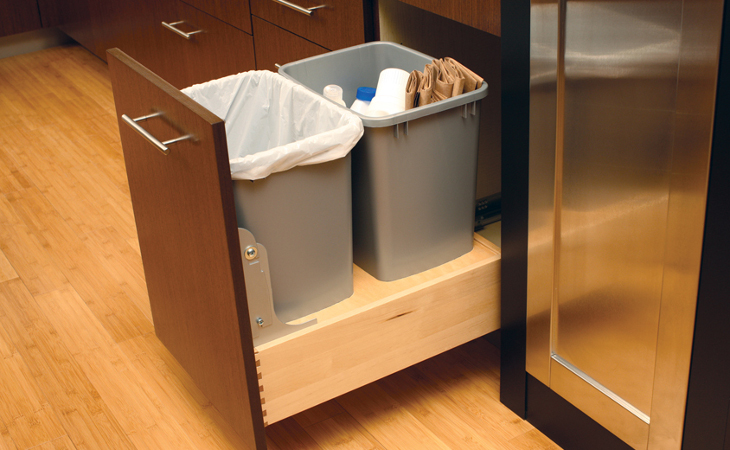 Although there are many top-of-the-line solutions, these can be unnecessarily expensive. A creative solution that works is installing the bins on the inside of cabinet doors. The cabinet under the sink is particularly good for this if you can get bins that fit.
Another solution is installing the bins on drawer slides. Your recycling center will therefore work like a drawer for trash. You can install multiple bins to help in sorting the various types of trash.
Wine glass Racks
A wine glass can be a tricky item to store. They are expensive and delicate, which doesn't bode well for them if they are stored in a space that is accessed frequently. A simple solution is to store them upside down. A rack installed under the cabinet or under the partitions inside the cabinets enables you to store your wine glasses securely without having to create a dedicated space for them.
Ideas to add Convenience
All that standing and moving from one station to the next means the kitchen can be an exhausting place to be in. We've all tried to make things easier for ourselves in the kitchen by adding one or two things, but there's always the issue of having to create more space for them.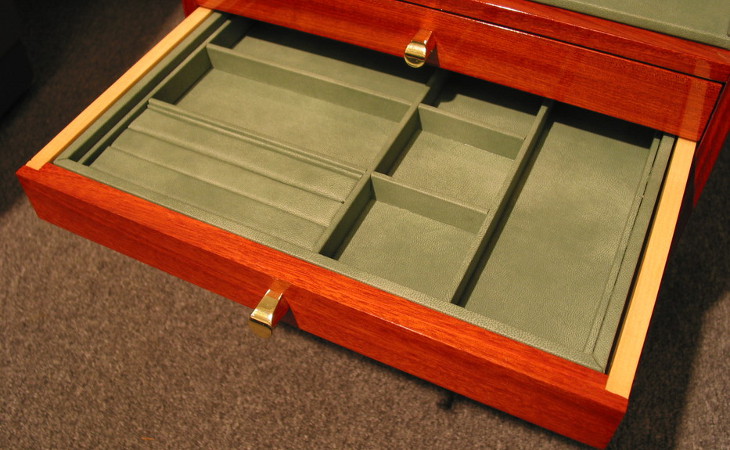 In mobile homes, any addition could mean something new to bang your toes on or having to take some other thing out of the kitchen. There are a few alternative ideas that can make your kitchen a more comfortable space without giving you new challenges.
It's all about the Pullouts
By turning anything into a pullout in the cabinet, you have a convenient way of being able to access it when you need it and being able to keep it out of your way when you need space to move around in the kitchen. A few items you can turn into pull-outs include:
Step stools: A step stool is important if you have short people around the house e.g. kids. This makes it easy for them to access sinks or shelves/cabinets that are out of reach. A pullout step under the sink gives the kids access to the sink when they need to use it. You can also have the step stool locked in place so it can't be moved and used to access other dangerous stations in the kitchen.
Seats: A conventional seat is a problem in most kitchens because it's bound to get in the way at some point. A seat that pulls out from your cabinet is an excellent solution since you can access it when you need to give your feet a break and put it away when you're moving about.
Workbench: Sometimes there's just not enough space to handle all the things you're doing. A simple workbench that pulls out from the cabinet can give you that extra space and even allow someone else to also work in the same kitchen.
There are many items that can be mounted to pull out from the cabinet. However, a pullout usually extends outwards from the cabinet and this can make the whole cabinet unstable, especially if it's not properly mounted on the wall, so don't overdo or overload the pullouts.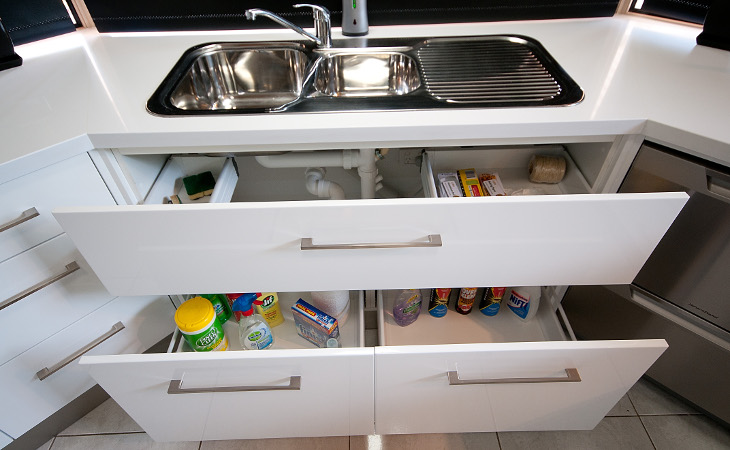 Installing pullouts can also be expensive especially when you ask an expert to do it so don't lose track of your budget.
Convenient power outlets
Having a power outlet at a convenient spot makes it easy to do things such as charge your phone or use one of those electrical appliances that you only use occasionally and don't require a dedicated outlet. Installing a few power outlets at the bottom of your upper cabinets or the side walls is an excellent way of getting extra stations from which you can do certain activities.
Unless you know what you're doing, you should get an electrician to carry out the installation. Running wires through the wrong area could turn a good idea into a bad one.
Under cabinet lighting
Under cabinet lighting is a simple move that makes your kitchen look really cool. More importantly, it also makes it easy to work under the cabinet. The area under the cabinet may not be well lit by the overhead lights due to shadows.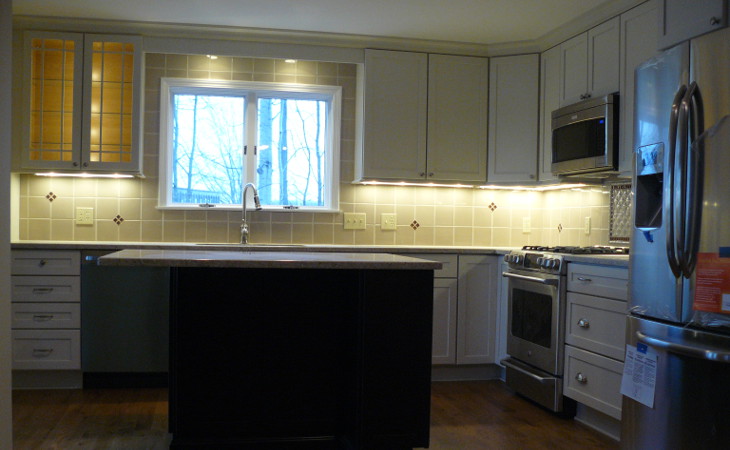 A few LED lights under the cabinet will solve this problem well enough. What makes this idea particularly cool is the fact that LED lights are:
Cheap
Bright
Easy to install
Low-power consumers
Flexible i.e. Available in many styles, designs and colors
Replace a bottom Cabinet with a rolling cart
Instead of having a permanently fixed bottom cabinet, you could make one that's movable. A movable cabinet can be useful in a few ways:
Moveable storage: If you need extra storage in another room, you could always borrow this cabinet.
Extra workspace: A moveable cabinet with the right countertop can create more workspace when you need it. The fact that it's moveable means you can even use it outside such as when you have a barbeque.
Food trolley: It has wheels and space on top. That's all you need to get food from the kitchen to another room.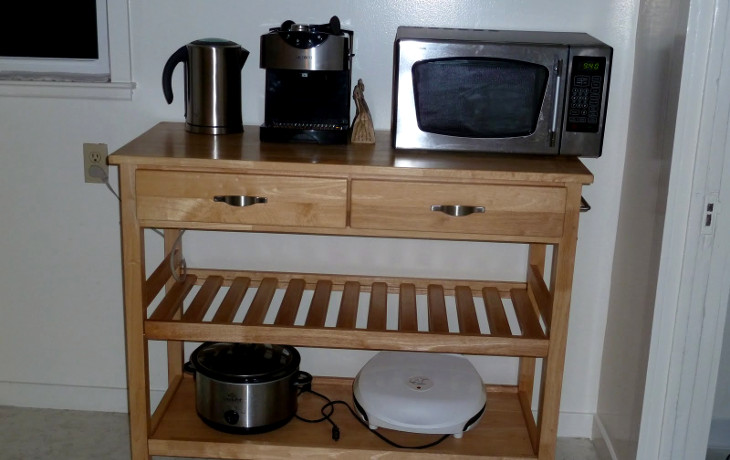 Pull down tablet holder
The internet gives you access to more recipes than you'll ever know what to do with. However, you won't want to place your tablet on the same table with all your liquid ingredients. You can install a simple pull down tablet holder under your upper cabinets and you're good to go.
Drawers with false bottoms
Using your kitchen as a hiding place is a good idea. Not many people will think to look for certain items inside the kitchen. Adding a false bottom to a drawer will give you a nice place to store important documents or even cash for emergencies.
Build the cabinets individually
Building your cabinets individually makes them easier to install or remove if you need to replace one. Lifting a few cabinets all at once is a tall order and unnecessary if you only need to work on one.
The best cabinets for your mobile home kitchen
Mobile home kitchen cabinets are vital when you need to make the most of the available space. To get the most out of your cabinets, an unconventional approach is necessary especially when you're also on a budget.
It's possible to save money and space when working on your kitchen cabinets and with a little bit of effort and wise spending, you can also add a few conveniences. However, trying to do too much could make your cabinets very expensive or even impractical. Settle on one design and do your best to make the most of it.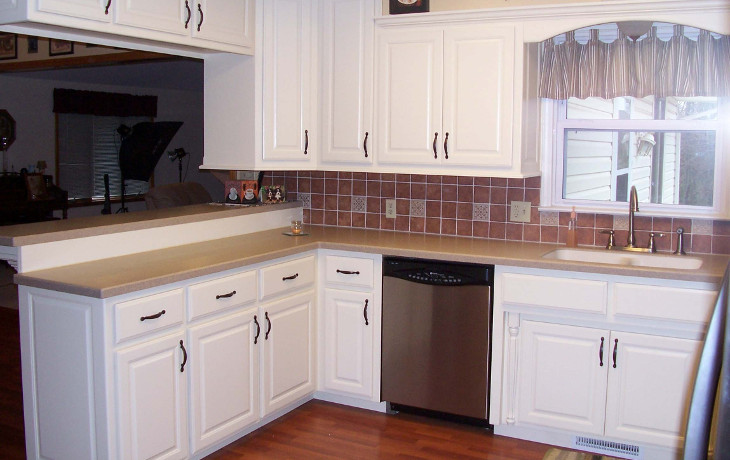 Which mobile home kitchen cabinet idea that we presented would work in your home? Do you have any ideas that have worked that we didn't mention? Let us know!