Whether you want to put your home on the market or simply improve the aesthetics of your living space, mobile home siding can be a challenging process. This is especially so if you have never done it before.
Yet, if you do your best to go through this process, you can give your mobile home a new lease of life. You might be surprised just how enduring your home becomes after a well-thought and excellently executed siding project.
For homeowners who intend to sell their homes, siding for mobile homes ensures you get a better market price for your home and avoids demands for reparations in the future.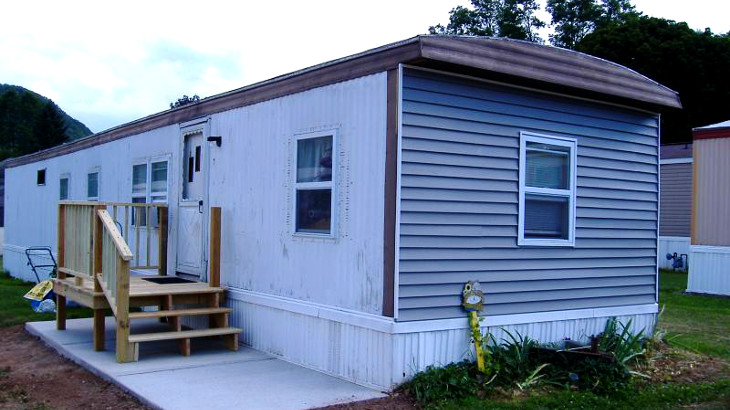 But to other homeowners, it is the transcendent appeal that mobile home siding replacement brings that makes the otherwise difficult process worthwhile. In any case, your neighbors will appreciate you for choosing not to condone the ruggedness of a mobile home that is falling apart.
Choosing the siding material
The most widely used siding materials are vinyl, wood, metal, stucco, and engineered wood. Others include stone, cedar and fiber cement. Fiber cement may not be as popular as some of the other siding materials, but it is one of the most long lasting siding materials in use today. Each material has its own pros and cons, some dependent on the location of your mobile home and personal preference.
When going through the mobile home siding options available to you, your budget is also going to be a prominent factor in your decision-making, but it should not be the only one. Similarly, consider the versatility, performance and future maintenance costs of the siding material.
For mobile homes, the weight of the siding material you choose is an important aspect. The siding material of a mobile home ought to be heavy enough to withstand the elements and light enough to allow for easy moving of the mobile home. Keep in mind that just because a material is light doesn't mean it is inferior in quality.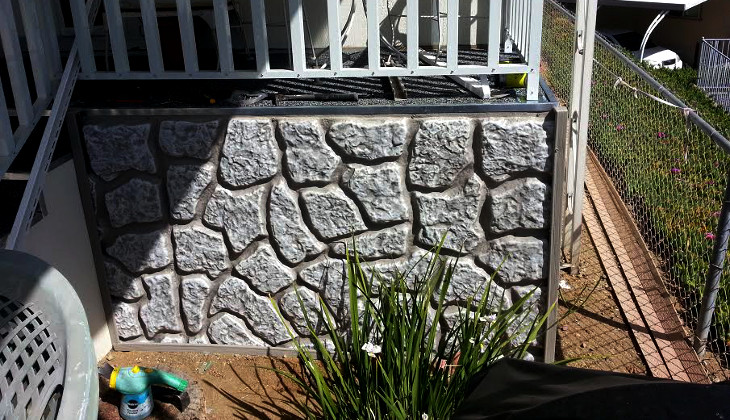 Additionally, a light siding material is in no way a sign of a poorly constructed mobile home. Mobile home siding materials should be light enough to allow you to travel at relatively high speeds without the fear that it will fall apart or that its structural well-being will be compromised.
A competent mobile home manufacturer will typically consider the possibility of future siding replacements and make the home structurally sound enough to handle such a siding replacement. Nevertheless, it is important to keep the weight of the siding materials as low as possible, especially if there is a chance that you might need to move it from its current location at some point in the future.
These days, mobile homeowners are using more than one siding material and color. This is meant to make the home appear larger, as well as look more beautiful to behold. Whichever decision you make, remember to factor in your future plans and the probability of the need to move the home to a new location arising.
Types of siding materials
There are many types of siding materials. In this article, we will take a closer look at one of the most long lasting siding materials (fiber cement), one of the cheapest siding materials (vinyl), and one of the most expensive siding materials (cedar).
Fiber Cement siding
Fiber cement is available in various board thickness and sizes. You can also choose from a wide range of styles, including allowing you to mimic other siding materials like cedar and vinyl. What's more, fiber cement is insect and rot resistant and makes for a good siding material for homes located near the ocean.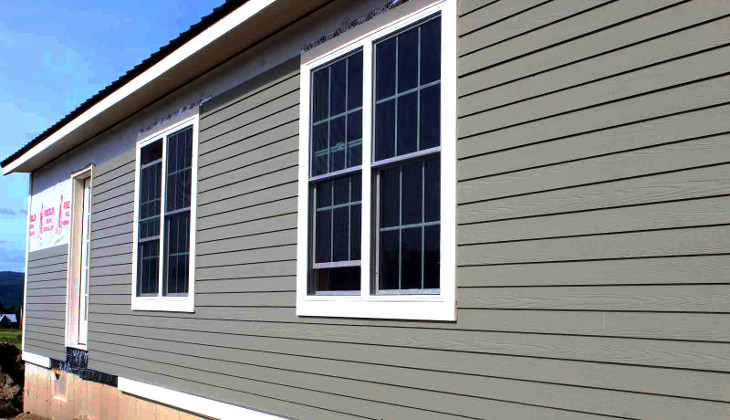 Typically, fiber cement enjoys a 50-year warranty and an up to 15-year warranty against color reduction and fading. A typical 100sqft fiber cement board weighs roughly 300 pounds. The most widely used fiber cement siding boards are weatherboards and hardiplank. Compared to Vinyl, fiber cement is costlier. That said, it is more economical than using wood siding.
Some ingredients used to make fiber cement boards include cement, silica, wood fiber and water, with silica making up around 90% of the mixture. Silica is what gives the fiber cement boards their fire-resistant property. You can use fiber cement siding without painting it for the first 10 to 15 years, after which a paint job becomes a necessity.
Be ready to spend anything between $1 and $6 for each square foot of a fiber cement board. Based on the size of your mobile home, you could spend as much as $13,000 on buying fiber cement. When you add all other costs, you could end up spending up to $20,000 to complete the mobile home siding project.
The pros of fiber cement siding
In the mobile home industry, more homeowners prefer fiber cement to other mobile home siding options. The following are some benefits of fiber cement that are making many people choose to use it as the siding material for their mobile homes.
Appearance – Many mobile homeowners love fiber cement because of its aesthetic appeal. As mentioned above, fiber cement can be created in a way that mimics other siding materials like wood, cedar and vinyl. This, plus the fact that it is available in virtually unlimited color options, make it possible to create custom designs for your mobile home that will make your home the envy of the locality.
Longevity – By design, fiber cement can withstand very harsh conditions, including those you will typically find by the sea. Its insect and rot resistance makes it last long, thus the reason manufacturers sell it with a half a century warranty.
Storm resistance – For those homeowners who live in states where hurricanes and hailstorms are a common phenomenon, fiber cement is a perfect siding material. It has the ability to withstand intense storms and those summer hailstorms that destroy many homes.
Fire resistance – Fiber cement can withstand very high temperatures because of the high percentage of sand in its makeup. This fire resistance makes it the siding material of choice for locations that are prone to wild fires  or hot temperatures.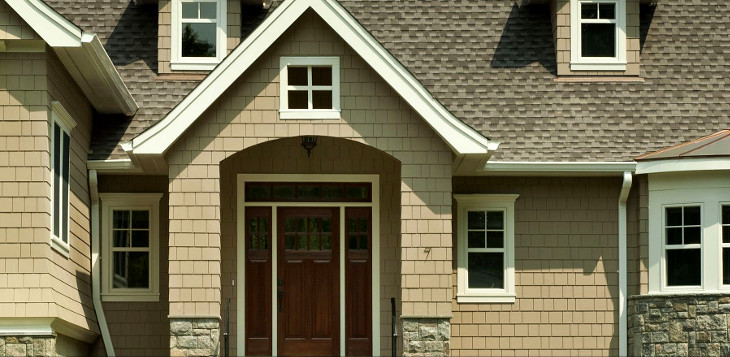 The cons of fiber cement siding
High labor and installation costs – More often than not, fiber cement siding requires directions from a professional. Additionally, it needs a relatively large pool of workers and takes longer than most other siding materials to install.
Periodic repainting – After its first 10-15 years, a mobile homeowner will need to be repainting a fiber cement siding periodically.
Vinyl siding
Before the 1960s, aluminum had always been the siding material of choice for most homeowners in the United States. Vinyl made an entrance as a siding material around this time, and quickly gathered bad press because of the way the materials from which it was made were of poor quality, making it sag and crack.
Over half a century later, vinyl is now one of the most widely used siding material for homes. Unlike those early days of vinyl siding, today's vinyl is made of high-tech plastic and created using the most advanced manufacturing techniques available in the world today.
Consequently, vinyl has become a high -performing and exceptionally versatile mobile home siding material. In fact, of all the new homes being built in America, more than 32 percent of them will use vinyl siding.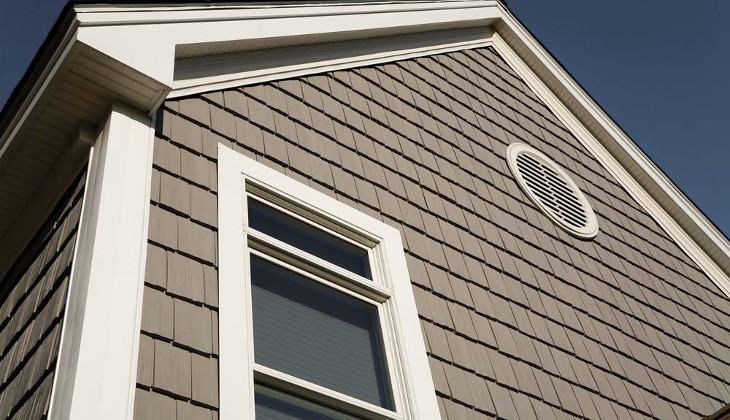 There are numerous reasons why most mobile homeowners choose vinyl for their mobile home siding replacement. Top among these reasons is the cost. Vinyl siding is, perhaps, the cheapest siding material when compared to wood, cedar, aluminum, stone, fiber cement and others. It is also considerably durable, attractive and needs little or no maintenance.
While vinyl siding is relatively cheap, the amount of money you will use for your vinyl mobile home siding will be determined by your preferred vinyl style, thickness, UV protection, durability, quality, installation and insulation properties. Cheap vinyl siding costs around $1 per linear foot while the expensive type will cost around $10 per linear foot.
The pros of vinyl siding
Low overall costs – The overall costs of installing vinyl siding are lower than most other siding materials. While it can cost you anything from $6,500 to $10,000 to install wood siding for a 1250 square feet home, using vinyl could reduce the costs to as low as $2,500 for the same home.
Durability – Vinyl can withstand strong winds and hailstorms. Additionally, it has the ability to resist excessive moisture, making it extremely hard for it to corrode or rot over time. This is why many vinyl manufacturers do not shy away from giving lifetime warranties on vinyl even with successive homeowners.
Versatility – Few siding materials are as versatile as vinyl. Walk into any vinyl retail shop and you will see hundreds of textures, profiles and colors that you can choose from. With a little creativity, you can come up with a siding design plan that will make your exterior look strikingly beautiful.
Cuts the costs of cooling and heating your mobile home – Using insulated vinyl can cut the costs of cooling and heating your home tremendously. This is because insulated vinyl prevents the loss of heat between your exterior walls and the wall studs. This phenomenon, referred to as thermal bridging, protects the studs to keep your home cooler during summer and warmer during winter. What's more using insulated vinyl makes you eligible for the government's energy tax credits, further making its case for an economical approach to siding.
Requires little or no maintenance – Vinyl's ability to resist rot and insects makes it last a long time. Moreover, it maintains its original colors decades after it is installed. Unlike other mobile home siding options that require you to repaint your exteriors periodically, vinyl will never need repainting. You will just need to clean it, perhaps, once a year to keep its original shine.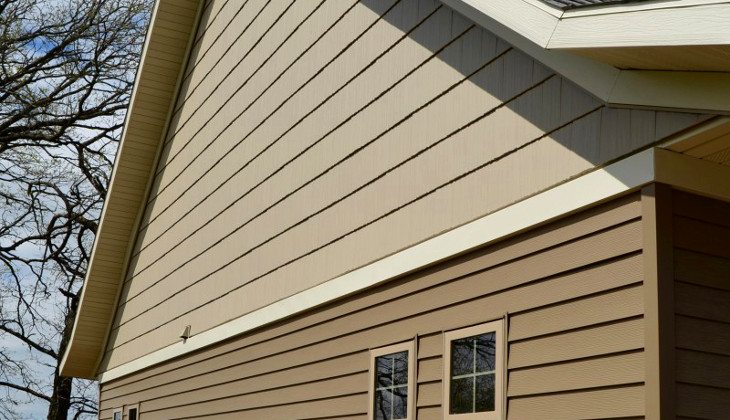 The cons of vinyl siding
It can look cheap – Vinyl, especially the low-quality types, can make your home look cheap. This can be a major turnoff for potential buyers and could make it hard for you to make a case for a better price when trying to sell it.
It breaks and chips – If you live in a place where super-cold weather is a common occurrence, vinyl might not be your best option as it tends to chip and break. These chunks blow away and require repair. While it is extremely easy to fix these problems, their regular reoccurrence, especially in a mobile home setting, can be off-putting to many homeowners.
Cedar Siding
Cedar siding is the material to use for a timeless touch to your mobile home architectural design. It is available in regular board, small wedge planks (shake), tongue, log cabin cut, groove, lap and bevel.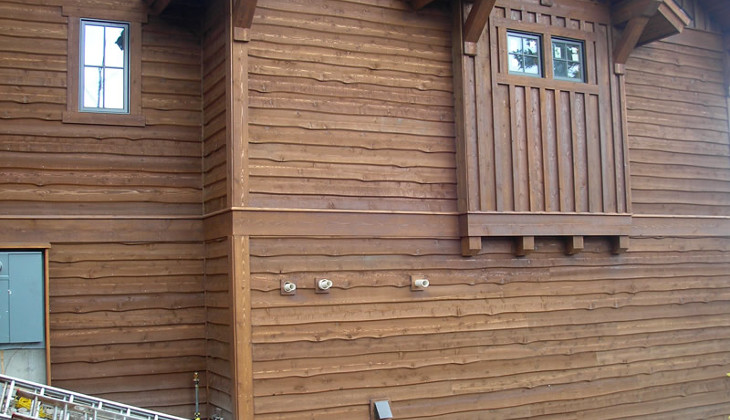 Cedar has a natural pest repulsion property that makes it a good option for mobile home siding replacement. Additionally, it is moist and decay resistant, making it a favorite for many homeowners.
The pros of cedar siding
Lasts long – Not many types of woods can resist bacteria, rot, mildew and fungi quite like cedar. With a simple clean twice every year, your cedar siding could remain in near-perfect condition for many years.
Warm appeal – If you have ever seen a cedar siding, then you know just how beautiful and warm it appears. This attractiveness coupled with its natural ability to blend with virtually any background, make it stand out amongst other mobile home siding options. Its unique grain pattern makes it look outstandingly beautiful, but it also contributes to its resilient nature.
Variety of types and finishes – Cedar siding will allow you to choose a variety of finishes and types, including using the cedar in its rustic natural form. While cedar whitens as it ages, you can apply a clear finish to keep it looking great years after your initial installation.  Some of the patterns you can choose from for cedar siding include board and batten, bevel, rough cut, tongue and groove.
Tough and durable – You worry little about swelling, bending and splitting when you install cedar sidings. This is because it is resistant and tough to the conditions that would cause these problems. It takes very many years for cedar to finally warp or cup.
Superior insulation – Cedar siding makes for excellent home insulation. Given that sometimes the costs of cooling and warming your mobile home can sometimes increase substantially, using cedar siding would make it possible for you to save big on these energy costs. Moreover, your home will stay clear of excessive dryness, and wetness, thereby making it unlikely that the internal structure of your mobile home will be compromised.
Environmentally friendly – Many people assume that cedar siding is not environmentally friendly because it is a wood siding. This assumption could not be further from the truth. By nature, cedar requires minimal treatment and processing and it is totally biodegradable. Furthermore, it is renewable and lasts longer than practically all other wood siding options you could consider.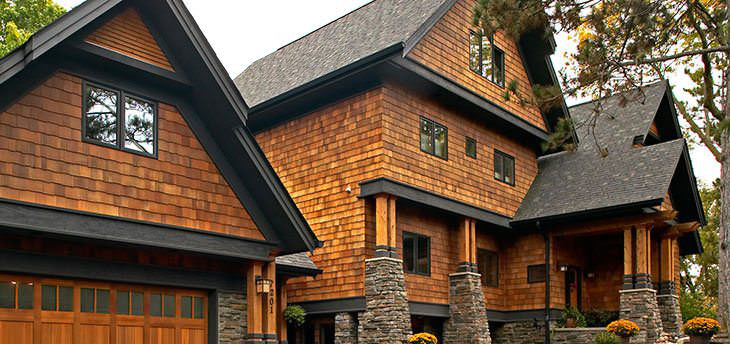 The cons of cedar siding
It is expensive – Cedar siding requires a homeowner who is ready to spend a substantial amount of money. This is the likely reason why many mobile homeowners do not use cedar. For just one square foot of cedar siding, you are likely to spend over $7, making it one of the most expensive siding for mobile homes.
It reacts poorly to iron – When you install cedar siding, you should make sure it does not come into contact with iron because doing so will cause the cedar to start breaking apart, drastically reducing its shell life. Furthermore, this falling apart will increase the costs of its maintenance. Therefore, cedar siding should be installed using aluminum or stainless steel nails.
Prone to catching fire – Like any other wood, cedar can easily catch fire. In the event of a fire, it will be extremely tough to put it off once it finds its way to your cedar siding, thereby increasing the chances of your home burning to the ground before fire fighters can arrive on the scene. That said, you can treat cedar siding to make it fire resistant. But you should keep in mind that treating the cedar siding would also take away its environmental friendliness.
Problems with natural materials – Like other natural materials, cedar has its problems when it comes to reacting to the environment. When it is subjected to certain environments, cedar siding loses its appeal. For instance, it loses its color when it is exposed to water for long periods of time. This can be particularly disturbing to look at when only a portion of the cedar siding was exposed to the water. In addition, continued interaction of cedar with water will eventually create mildew and mold. Moreover, cedar will rot if you do not do enough to deal with the challenges of mold, mildew and water.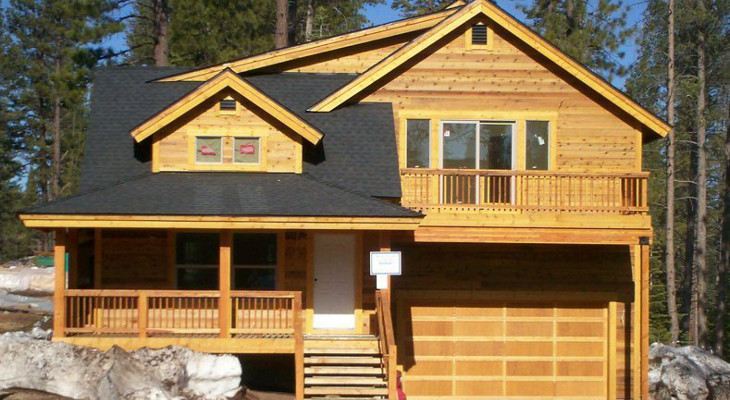 Improve the aesthetic appeal of your mobile home with mobile home siding replacement
Mobile home siding replacement is about increasing the energy efficiency of your home, increasing the value of your home and improving the overall appearance of your dwelling. When deciding on the material to use for your mobile home siding, remember to consider the costs of maintenance over time, the lifespan and weight of the material as well as the installation expertise available.
Have you done a mobile home siding replacement in the past? What was experience like? Did you use any of the materials discussed in this article? Tell us about what you like about the material you used and the challenges you are facing using it.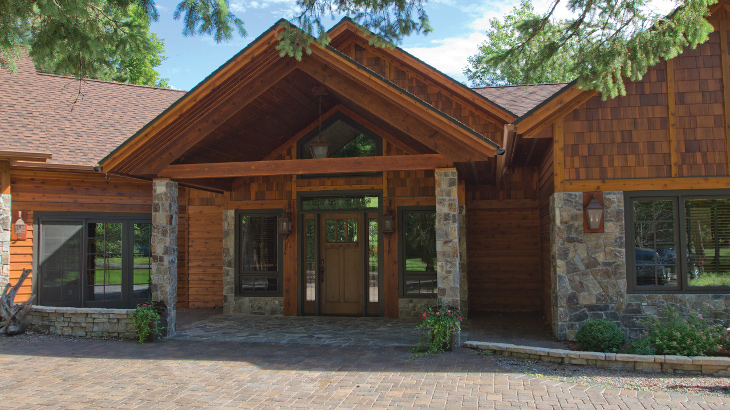 Are there some pros and cons of these materials that you think we have left out? Please tell us in the comments section below. You can also ask the questions you may have regarding installing any of the siding materials mentioned in this article.