There are many people who would like to live in a mobile home, but balk before buying one largely because of the unfair stigma associated with them. But if you can somehow find a way to push this stigma from your mind, there are many mobile home skirting ideas that you can implement that can make living in your mobile home a beautiful experience.
While mobile homes might not be always associated with beauty, such a life is not all doom and gloom. In fact, it is possible to find a sizeable mobile home for you and your loved ones where you can keep pets and enjoy living in your own home at the price of an apartment. These homes are especially perfect for those who have a more modest lifestyle and for those who want to save more for future plans.
Benefits of mobile home skirting
For those people who have already live in a mobile home, you probably know by now that skirting is a very crucial part of adding to your house's aesthetic value. Skirting also protects your mobile home's ground support from weather elements that could inflict irreparable damage.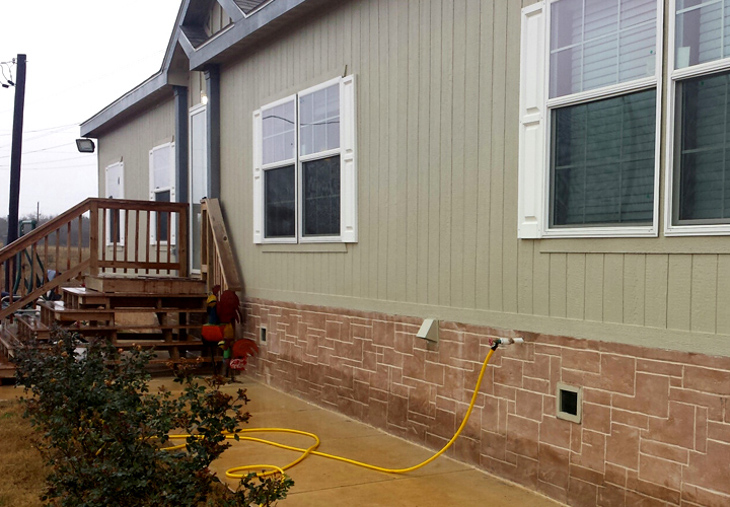 By design, mobile homes are self-contained, a feature that makes it possible to place them on just about any location. When setting up on location, people will typically add blocking and support for stability. This creates a space between the bottom of the house and the ground, an area prone to the ruthlessness of the elements.
By employing proper skirting, you essentially create a barrier that covers the open space, keeping your mobile home secured from the destruction it would otherwise have experienced in Mother Nature's wake. Skirting will keep your pipes from freezing, make sure your home retains most of its heat during the winter and protect you and your loved ones from wild animals.
What's more, skirting goes a long way in maintaining a certain average temperature beneath the mobile home. This way, it prevents the summer sun, which can get very hot and it prevents cold winds during the colder months of the year. By controlling the temperature from either extreme, skirting can help you reduce the amount of money you spend on cooling or heating your mobile home.
Many people also use skirting to create a storage area where they can keep things like weed-eaters, mowers and holiday décor. Given all these benefits, some states have made it a requirement for all mobile and manufactured homes. It then makes perfect sense to want to know the best skirting ideas that not only make your mobile home look good but also protects it from nature's worst.
The amount of skirting materials you will need
Many people struggle with coming up with the amount of skirting materials they need for their homes. While you could hire a professional to do the necessary calculations for you, it doesn't hurt to know how you could calculate the amount of material necessary to skirt your home. In any case, there are many among us who prefer to make skirting a DIY project.

Whatever your motivation, here are a few pointers on how you can calculate the amount of material necessary to completely skirt your home:
Calculate the perimeter of your home – remember to include any add-ons connected to your home like sunrooms or decks.
Calculate the height of your home from the ground – keep in mind that sometimes different corners of the home could have different heights from the grounds based on the landscape of your home location. It is common practice to leave a space of 2 binches from the ground when measuring this height.
Adding the home's perimeter with its height from the ground will give you the total length of the material you will need to complete your manufactured home skirting.
Where to buy skirting materials
There are many vendors of skirting materials you can choose from. If you are doing this for the first time, this big number of skirting materials providers can overwhelm you as you try to find the best vendor to buy from. To make this process easier, consider vendors who have good reviews online.
A simple Google search should give you an idea of how a particular skirting materials retailer stacks up against other companies in this niche. Find a vendor that values customer relations, provides quality materials and delivers precisely what you asked within the timelines you agreed upon. The easiest way to know this is by reading the feedback that past customers leave for these companies.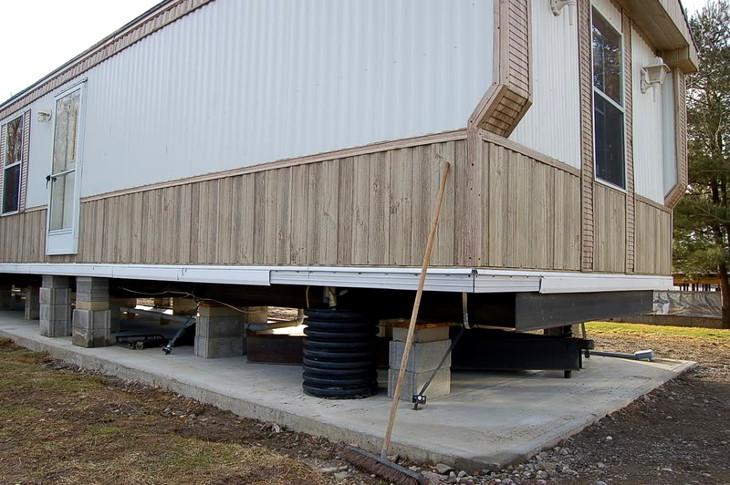 You can also ask around. Almost definitely, there will be a number of people in your locality who have had to do skirting for their homes so ask them for recommendations. This approach is especially advisable for those who are looking for a local skirting materials store.
When making your order, it is important to specify your preferred shape, size, texture and color of the skirting materials. One advantage of buying at a local store is the convenience of making in-person enquiries before you purchase. The skirting professionals will help you make the best purchasing decisions based on the location of your mobile home among other factors.
In past years, the majority of home owners went for vinyl skirting. However, there has been a significant shift from this norm to other materials that are stronger and can last longer than vinyl. Therefore, ask the skirting professionals about these new materials and whether they would recommend them for your particular skirting needs.
Based on the size of your home and the type of material you want to use, skirting could set you back as much as over a thousand dollars. The skirting experts you hire and the store from which you buy the materials are other factors that influence the cost. Do proper costing before embarking on the project to make certain that you have enough finances to take you through the whole skirting project.
Factors to consider when choosing a skirting material
The availability of many different types of skirting materials has changed many people's approach to manufactured home skirting. What's more, you can choose from a wide range of textures and colors.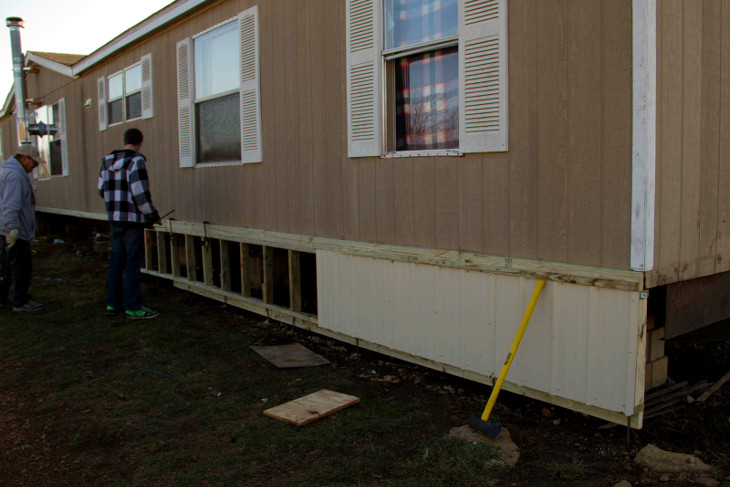 Some of the most widely used skirting materials today include aluminum, stone, lattice, wood, brick, concrete, faux stone and vinyl. The following are some of the factors you should consider when choosing a skirting material for your mobile home:
Affordability
The skirting material you choose should align with the overall cost of your mobile home and the amount of money you can afford to spend on the project. It makes little sense to spend a fortune on skirting for cheap mobile homes, especially because doing so would not significantly increase the value of the home. Therefore, look for a material that would improve the overall appearance of your manufactured home without forcing you to spend a fortune.
Durability
Manufactured home skirting should not be a regular activity. That is why you should use the most durable skirting materials you can afford. This will not only make sure your skirting stays intact for many years, it will also reduce skirting maintenance costs over the years.
Ease of installation
If you are undertaking a Do-It-Yourself project, you may want to work with a skirting material that would be easy to install. This approach will also save you a significant amount of cash if you do it right. DIY projects are not always easy to execute.
You should, therefore, go for a skirting material that has a straightforward installation process. Ease of installation includes how easy it is to cut the material to the required sizes without ruining it or rendering a portion of it unusable.
Available colors
Some skirting materials have a very limited color range. If you are big on color, you may need to go for skirting materials that would allow you to showcase your love of color. Vinyl is, perhaps, the skirting material with the widest range of colors to choose from.
Mobile home location
The location of your mobile home is an important factor when choosing a skirting material. For instance, if your home is in a mobile home park, you may find that only certain types of skirting materials are allowed for use within the park.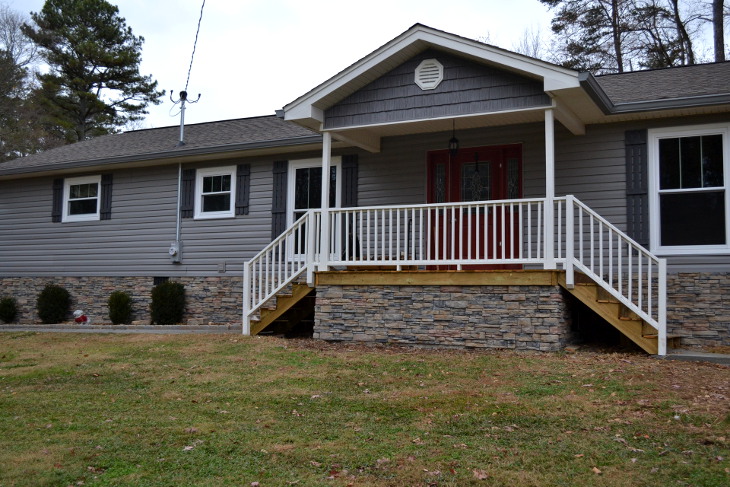 If your mobile home is on private land, you may need to know the rules and regulations that govern manufactured home skirting in the city or county. Finding out this information can save you from unnecessary lawsuits and fines.
Common skirting materials to consider
Reil Rock Panels
These plastic panels are made to look like stones. Installation of them is quite easy and they are available in a number of colors. Compared to vinyl, reil rock panels are more expensive. All the same, those who choose them over vinyl point out that they are sturdier. They also win big on durability.
Tin
If you are looking for an affordable, green solution for your skirting needs, tin may be your best bet. It is also weatherproof and its durability is noteworthy. If you have ever carefully inspected old barns or sheds, you may have noticed that they used tin.
The tin would be anodized (paint bonding) making it look textured as the paint wore off. You could also go for galvanized, corrugated roofing tin. It will give your skirting an antique look and will serve you for many years.
Vinyl
This is the most used skirting material of all time. Many people prefer it because it is affordable, easy to install and looks outstandingly beautiful. For most mobile homes, a kit of less than $1000 would be more than enough to complete skirting around your home. If you choose to use vinyl, it is important that you buy all of it in one store to avoid color mismatching, a common phenomenon with vinyl even when you order the same exact color.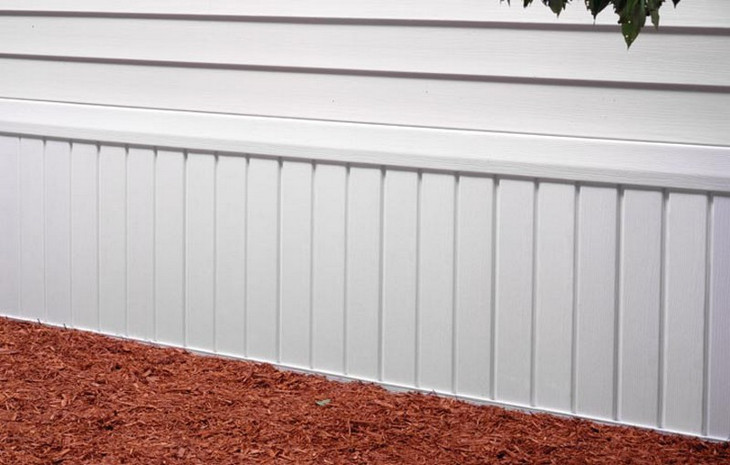 Those of us who are conscious about the need to preserve the environment would be delighted to know that vinyl is a green skirting solution. The most basic raw materials in the vinyl creation process are chlorine and ethylene. Ethylene comes from natural gas while chlorine is derived from common salt. Compared to stucco, wood and brick, vinyl is the most environmentally friendly of the four.
While vinyl has many advantages, weed eaters are a real threat to vinyl skirting. If you are in a location where weed eaters are commonly used, you may want to consider a different skirting material. Additionally, vinyl is easily affected by high winds and storms, making it an unfavorable skirting material for regions where storms and high winds are commonplace.
Rigid Foam
The majority of homeowners who choose rigid foam love the different textures and colors available to choose from. It can inspire amazing mobile home skirting ideas that will make your mobile home beautiful to behold. In addition, many people use it as an additional insulation layer behind or in front of other skirting materials.
Like vinyl, you can get a complete rigid foam kit for less than $1000. Rigid foam is quite popular in contemporary manufactured homes due to its impressive insulation properties. Moreover, foam sheets are available in large plywood-like sheets, making them a perfect additional layer to your existing mobile home skirting.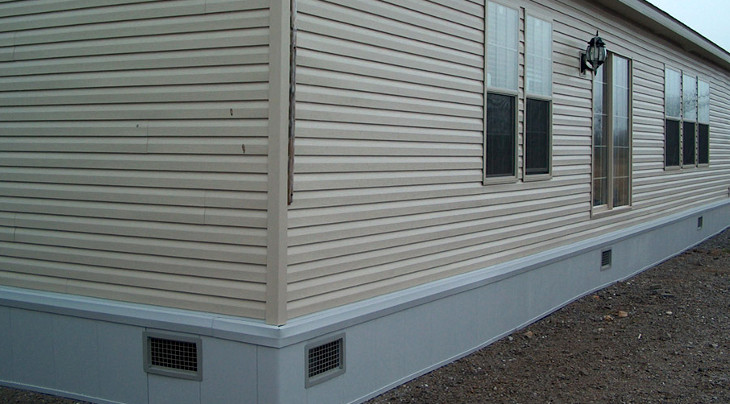 Rigid foam is, like vinyl, affected by weed eaters. While there are actions you can take to remedy this situation, this disadvantage makes it unfavorable in locations where people often use weed eaters.
Steel skirting
Steel is another affordable skirting solution for mobile homes. It is also easy to install and is not affected by dirt. Most retailers sell it in 2″x4″ frames that have panels attached using rust-free nails or screws. The most common skirting steel pattern is the old cinder block. But if you do not want this pattern you can talk to your local skirting material shop and find out the other patterns they may have in store.
Be ready to spend around $15 for every foot of the skirting steel panel. Steel skirting is a common skirting solution for those who would rather not deal with the challenges of putting up with weed eaters because steel can withstand any type of a weed eater.
Bricks and blocks
Recycled bricks make for a very attractive skirting solution. If you want your mobile home to stand out among the rest, recycled bricks could do the trick. That said, installing bricks requires a little bit of effort and expertise.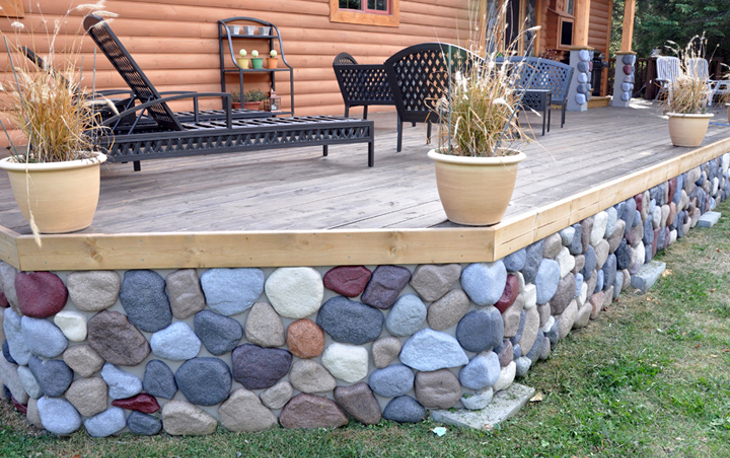 Cinder blocks are another excellent skirting solution for those who want an outstanding mobile home exterior. While it will take some intensive learning to install it properly, a successful installation can easily outlast most other skirting materials. If you go for recycled cinder blocks, the cost will be considerably lower than buying new ones.
Working with bricks or blocks is easy and the insulation they offer is adequate for most mobile homes. If you think this is the way to go for your mobile home, call a skirting installation professional. But if you are good at DIY projects, then set aside a considerable amount of time to do this project.
Cedar pickets
Cedar pickets are a favorite to some because of the weather resistant property of cedar. Given that most fences use cedar pickets, you can recycle the pickets from the fence for your manufactured home skirting. You can repurpose fence pickets for skirting to add an extra layer to an existing skirting material or use it as a standalone solution for your skirting needs. If you do the latter, remember to do proper framing and backing for more stability.
For homeowners looking for a skirting solution that has a laid-back feel to it, pickets are the way to go. Moreover, you will find them simple to work with and they will serve you and your family for a long time.
Composite materials
These are, perhaps, the most affordable skirting solutions in the market today. Composite materials are purchased in sheets and can be ordered in varied thicknesses. The thickness dictates the price, with the cheapest at a thickness of 3/8 of an inch.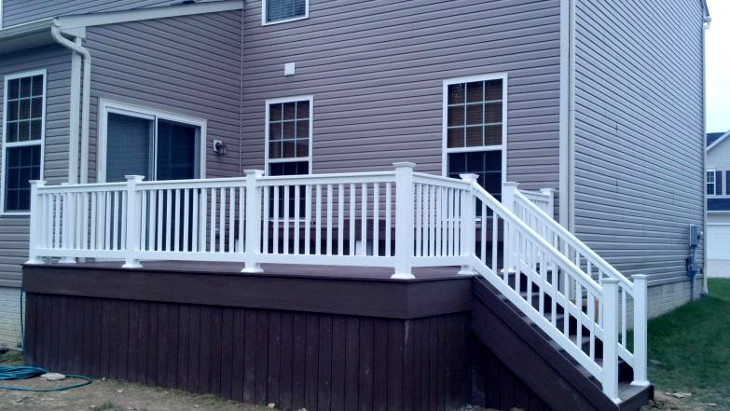 The downside of using composite materials for skirting is the high maintenance costs associated with them. Time and again, you will need to paint or seal it. Furthermore, you will need to add some frames during installation. These costs can add up to significant figures over time.
An outside-the-box thinking for better mobile home skirting
With all the different materials that you can use to skirt your mobile home, having a dull looking exterior is no longer excusable. Whether you want a cheap solution or are ready to spend more for durability, there are many mobile home skirting ideas you can implement with the available skirting materials in the market.
Like with any other project, take time to come up with the best approach that will give you the perfect skirting solution for your home. Review the different materials, vendors and installation contractors before making your decision. Ask your neighbors about their skirting solutions and search online for reviews of the various vendors you are interested in contacting.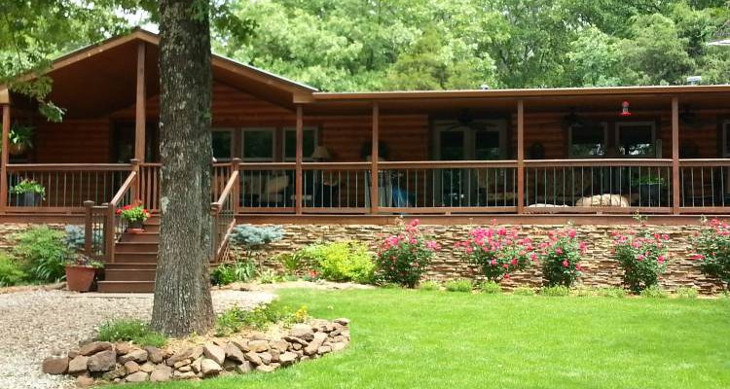 In manufactured home skirting, nothing is ever cast in stone; you can always come up with a different approach to skirting as long as it makes financial sense and brings out the intended character of your personal space. Don't let the elements ruin your mobile home. Talk to a skirting professional about the solutions available to you for a better looking, cooler and homey dwelling place.
Do you have mobile home skirting ideas and materials that you love that we did not include in this article? Tell us in the comments section below. What advice can you give someone who is looking for the next best skirting idea for a visually appealing mobile home?