If you own a mobile home you know how easily they lose their original beauty, especially if you move a lot. Little by little, what's already a small space becomes even smaller with furniture piling up and all other personal items taking up almost all of your space. At one point you realize that a mobile home makeover is not just the idea behind a TV show, but actually something you need to do in order bring your home back to its former glory.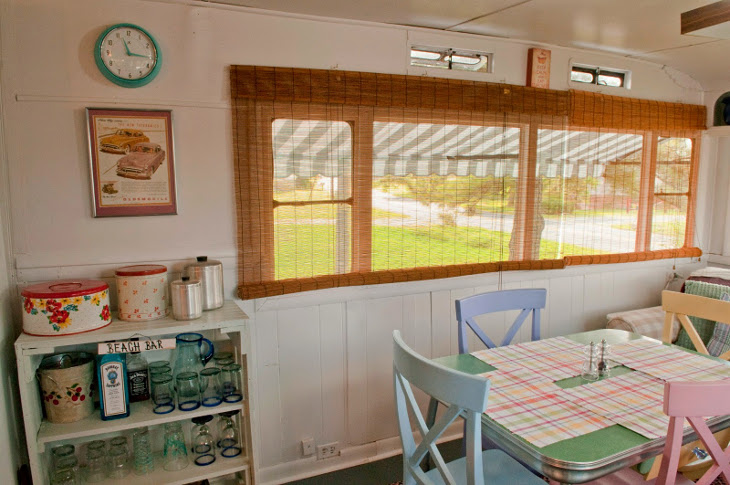 In this article we are going to go through some ideas about how you can make your mobile home look better and get back that space that has been taken over throughout the years. We'll see what you could do with your exterior and interior and give you some advice as to how to keep it all in shape for a while. So sit tight, pay close attention and enjoy reading about how your home can be shiny again.
Exterior makeover
When it comes to the exterior, most of the damage done to your home is due to the weather and physical damage. Refurnishing the outside of your house takes a lot of bulk work, but it also goes faster than the interior, especially because you have to be very careful with your interior. So let's go through all the things you can do in order to make your home look better from the outside.
Painting
This is something that most of us can do by ourselves. You can save a lot of money by doing your own painting of the exterior walls on your home. In order to do it right, you need to do it step by step and with proper tools and materials. So let's take a look at how you'll do it right.
First of all, you need to wash and clean the walls. Aluminum walls will gather dust and any other kind of dirt over time. When you clean up your wall you will be able to see if there are any places that need to be fixed before you start painting. In case you need to fix some damaged places, you should take care of that with some adhesive or sandpaper, depending on the size of damage.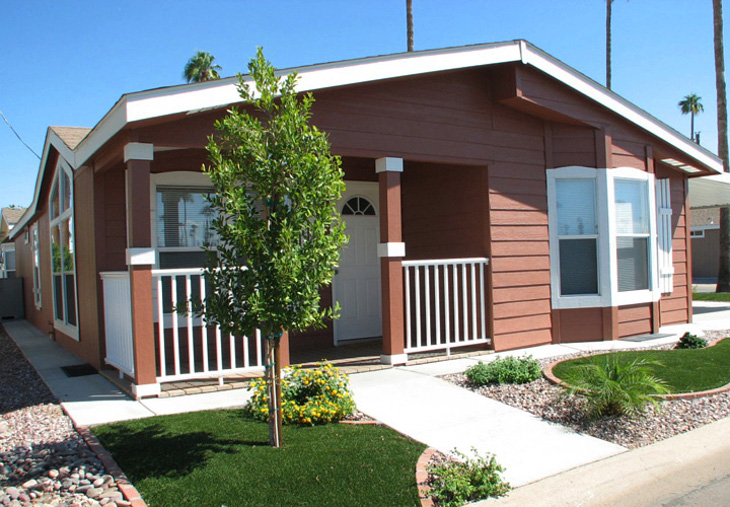 Once the walls are clean and irregularities taken care of, it's time to paint. The best way to paint your walls is with a roller and latex paint. Latex paint is better that oil based paint because it holds better to metal. We all know that metal expands and contracts as the temperature changes, and that's where the flexibility of latex paint does its magic. You can use satin sheen, it looks rich and will last longer.
You can always get a professional to do all this for you, but why miss out the fun of painting your home. Plus you'll save a lot of money, and can turn around and invest these savings in some great exterior decorations, like some flower pots or a brick wall.
Fixing the roof
In time, your roof will give in to weather and there's bound to be some leaking at some point. So, repairing your roof is one of those things you just need to do. This is something that you could also do by yourself, if you're up to it. However, working on high altitudes is dangerous, and you should probably leave that to the professionals.
Now my idea is not just fixing the roof, patch it up, repaint and leave it that way. Let's see what's necessary to do in order to really make your roof more durable. Fixing a roof is always a good idea, but making it stronger and less susceptible to weather is a practical upgrade we should all consider at one point or another.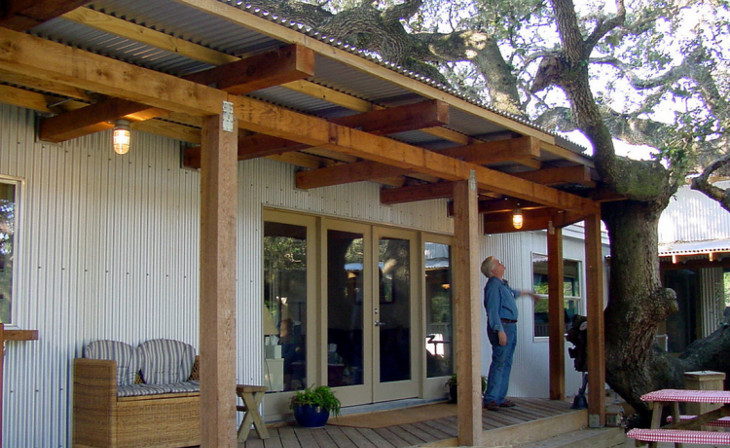 First, you'll need to clean your roof, scrape off any old paint, fix any physical damage, and patch those places that need patching with some pieces of metal and adhesive. After that's done, use some asphalt primer to create a base cover. This will seal your roof and if you apply it with care, it will make it impregnable. The last thing you want to do is get some self-adhesive roof band, like "Seal and peel" or any other similar product.
When you finish covering your roof, your home will be safe from rain and snow. Also, it would provide added insulation, so your power bills will be easier on your pocket. And if you want to give your roof a really nice touch, place a skylight and shed some more light into your home.
Doors and windows
Repairing doors and windows doesn't pay off in the long run. The best thing you could do is get some nice PVC doors and windows and place them on your home. PVC absorbs stress better than metal and it lasts longer than wood. This makes PVC doors and windows the best solution for mobile homes.
Every time you move your home, it will take a lot of stress, and metal windows won't absorb that stress so well. If you move a lot, you will come to the point where metal doors and windows will give in to the stress and you'll be left with serious damage to fix. PVC absorbs the stress and it also looks better.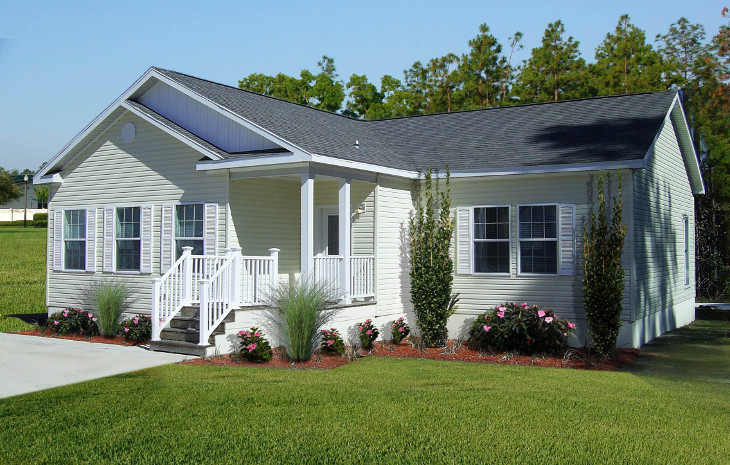 Setting up doors and windows is not something you should do by yourself, no matter how crafty you are. It's important that the frames are aligned with walls and that everything is sealed tight. If your doors and windows are sealed properly, you will not only get stronger windows, but also better insulation. So once again, money saved.
Outside decorations
Renewing your paint, roof and carpentry is one thing, but if you really want to reshape the way your mobile home looks, you need to decorate. This is not something that I can walk you through, but I want to give you a few ideas about what you could do, in order to keep your home up-to-date and aesthetically appealing.
Let's say that you want to have flowerpots in front of your doors. Consider attaching some plastic pots to your wall and securing them on the bottom with two short aluminum rails that you could screw to the base of your home.
Some nice lanterns are always a good way to decorate the outside of your mobile home. Placing them over the doors or windows would be a perfect solution. You could buy one of those lanterns that you could disconnect from the cord, just in case you move your home someplace else.
Install a small porch in front of your home. This is one of the best mobile home makeover ideas out there. It's not only a nice decoration, but a useful feature too. You could hire someone to create a small porch with a few stairs and a small fence so you can spend lazy Sundays on your porch, drinking a cold drink and enjoying the shade.
Interior makeover
Changing the interior of your home, for the better that is, takes a lot of time and effort. It's a delicate project and it doesn't come cheap, but in the end it's worth it. We could say that the best thing you could do is to get everything out, draw a plan and get a team of builders to build it from the scratch. But that's not what I want you to do.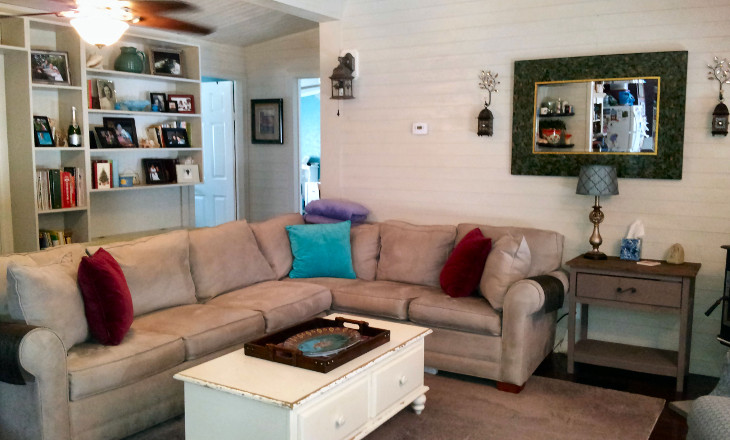 I want you to save as much money as you can and make your home look beautiful. And I also want you to be able to do most of the work by yourself. Of course, there are always some things that you need to hire a professional to do. You should never place yourself in danger of doing things that you are not equipped to do.
Electricity and plumbing, things like that should always be taken care of by professionals. Limit yourself only to those things that you are sure you can handle.
You could start by painting your drywall. Take care of any damage to your drywall with some plaster. Try and keep the surfaces smooth and flat since you don't want your wall to be uneven. Once your wall is repaired, you can start painting with a roller.
For interior painting you should use a primer in order to prepare your surface for the paint. As for the paint, you could use water based color, it's always a good choice. After you have painted your walls, it's time to arrange your home. So let's go room by room.
Living room
Your living room is a place where you should spend the most of your time with your family. It needs to be spacey and nicely lit. If your living room doesn't have enough space and has too much furniture with a small amount of light coming in, these are the things you should be focusing on. So, here are some of the things you need to do.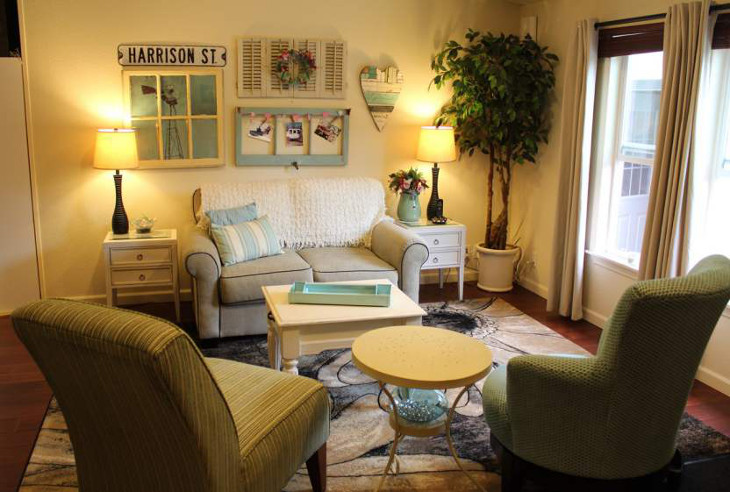 Get rid of all excess furniture, anything that you don't really need or don't use at least once a week. You can sell some of that excess furniture and make some money to pay for interior painting or repairing your drywall. The best option is to leave only that which is most necessary, here is a short list:
A chair, every living room should have it. You can use it to relax and read or watch TV. It should be placed in a corner with a lamp behind it.
The sofa is a chair's best friend and you should have one next to it. You should pay attention that your chair and sofa match each other in color and style. Don't install a post-modern sofa with a classic chair, it just won't fit.
A Coffee table is a MUST for every living room. You need a place to leave your drink while you're having your friends and family over for a coffee or while you're watching a game.
A book shelf should be placed next to a wall. Place a quality book shelf and fill it with books that you and your family love to read.
The TV should be next to the wall adjacent to the book shelf wall. You could place your TV on a small TV table or hang it on your wall. Secure it with TV rails that you can buy in any hardware store.
This is how a perfect living room should look. You could place some nice drapes over the window that would match your furniture. Drapes make your living room give a warmer vibe and also protect your privacy.
Bedroom
The bedroom is a place where you should not spend too much time except for resting. There shouldn't be too much stuff in your bedroom; all you need is a few things, such as:
A bed. This goes without saying, but it's important how you place your bed. The best way to place your bed is so that your bedroom window casts sunlight on your side. This way you won't be blinded by the sunlight if you forget to pull your curtains in the evening.
A night table next to the bed. You could keep your night time reading material here, or keep your glasses. A lot of people like to keep their phone on their night tables also, so you can do that, too.
A closet is an essential part of the bedroom. If you don't have one, you can build one. All you need to do is simply take a few feet of your bedroom and place a drywall on some aluminum rails. Paint it and install nice closet doors. You can choose between shelves or drawers, both can be placed on guide rails that you can fix on the side of your drywall.
Your bedroom should be placed next to your bathroom. This isn't a rule, but it's a practical solution. The other door could lead to your living room or a hall, depending on the size of your mobile home.
Bathroom
First thing that you need to do when you're renewing your bathroom is take off the old bathroom tiles and replace them with new ones. Be careful while you're removing your tiles, you don't want to damage your wall too much. It's recommend that this is done by a professional, since placing new tiles is an important part of your bathroom makeover. Choose light colors; preferably white, with some detail decorations but nothing too tacky.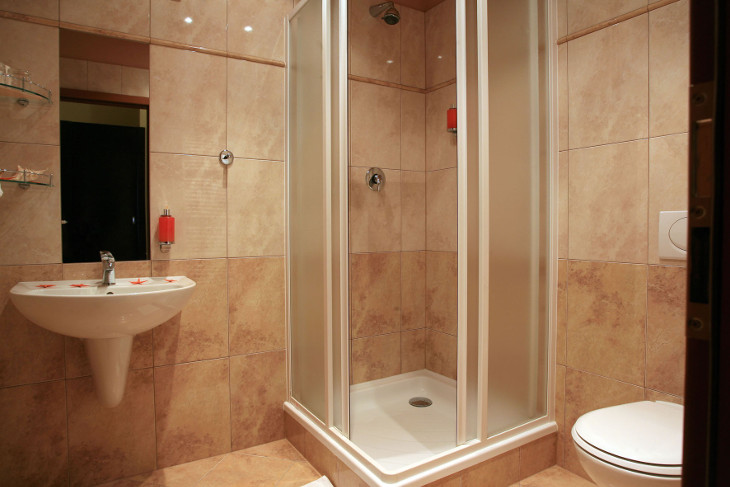 It's not recommend that your bathroom take up too much space, so the best solution is to have a small shower and close it with some Plexiglas doors. Make sure that you install a nice venting system to keep the vapor out of your bathroom. It's important that you keep the moisture out of your home, especially in the bathroom.
Once the moisture comes in, it's very hard and sometimes almost impossible to get rid of it. You will have to get someone to rebuild your wall, and that costs money. Also, it's a potential fire hazard, so it's best to be safe than sorry.
You should also have a sink, but keep it small and try to find one of those sinks that have drawers in their base. You could keep your towels there; it will save you a lot of room.
If you save up enough space, you can place a drywall and build a separate room for your toilet.
Kitchen
This is a place where you just have to save as much place as you can, so creativity is essential. Use one wall for all the kitchen elements such as your sink and stove. Across from the kitchen elements you could have a counter with some bar stools. This solution saves space and allows you to have a spot for family breakfast and morning coffee.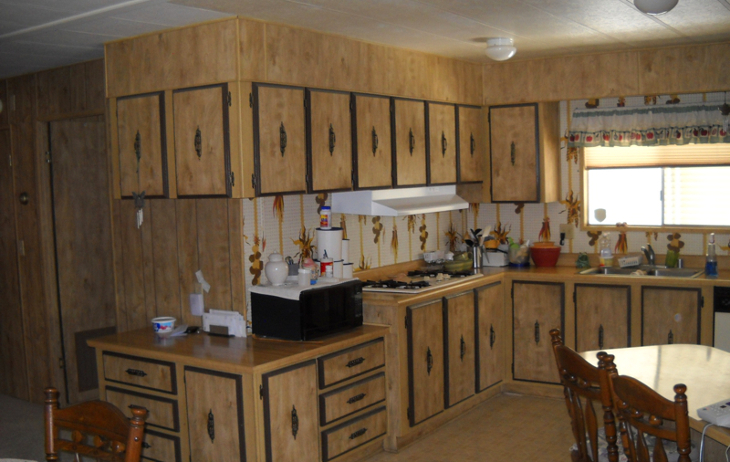 On the other side of the room, you should have a fridge with a kitchen table in the center of your kitchen. The size of your kitchen table depends on the size of your home, but you don't need it to be too big. Your table should fit your kitchen elements, so pay attention to color and style of your kitchen.
Conclusion
Mobile homes don't offer too much space, so we tried to give you the most practical solutions for your mobile home makeover. Hopefully this article helped you with some ideas that will make your makeover process a bit easier. Also, we tried to cover as much ground as possible and give you the best solutions possible so that your home looks good and offers comfort.
It's important to remember that most of these things you could do by yourself, but its best if you hire a professional. Also, be careful while painting and working with chemicals. Always stay in a well-ventilated room or outside, you don't want to breathe in too much fumes.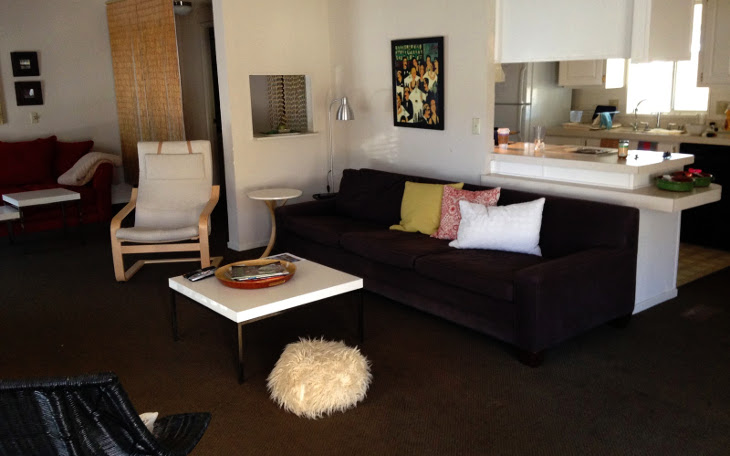 Renewing your mobile home is something that you just have to do from time to time, just like any other home. These were just some of the ideas of what you could do with your home, but you can always add some of your own ideas to make it even more personal.
Is there anything that you think we missed? Have you got any good ideas for a makeover that we didn't mention here in this article? Let us know in the comments so we can share your experiences with everyone else.