If you know anything about prefabricated homes, you must have heard about the famous mobile home garden tub. The huge 50-gallon juggernauts have been in use for about three centuries.
Their origin can be traced back from England and France in the 18th century, where most property owners constructed big bathrooms and installed bathtubs overlooking the nearby gardens. Today's garden tubs are large, deep tubs used for soaking purposes.  Let's take a closer look.
What is a garden tub?
Is the bathroom a neglected section in any home? It's tempting to say no because every homeowner wants their bathroom to serve as a cozy nook for relaxation. Doesn't it feel better and restful to soak yourself in your garden tub's scented water? For any mobile home owners, having a garden tub is a dream that they wish it comes true.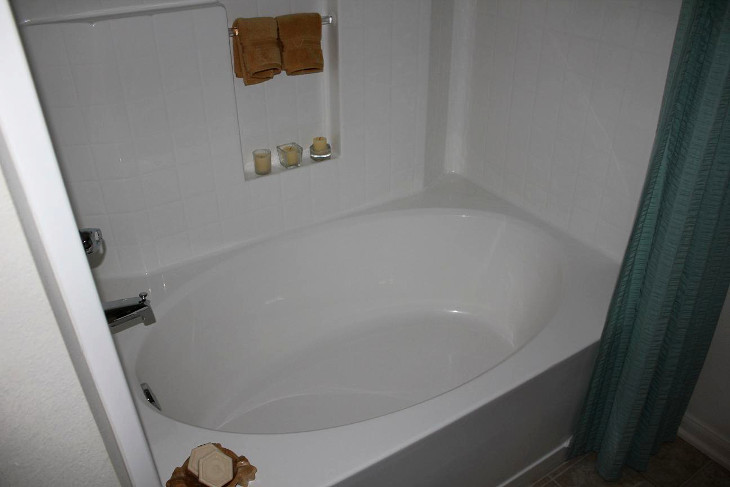 The term garden tub might be confusing: some people perceive it as a tub in the garden while others have different definitions. When it comes to home construction and decoration, a garden tub is a certain type of bathtub. It's made to bring about images cleanliness and solitary tranquility.
Note that the garden tubs have an altered shape of the sides and this makes them distinguishable from other bathtubs. In a standard bathtub, the sides are usually at 900 angle, perpendicular with the bathtub's base. On the other hand, a garden tub's sides are arched or bowed out such that they allow a bigger space for your body.
A garden tub is a popular way of dressing up your plain bathroom. It offers the bathroom a retrofitting look and expansive illusion. Most garden tubs are usually made of acrylic or fiberglass, but most home designers favor fiberglass when it comes to designing the garden tub interior.
The primary reason is that fiberglass is easy to maintain. Besides, fiberglass garden tubs are usually lighter than iron cast garden tubs.
Most garden tubs have insulation that helps in keeping the water warm. Apart from these stunning features of a garden tub, there is a huge drawback: you must be very careful when cleaning it as it can be scratched by abrasive cleaning materials.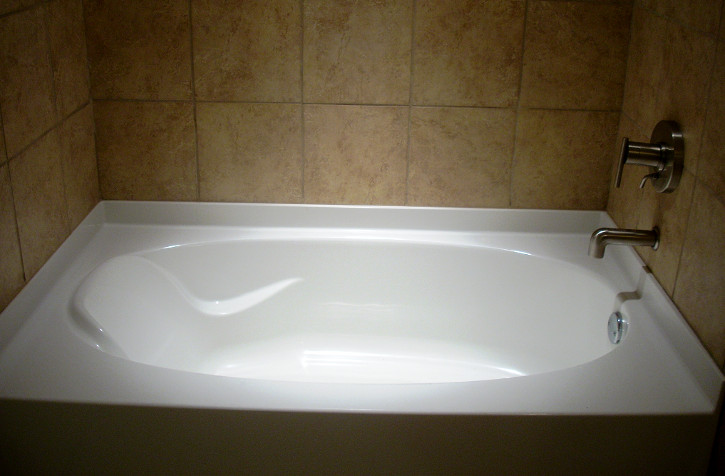 If you want to retain the tub's pristine look, you need to use soft cloth or sponge with non-abrasive cleaners to clean the tub's sides and fixtures. This will eliminate scum and dirt from the tub without compromising its appearance.
Design of garden tubs for mobile homes
The trailer homes garden tubs are normally lightweight and this enhances their portability. The tub isn't permanently installed. It's supported by either a Styrofoam base or by short legs. Most mobile homeowners prefer garden tubs that are supported by legs because these tubs are slightly raised to allow sewer pipes and drains to pass under.
However, these tubs have one disadvantage: the legs are prone cracking. Besides, these tubs can easily sway since they don't sit directly on the floor.
Garden tubs that sit on Styrofoam base are steady because the ground offers better support than tub legs. Since the tub sits directly on the floor, you can't install drains and sewer pipes under the garden tub.
Depth is one of the things that distinguish a prefab home garden tub from other mobile homes bathtubs. As said earlier, garden tubs are usually deeper and larger as compared to other bathtubs. They are designed to offer respite, and so, it is recommended to install the tub by the window. Today, these tubs are being enhanced to resemble a spa especially where mobile home owners install whirlpool and Jacuzzi.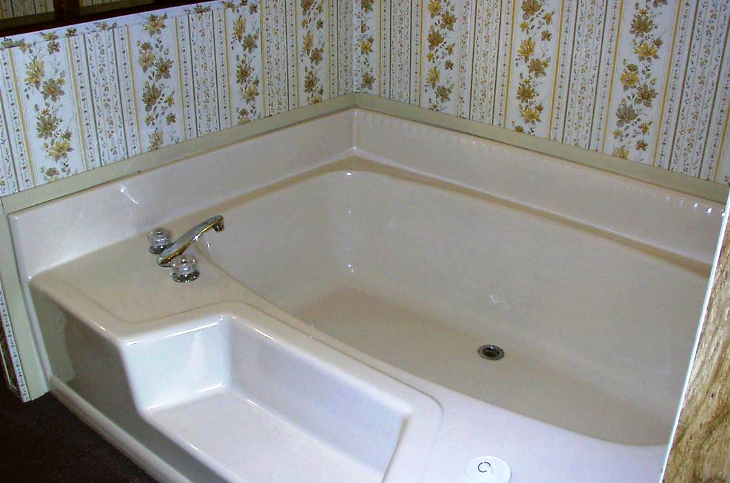 To enhance privacy, you can construct demi wall in travertine around your garden tub. This will help you to get a shower area enclosed by glass. The travertine will add glamour to the garden tub because it enhances the aesthetic value of the tub.
Note that the travertine will become a natural divider, thus enhancing the tub's privacy. To bring more ornament to your bathroom, consider installing cabinets that match with your travertine.
An average manufactured home garden tub can hold up to 100 gallons of water. With that, the tab's faucets and fillers must adapt to handling this amount of water – the faucet should supply large quantities of water within a short time.
The tub installer or builder should configure this requirement in such a way that high flow valves are used to enhance the tub's fill. You should never use kitchen faucets for this purpose.
These tubs are stylish and make mobile home bathrooms beautiful. They come in different sizes, shapes and colors. Since mobile homes tend to have limited space, it's important for you to first determine the space you have, then, purchase a garden tub that fits in that space effectively. You can choose either fiberglass or plastic garden tub.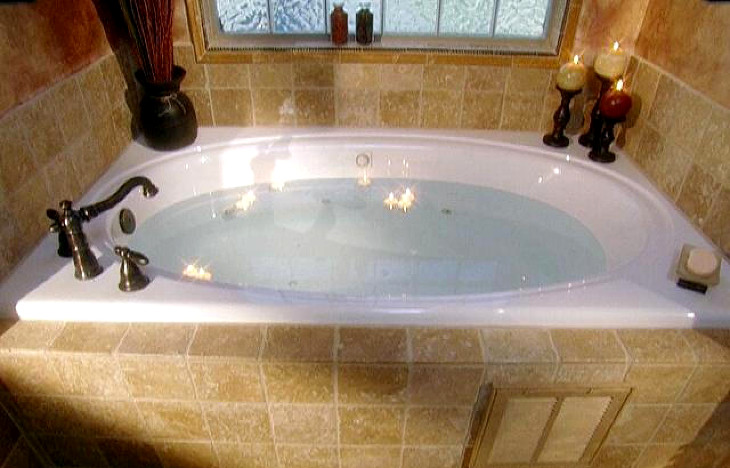 Don't be surprised that as innovations continue unceasingly, manufactured home whirlpool tubs are showing up in the markets. These heavy duty prefab home tubs are coated with acrylic and have resins added to the underbodies of the tubs. This makes the stronger and more durable than just a garden tub.
Choosing the Right Garden Tub for your Mobile Home
Choosing the right garden tub for your mobile homes means you will have to consider various issues. Some of these issues you may have control over, for instance, how you intend to use the garden tub, while others are more or less controlled by your situation, such as the available space in your bathroom.
You have a broad spectrum of choices in terms of garden tubs. You can choose purely aesthetic tubs or even customize it the way you want. One thing I like about manufactured homes is that you can customize everything. You can specify the size, shape and other features you wish your garden tub to have.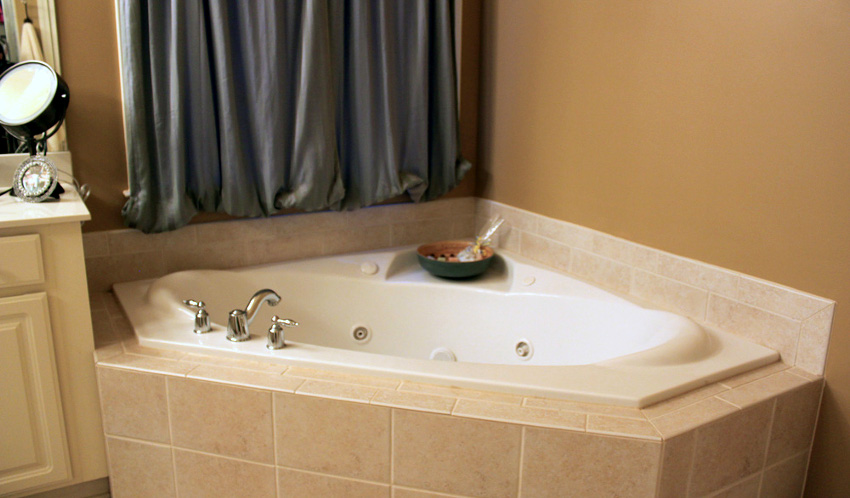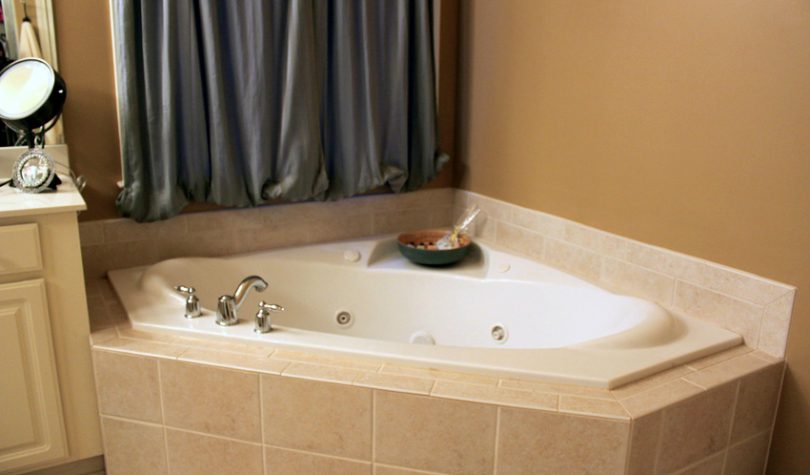 Technology is also another factor that will influence your choice of garden tub for your prefab home. Not only have garden tubs evolved to include whirlpool jets, but you can also incorporate sound and light too.
With that, you can be assured of getting a garden tub that suits your requirements. All you need to do is to specify all the requirements of your garden tub and let the manufacturer make one that satisfies your curiosity.
For you to choose a perfect garden tub for you manufactured home, you need to:
Learn the garden tub basics
Garden bathtubs come in different sizes, shapes, colors and materials. Before you get to the choose-and-pick section, you first need to find out if your choices are limited by physical constraints.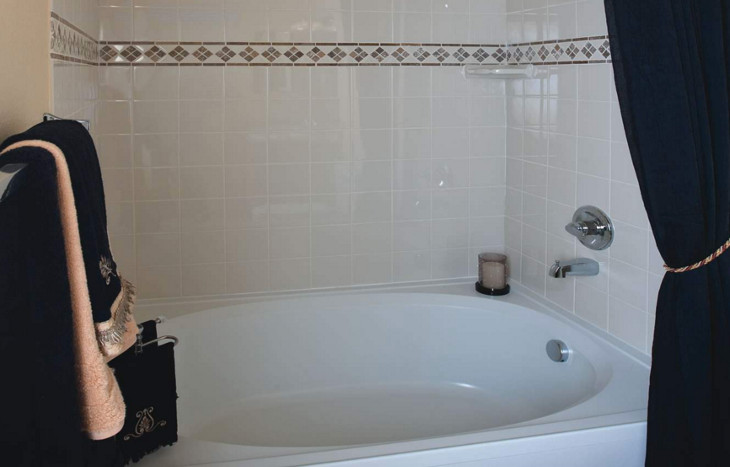 For instance, find out if the space available is adequate for the new tub you wish to purchase.
Types of garden tubs
Depending on the intended use of the tub, you can have the following types of garden tub.
General purpose: though probably not a real technical classification, general purpose garden tubs are very common. They serve more than one purpose including washing children, washing the dog, and more. There is nothing fancy about these tubs but simply help you do the job.
Soaking tub: soaking garden tubs tend to be deeper than other garden tubs. Their size allows you to immerse your entire body into the water. Soaking garden tubs come in different shapes and styles and also vary with the amount of water they can hold. Vintage and clawfoot style free-standing tubs fall under this category. This is because the tub has taller sides and can hold larger volume of water as compared to other tubs.
Walk-in tub: this type of tub features a door that allows you to freely walk into the garden tub instead of climbing over the tub's edge and then throw yourself into the tub. These tubs are very helpful to elderly people especially those who don't desire to struggle climbing edges of a bathtub. The tub's door has a seal that prevents from spilling on the bathroom floor once the tub is filled.
Air tubs and whirlpool tubs: air tubs and whirlpool tubs offer a therapeutic bath as they shoot water and air bubbles into the tub in different sections to offer you a massage sensation. Whirlpools inject water into the tub and stir it. On the other hand, air tub injects pushes air into the plumping system and this results in thousands of bubbles in the tub.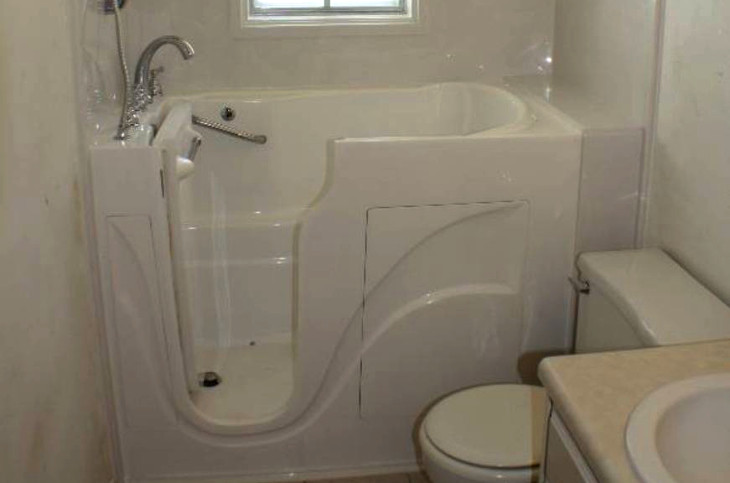 Garden tub materials
Once you determine the type of garden tub you want, you need to specify the material to be used in the construction of your tub. Here are some of the materials you can choose from.
Cast iron
This is a durable material and when used in the construction of garden tubs, it should be coated with porcelain enamel. A tub made of cast iron is known to be the most durable bathroom fixture, potentially offering reliable service for decades.
In most cases, cast iron tubs are usually the free-standing or the alcove (surrounded by three walls) variety. They have durable finish that can be cleaned easily. However, the tub should not be cleaned using abrasive cleaning techniques because they can easily distort the tub's appearance.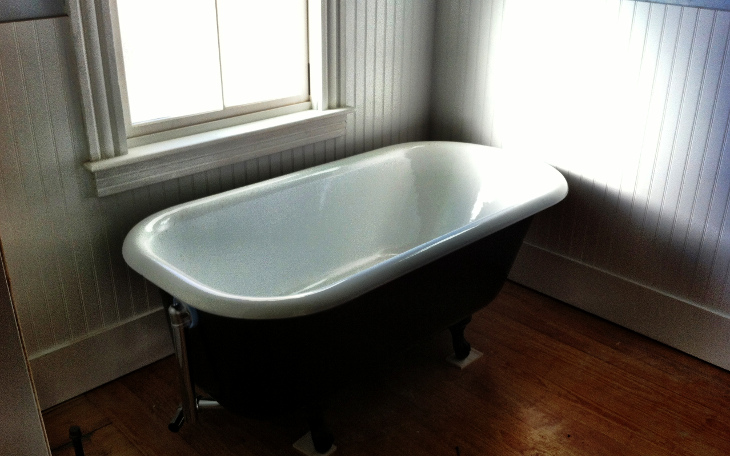 Keep in mind cast iron tubs are always heavy. If you add water and your weight, these tubs require robust support. This means the cast iron tubs might not be a good option for a mobile home, especially if you love moving around with your home.
Enamel on steel tubs
These tubs are also known as porcelain-on-steel and are quite similar to cast iron tubs. The only difference is that they are lighter than the cast iron tubs. Their surface can easily be cleaned. The fact that they are lighter than cast iron tubs means that you can easily install them in your mobile home bathroom without worrying about support.
The only limitation of enamel on steel tubs is that they can rust easily especially when the enamel chips off and expose the steel.
 Fiberglass Gelcoat
Fiberglass reinforced plastic (FRP) is another material you can opt for when constructing a garden tub for your prefab home. This material can be shaped easily. The gelcoat finishing offers a smooth, glossy tub surface and this makes it easier for you to clean your tub. Though fiberglass garden tubs are almost similar to acrylic tubs, they aren't durable.
Acrylic tubs
Acrylic is a specific form of plastic that is used to make tubs. It is glossy just like enamel and tubs made using this material are lighter than cast iron tubs and steel garden tubs. Though acrylic can easily get scratched, you can always repair them easily as opposed to porcelain and enamel surfaces.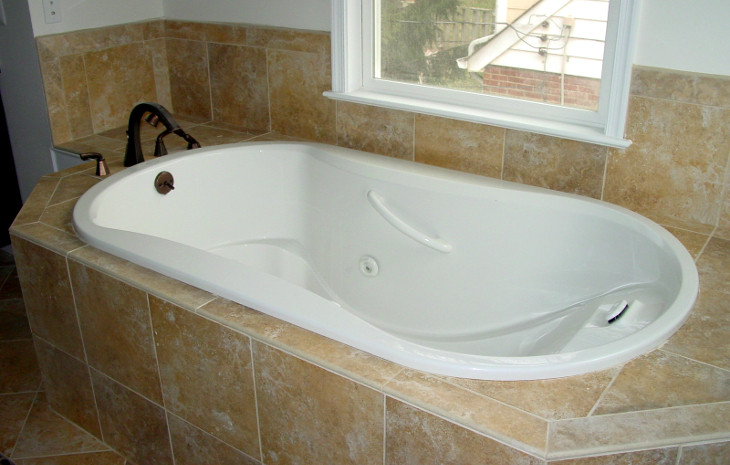 Acrylic material can be easily remodeled into different shapes and for this reason, the material is commonly used to make whirlpool tubs.
Wood
A wooden tub is a unique style and can enhance your bathroom's aesthetic value, but it comes with baggage. The wood requires a perfect surface sealant to prevent deterioration. Tubs made of several slabs of wood pieced together must have excellent seams and sealants to prevent leaking.
The durability of a wooded tub depends on how you take care of your tub. For instance, you must make sure that the tub doesn't get stained. Additionally, you should ensure that the tub doesn't leak or sit on water for a very long time to prevent the wood from soaking and eventually start rotting.
Cultured marble
This is a form of 'engineered' stone whereby resins are mixed with crushed marble to make a solid surface product. It's similar to quartz countertops. When making a tub using this material, gelcoat is used to offer a durable, stain-resistant, and easy-to-clean surface finish.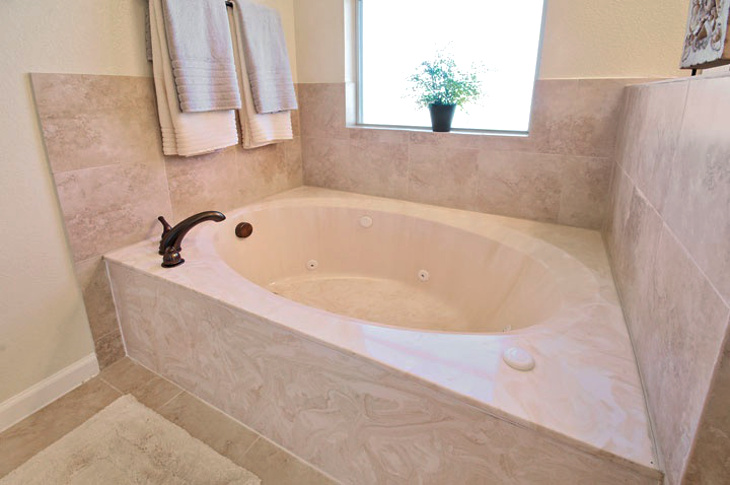 Cultured marble is brittle and is unforgiving of over-tightened spout and faucet fixtures that can easily crack the tub's surface. Though you can easily buff out scratches on a cultured marble surfaces, you cannot repair cracks.
Choosing the right garden tub material for your mobile home is important. Once you have decided on the type of material to be used in making your tub, you will have to contact a manufacturer to build one for you.  Besides, you can buy an already build garden tub for your home.
How the tub will be installed
Just like kitchen sinks, there are different ways of installing garden tubs. These tub mounting configurations are determined by the type tub you purchase. For instance, platform tub installation is ideal for whirlpool and air tubs. Also, if you intend to replace an existing tub and you don't plan to modify your bathroom further, then it will be wise to purchase a similar garden tub to the old one.
Once you are well-prepared – you have learnt the garden tub basics, specified the garden tub option to pick, selected the right material for your garden tub and specified how it will be installed, it's time to get the tub constructed.
There are different ways you can acquire a garden tub for your prefab home bathroom. First, you can go for a ready-made tub. Note that you should check from different manufacturers to pick one that suits your needs.
The other way of getting a tub for your mobile home is by approaching a manufacturer, and specifying your garden tub requirements. This way, you will get a highly customized garden tub.
Garden tub Maintenance tips
Mobile home tubs are prone to collecting grime and dirt. If you don't handle your garden tub properly, the simple job of ensuring that your tub is clean can become a strenuous chore that needs serious elbow grease!
Also, ignoring simple cracks on your tub can turn into big water issues that require expensive repairs or replacement of the entire tub. Here are garden tub maintenance tips to help you keep your tub in good shape.
Proper cleaning
It's crucial to understand the types of cleaners you are supposed to use on your tub depending on its material. As a general rule of thumb, you should always avoid abrasive cleaning products when cleaning your tub. This will allow you to keep the tub's surfaces clean and intact.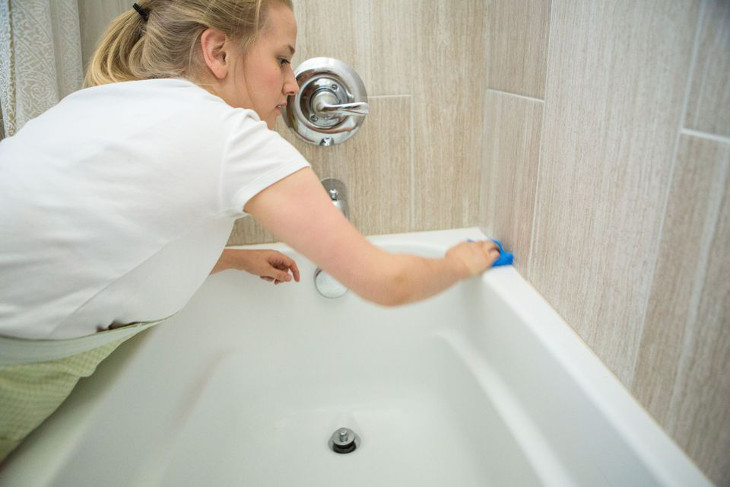 Regular garden tub cleaning will prevent mildew build up and buildup of the dreaded 'pink ring,' which can be difficult to eliminate. It's recommended to clean your garden tub weekly.
Garden Tub waxing
Applying wax polish on your bathtub can minimize water damage to the tub. Besides, you will be sure that no water residue will stick around the tub. Lastly, wax polish will seal any tiny cracks on your garden tub until you get a way of repairing them.
Repair the tub cracks in time
If you discover any damage in the tiles and grout, contact an expert to fix the damage as soon as possible. Damages in the tiles can result in mildew accumulation which will eventually cause more serious damage that requires more than just simple cleaning.
Conclusion
Garden tubs are a special fixture for any mobile home. For you to get one that suits your needs, you must first understand what's a garden tub and how it's different from other tubs, how to choose the right one, and how to maintain it.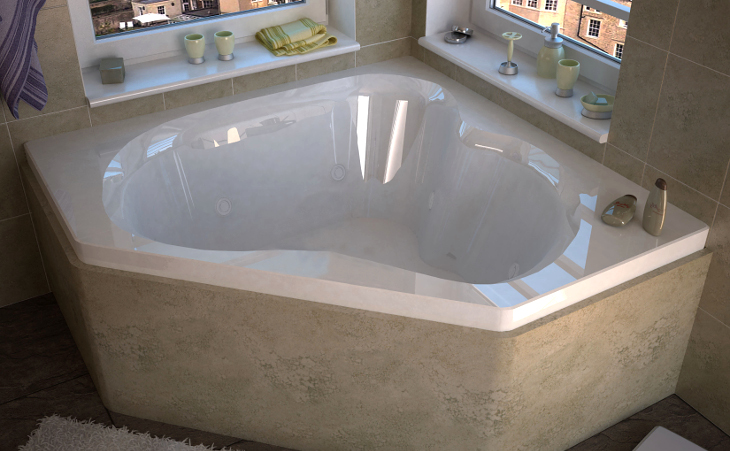 Do you think you'll install a garden tub in your home? Why or why not? Do you have any questions we haven't covered in this article? Let us know by leaving a comment below.