After deciding to build a modular home, the next step is finding the best modular home builders. Do not take this process lightly since you will spend decades in the home. For most potential home owners, it is easy to become overwhelmed with all the choices available.
For this reason, we have put together this guide to help you navigate the choices you have available. That way you can acquire the perfect partnership as you build your dream house.
Overview
Modular homes, also known as prefab homes consist of several sections known as modules. With the modular system of building, the modules of the home are constructed in an offsite factory/facility and later transported to the intended build site. At the build site, the home is put together and completed.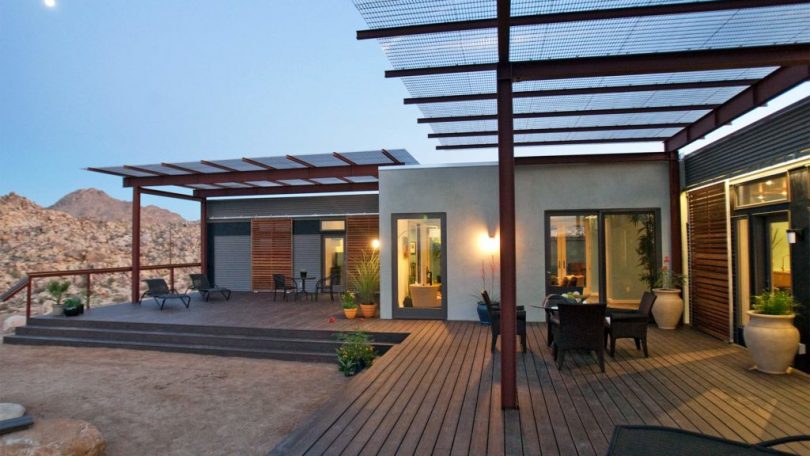 It is also important to remember that modular homes are not the same as mobile/manufactured homes (including multi-sectioned mobile homes such as and double wides).
While modular homes are generally permanent and built to on a permanent foundation (some even have basements), mobile homes are built on a steel chassis and abide by the HUD building code. In addition, when it comes to resale value, modular homes generally have a higher resale since they are treated as real estate.
Your modular home when complete has to be to code, including all local and federal building codes. When choosing a prefabricated home builder, you will need to ask yourself questions such as; are the buildings to code? Are they designed by certified architects?
What is the building style of the modular home builder? Where is the building company located? The more questions and details you get, the more likely it is that you will choose the right builder.
Understand the Role of Your Modular Home Builder
What really is the role of the modular home builder? Although the modular home builder has many responsibilities and roles, their main roles are as a project manager as well as a hub for the designing, ordering, and pricing of your home. It is important that you work with a trusted prefab home manufacturer.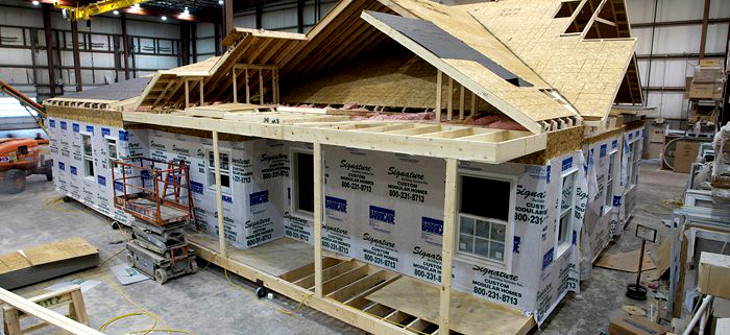 Prefabricated building companies can also offer a wide range of services such as landscape designing, and site preparation. Some modular home construction firms will handle the entire process for you, from permitting to landscaping. Of course, a turnkey experience will cost you more.
Another option available is a more hands-off approach; where by the prefab home builder can provide you with the home and install the home for you, and will then guide you towards experienced vendors and contractors, who will handle the site preparation, the furnishing, and the finishing touches.
Whichever way you choose, be sure to ask questions about the modular builder's processes.
Have Land and Financing in Place before the Building Process Starts
After you have decided upon the builder, you need to ensure you have a financing plan and land in place. Having your land ready will help make your meeting with the potential builder a more successful one.
Since modular homes are factory made, they are more suited to leveled grounds. In addition, if the land is rocky, the building process may cost you more. Lastly, distance plays a huge factor in cost.
The further your land is from the facility where the modules are manufactured, the more expensive shipping will be. There are modular home builders who only build for certain parts of the country, while other modular home manufacturers serve nationwide.
Your modular home builder can also assist in determining the best locality for your dream home.
Financing and mortgaging process is also a big deal. Since modular homes are classified differently to mobile homes, most banks finance modular homes as they will stick-built homes. It is important that you do your research thoroughly, and find a financial plan that works for you.
Know the Modular Home Construction Firm's Skill Set and Experience Level
Going with an experienced prefab home builder is important especially when it comes to the style of home you want. In addition, your budget will contribute to your choice. For instance, Blu Homes (a reputed home builder) offers smart prefab homes generally priced $100,000 plus.
If you may want a smart green home, which sustains the environment and conserves energy efficiently, you will have to pick a builder who is experienced in building such houses such as Blu Homes. It is important to research the builders available to you, who build the type of home you desire.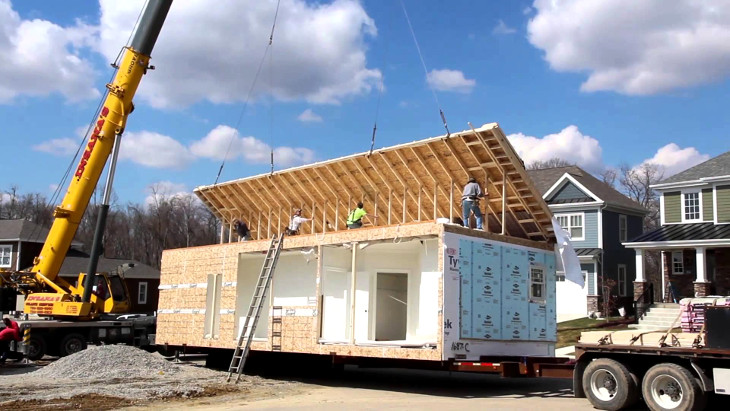 Acquiring the right type of home can be tricky since there are endless choices out there. One way to narrow down the many choices is to pick a manufacturer who has a substantial portfolio building houses similar to the type you want.
Apart from modern modular homes, certain builders also offer traditional looking homes such as in the style of colonial, Cape Cod, ranches, mansion homes and two-stories. Later on in the article, we will provide you with a list of some of the best modular home builders.
A short internet research of the builder you are interested in working with is the way to start. This internet search will lead you to their website. There you can view the buildings they have offered, the floor plans of the building, the turnover time, and the price.
In addition, you should find out the building associations they are part of. There are several reputed associations such as National Modular Housing Council (NMHC), National Association of Home Builders (NAHB), Modular Home Builders Association (MHBA), and Modular Building Systems Association (MBSA).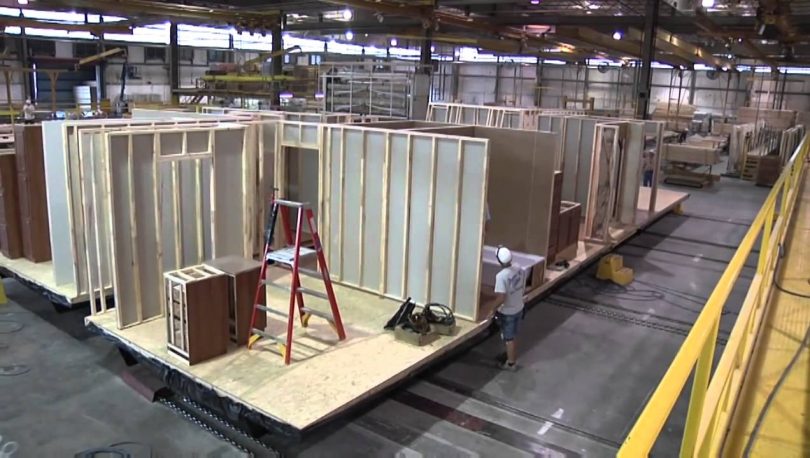 Lastly, you need to find the modular home builder's Better Business Bureau rating. These are important information you need to find out before you start getting serious with any one builder.
Questions to Ask during the First Meeting
You need to be bold when it comes to asking questions. The first meeting is an important stage in the whole building process. If the first meeting goes badly, it is likely that the whole building process will not go smoothly.
The first meeting is the time to ask all the tough questions and get yourself conversant with the building process. You should ask about the complete building process. Here are some excellent sample questions you can ask.
Who will be your direct contact during and after the building process?
What is the timeline that is followed during the building of the home?
What are the warranties on the home like?
What are the payment plans available?
Does the prefabricated home builder have insurance plans in place for the transportation of the home from the factory to the build site?
Does the modular home construction firm have an insurance plan for unfortunate events that may occur while the home is being built in the factory?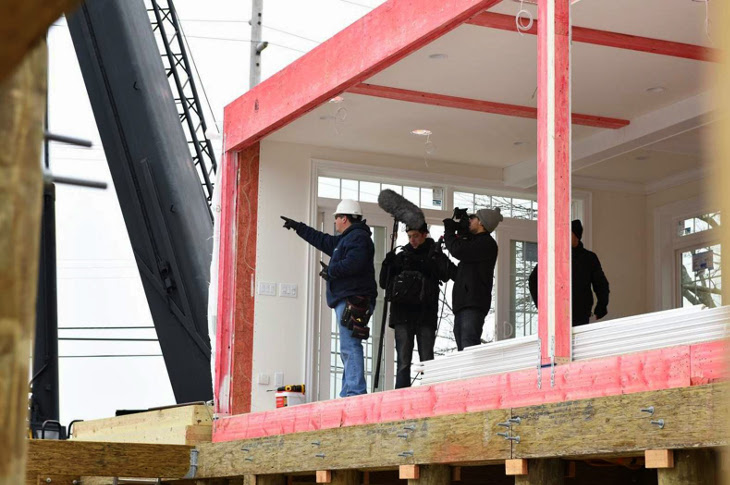 While these are not the only questions you can ask, they can serve as a guide. Asking the tough questions should not be intimidating.
A good prefabricated home builder will be more than accommodating when it comes to any and all questions you have. If the builder is not able to provide you with satisfactory answers then you will need to take your business elsewhere.
Choose a Modular Home Builder with a Factory Close To the Site
In the U.S., there are prefab home builders that have as many as ten factories all over the country. Some such as Clayton Homes has over 300 official home centers.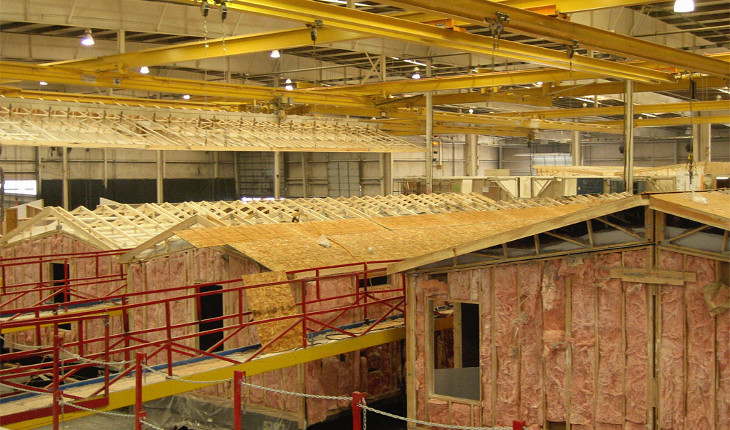 This way such companies can be close to customers as they possibly can. When choosing a modular home construction firm, you should ensure that the prefabricated home builder has a factory close to the build site.
One advantage of this is that you can actually plan a tour of the factory and find out more about their building process.  And most importantly, the closer your build site is from the factory, the lower the shipping costs will be.
10 Great Modular Home Builders to Choose from
Since there are endless choices available, choosing the right modular home builder can be difficult.  The location is one of the main deciding factors since a close prefabricated building company is easier to visit, and inspect.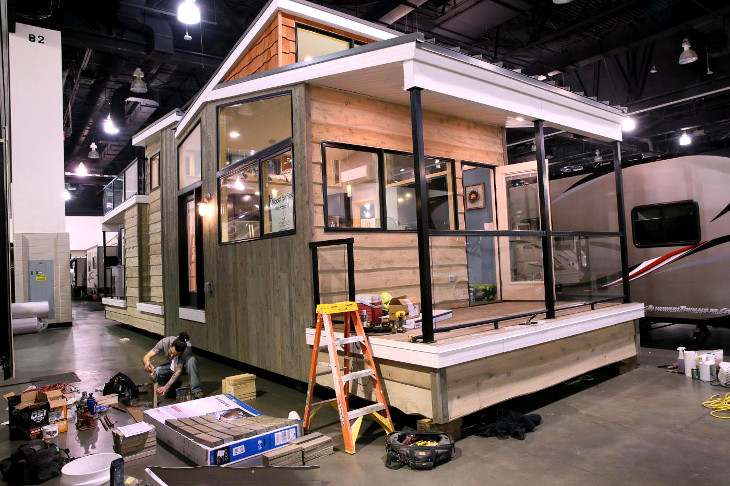 Although a manufactured home builder may serve the whole United States, the further the modular home construction firm, the higher the shipping costs.
Here are some of the best modular home builders available. There are many competent builders around the world, so do not limit yourself to the following builders.
Clayton Homes
Headquartered in Maryville, Tennessee, Clayton Homes might just be the most popular modular home builders in the United States. Clayton Homes has as many as 300 plus official Home Centers all over America. They also have over a thousand independent authorized dealers you can get in contact with.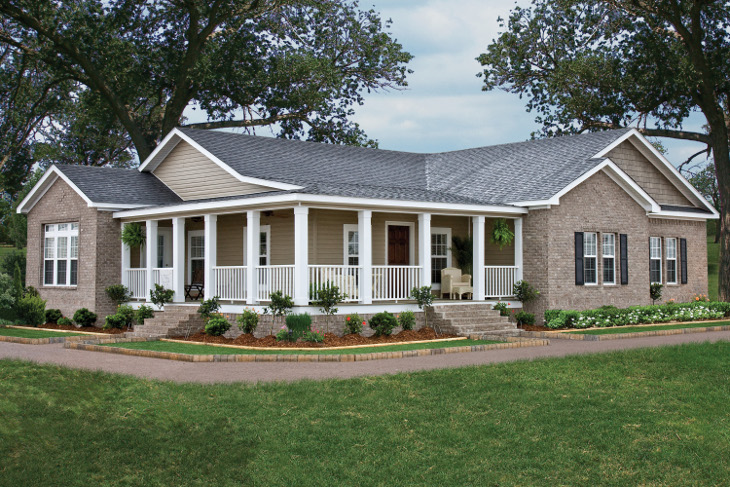 Founded in 1956 by Jim Clayton, this company has been producing affordable modular homes for decades. They have won several awards for their energy efficient durable buildings including the MHI Retailer of the Year eight out of the last nine years, many MHI home design awards, ENERGY STAR® Partner of the Year and more.
You can decide to build either with Clayton Homes or even lease with them. Because of their reputation, financing a Clayton home is straightforward.
Clayton Homes serves the continental United States.
Find out more about Clayton Homes at https://www.claytonhomes.com/.
Hive Modular
When it comes to modular buildings, look no further than Hive Modular. This Minneapolis-based company is known for their modern looking and traditional looking prefab homes. Their homes will fit in perfectly regardless of where it is situated. Hive Modular main target is to build modern sustainable homes.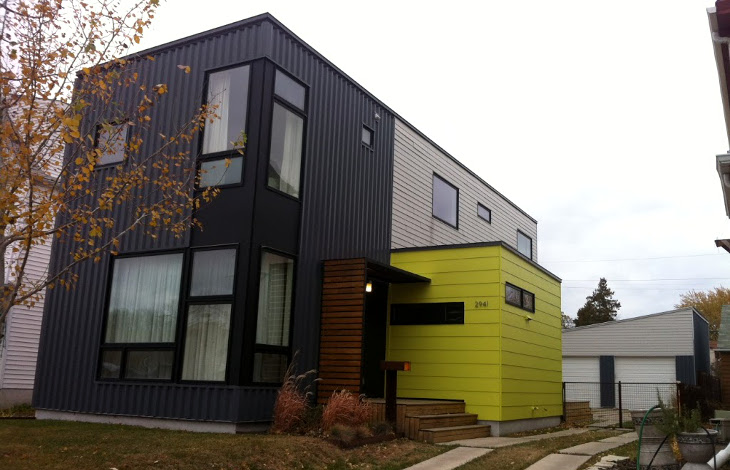 When it comes to customization, this prefab home builder is among the best. Hive Modular will ensure the custom homes built will fit your needs and build site perfectly.
Hive Modular serves the United States and Canada.
Find out more about Hive Modular at http://www.hivemodular.com/.
LivingHomes
This is one of the most popular modular home builders on the market. According to this firm, their construction style allows them to minimize wastage and build less expensive homes.
With LivingHomes, all their homes are built to be energy efficient and sustainable. They use a "Sustainability Scorecard" to show just how sustainable each of their homes are. LivingHomes use the "Zero 6" vision to ensure the homes minimize waste and maximize energy conservation.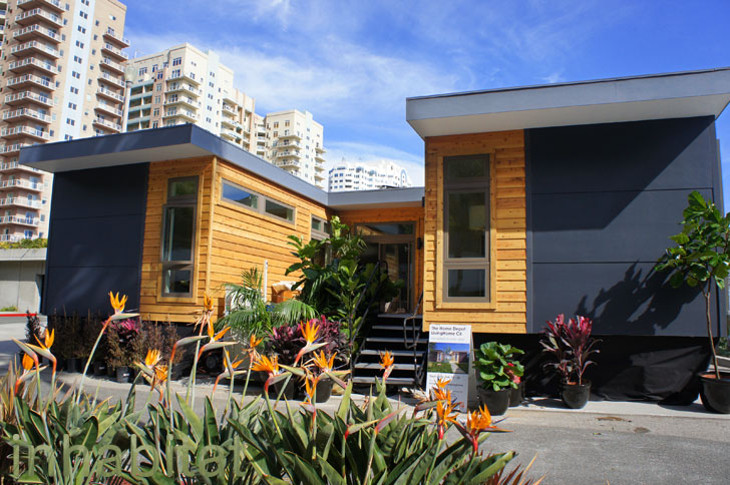 LivingHomes serve localities in Los Angeles namely – Bel Air, Woodland Hills, West Hollywood, Venice, Universal City, Topanga, Tarzana, Studio City, Sherman Oaks, Santa Monica, Playa Del Rey, Pacific Palisades, North Hollywood, Marina Del Rey, Manhattan Beach, Encino, Hollywood, Los Angeles, Culver City, Calabasas, Beverly Hills, Brentwood Los Angeles.
Find out more about LivingHomes at http://www.livinghomes.net/.
Specht Architects
This architecture firm has offices in New York City, and Austin, Texas, and have received many awards and acknowledgments from New York AIA (American Institute of Architects), The Wall Street Journal, Architectural Digest, and The New York Times just to name a few.
Their most popular home is the ZeroHouse. This modular home is designed for off-grid functionality, and for the minimization carbon footprints. Although this home is not your typical modular home, it is very practical for anyone who wants to live as a comfortable minimalist with access to all the high tech tools and gadgets available.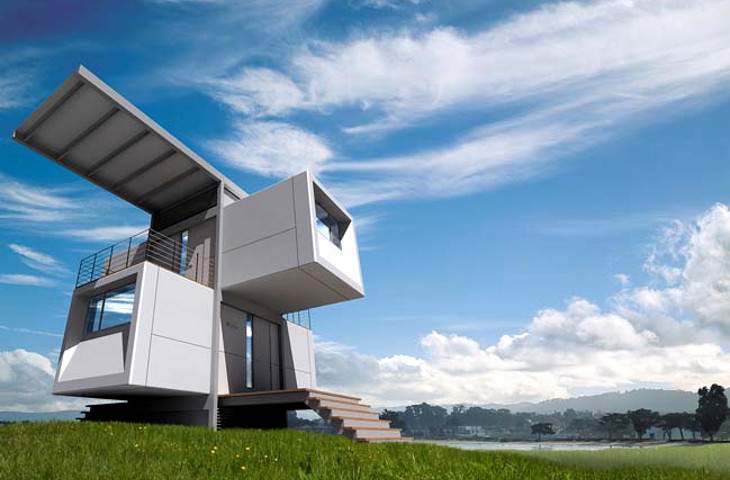 It, therefore, comes as no surprise that the ZeroHouse modular home is an award winning design, and has won countless awards including the Texas Society of Architect's Design Award in 2007. The 660 sq. ft. ZeroHouse can fit four persons and has all the amenities and features needed for an amazing off-grid living experience.
Areas served to include West Lake Hills Sunset Valley, Shady Hollow, San Leanna, Rollingwood, Pflugerville, Onion Creek, Mc Neil, Manchaca, Lost Creek, Hornsby Bend, Hays, Del Valle, Barton Creek, and Austin.
Find out more about the ZeroHouse at http://spechtarchitects.com/work/zerohouse/.
Connect:Homes
Located in Los Angeles, Connect Homes is all about style, affordability, and practicality. Those were the aim of founders – Gordon Scott and Jared Levy. The designs of Connect:Homes' homes are modern and unconventional, that way they can provide you with a home that meets the needs of a modern world in a short amount of time.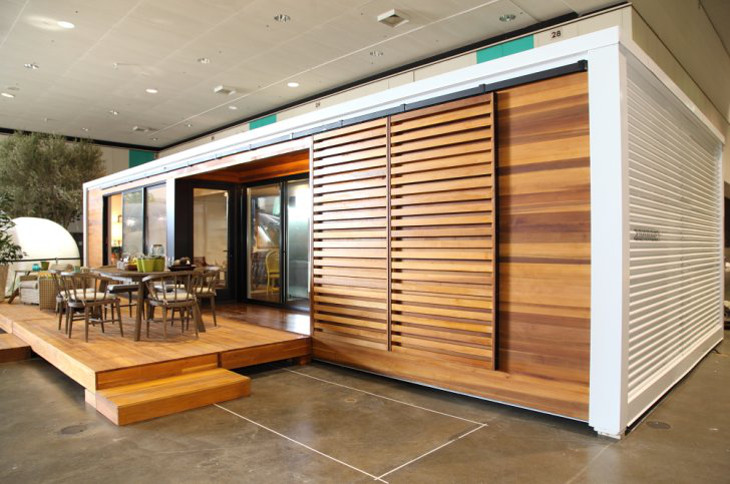 Not only are their homes economical, they are sustainable and will leave smaller footprints compared to stick-built homes. Connect Homes have several different models you can choose from. Their homes contain all the facilities needed including kitchens, baths, living rooms, and bedrooms. You name it.
Connect Homes serves Bay Area, San Diego, and Los Angeles.
Find out more about Connect Homes at http://connect-homes.com/.
Cabin Fever
Located in Miami, and started by Andrew Kelly, this prefab building company specializes in cabin style homes. One of the best things about this company is their fast turnover time. They can have your cabin-style modular home up and functioning in as little as a month and a half. Cabin Fever has an option that allows their homes to be upgraded to function off-grid.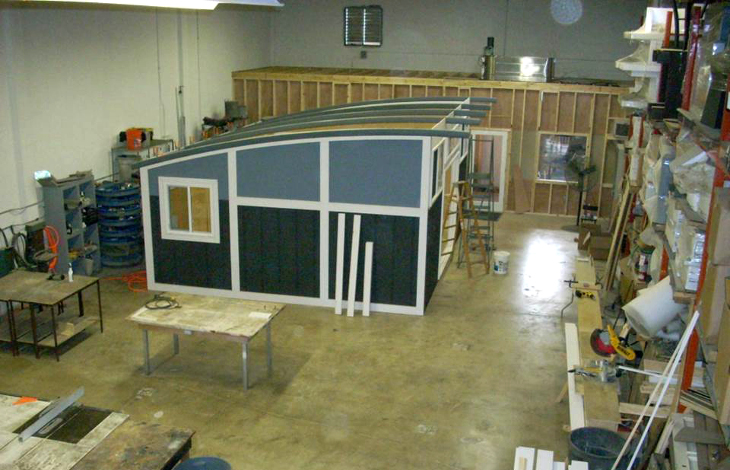 Their homes have been featured on news outlets such as CNN, The Associated Press, Miami Herald, Denver Post and others.
Cabin Fever serves worldwide.
Learn more on Cabin Fever by visiting their website http://www.cabinfever.us.com/.
Stillwater Dwellings
This is one of the very best modular home construction firms around. Located in Seattle and founded by Matthew Stannard, this company, is all about sustainability and energy conservation technologies. Their buildings are contemporary and architect designed.
They are built to be affordable, accessible and sustainable. This prefabricated home builder uses advanced tools in both the design and building process, thus minimizing cost and project time.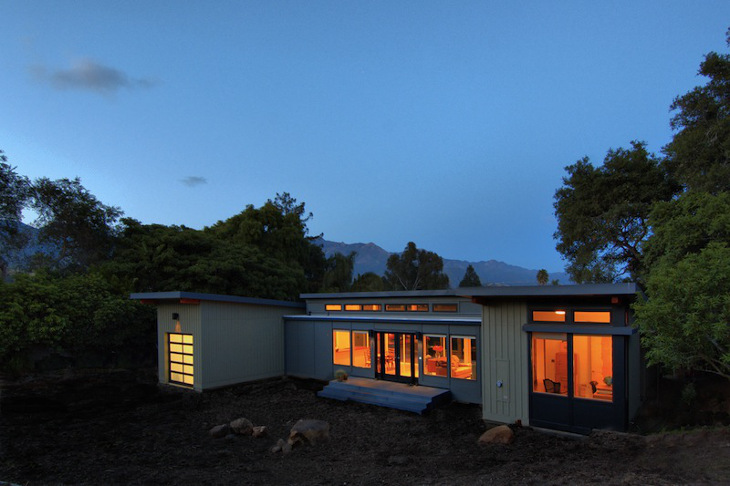 The overall finished home is modern looking and aesthetically pleasing. Stillwater Dwellings has 23 different floor plans to choose from. You will have many designs at your fingertip when you go with Stillwater Dwelling. In addition, the prefab homes offered can be customized to your taste
To find out more visit, http://stillwaterdwellings.com/.
Blu Homes
Blu Homes is among the top providers of manufactured homes in the world. Located in California, this company will build your home in half the time of a traditional stick-built home. Blu Homes are not only excellently designed, they are built for luxury and the building process assimilates high-performance technologies to increase comfort and convenience.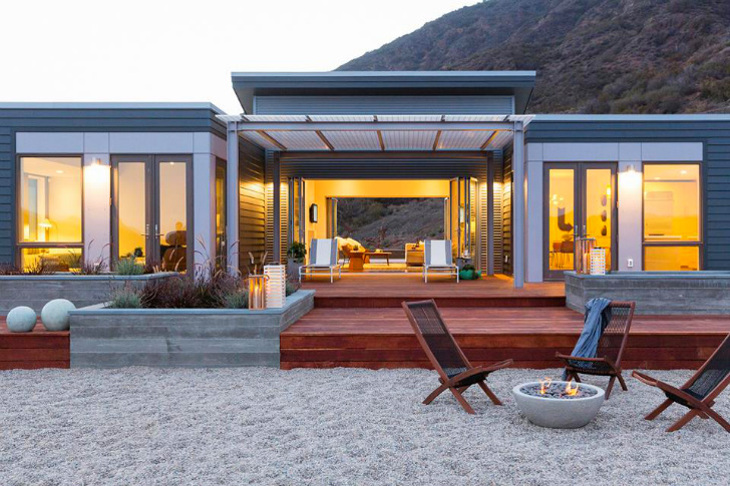 Blu Homes have an ultra modern 250,000 square foot manufacturing facility located in Northern California, where production of the modules takes place. This modular home construction firm also provides site work, general contracting, schedule management and so on.
Blu Homes serves California.
Find out more at https://www.bluhomes.com/.
Method Homes
The company, Method Homes, build modern homes. This means their homes are sustainable and beautifully designed to take on the 21st century. Method Homes offers eight distinct lines of home designs.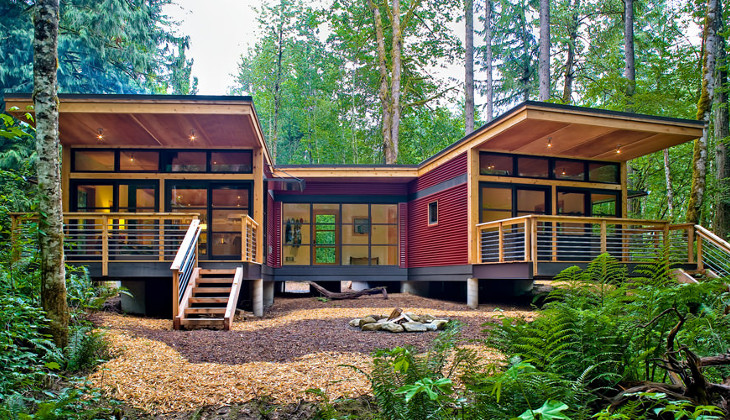 Located in Washington, this prefabricated building company allows for buildings that cut waste down by 30 percent or more. There are several options available for off-grid living such as rainwater harvesting, solar energy systems, reclaimed materials, and so on.
Method Homes serves the United States and Canada.
Find out more at http://methodhomes.net/.
Sander Architects
Located in California and founded by Whitney Sanders, this award-winning modular home builder is all about innovation and modern designs. The most popular home in their catalog is the HYBRID HOUSE. This home is part prefab and customized to the future homeowner's preference.
Their excellent homes will fit into the environment whether rural, suburban or urban. Sander Architects needs at least 2000 sq. ft. of land for the HYBRID HOUSE build to start.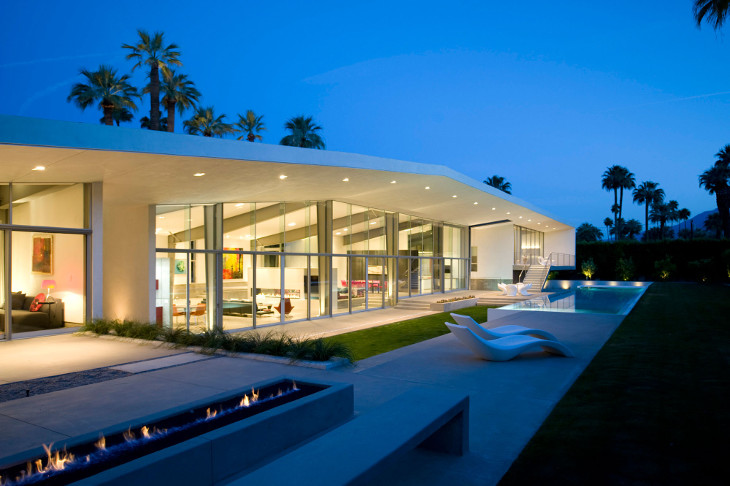 Sander Architects serves – Bel Air, El Segundo, Culver City, Brentwood Los Angeles, Beverly Hills, Gardena, West Hollywood, Marina Del Rey, Manhattan Beach, Los Angeles, Inglewood, Hollywood, Hermosa Beach, Hawthorne, Venice, Universal City, Torrance, Topanga, Studio City, Santa Monica, Redondo Beach, Playa Del Rey, Pacific Palisades, and National.
Learn more about Sanders Architects at https://www.sander-architects.com/.
3 Great Tools to Use
Houzz
There are several tools online you can use to make your job extra easy when trying to find the best builder for you. One of the best tools online is the Houzz website and online community.
This site provides basic information on prefab home builders in the United States. They use a star rating system, that way you can easily see how well users like that builder out of a possible 5 stars.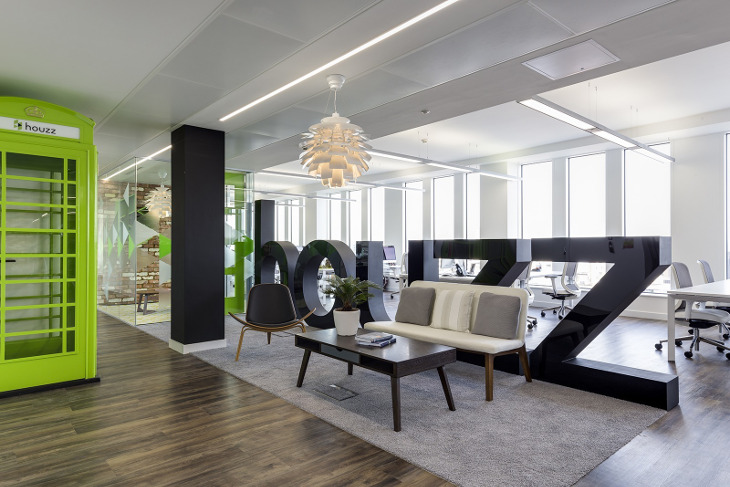 In addition, there are also reviews available. Since it is an online community, you can get in contact with other home owners, and get talking. Houzz also provides information on home improvement, landscape designing, interior designing and decorating, and architecture.
Find Houzz at http://www.houzz.com/.
Modular Home Builders Association (MHBA)
The Find a Builder tool at the Modular Home Builders Association (MHBA) website is a great tool when it comes to finding an MHBA modular home construction firm near you. With this online tool, you can search for companies in the United States and Canada, or for builders outside the United States and Canada.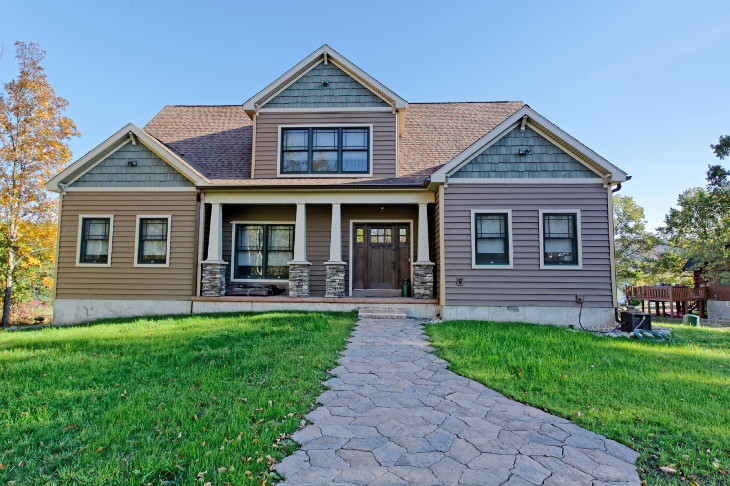 You can also search through a variety of services and products available. You can also find companies by country, city, state, or zip code. You can also search using the company's name
Use the Find a Builder tool at http://www.modularhousing.com/Finder/Default.aspx.
Google Search
A quick Google search will yield a wide array of information. When searching online, you should try to stick to reputable sites such as ours. In addition, visiting the page of the builder you want to work with will give you a general idea of the builder.
Maintaining a Working Relationship with Your Modular Home Builder
After the build, it is necessary to maintain a relationship with the manufacturer. The warranty on the house may allow for repairs just in case you need it.
Many builders will also offer upgrades when needed. In addition, several builders will handle the jobs of a general contractor such as landscape designing, and provide you with the best appliance provider for the home.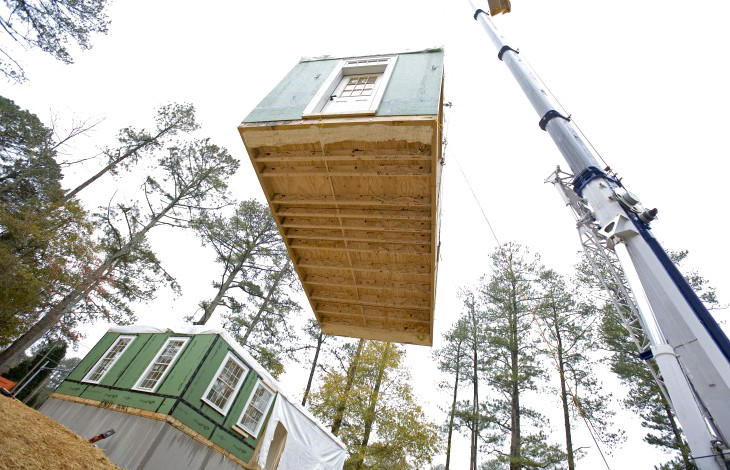 A good working relationship will go a long way when it comes to getting the most out of your house. Since modern modular homes are built to last and to be sustainable, they will improve your quality of life.