Cabin-style modular homes offer a lot of advantages and features for families and individuals looking to put down roots in both suburban and rural settings. Modular homes can fit in anywhere, from multi-acre homesteads to efficient plots of land with just enough square footage for a small cabin. These affordable homes can give you the shelter and amenities you're looking for in a residential space without blowing your budget.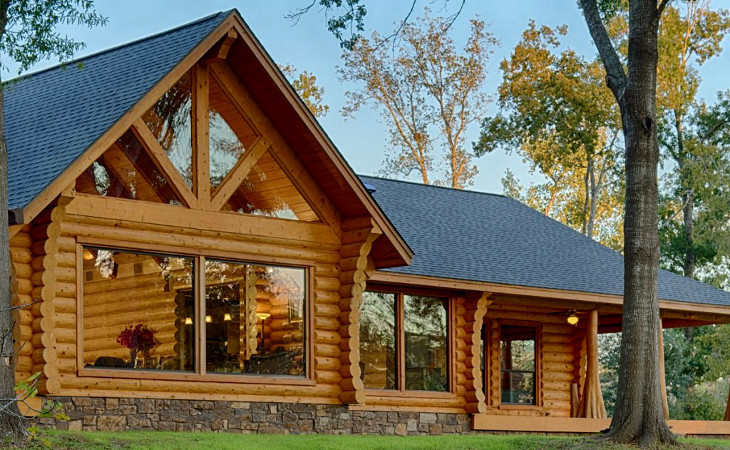 But before you start shopping for your modular cabin, it's a good idea to first understand what this kind of housing is like, how it differs from other types of homes and what kind of house you can get in the modular cabin style. Setting your expectations in a realistic place up front will make your journey to modular cabin ownership much smoother.
What is a Modular Cabin?
Modular cabins and homes are built in a factory and then delivered, often all in one piece, to your property, where they're installed as a permanent structure. In many ways, these structures, which are also known as factory-built or prefab homes, are indistinguishable from a traditional house that's built on site. In fact, there's a chance that you've been in a modular home at some point in your life without realizing it.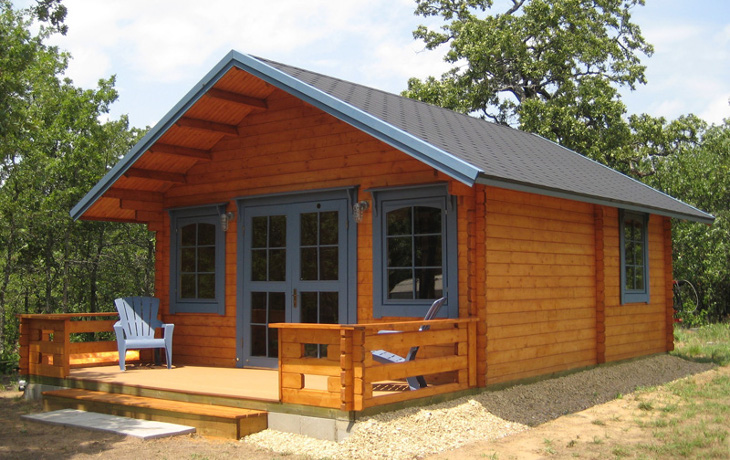 Once a modular home is delivered and installed, it's just as sturdy and comfortable as a site-built home. In fact, some builders say that modular homes are often of better quality than many traditional site-built houses because the prefab style allows for greater quality control.
Modular vs. Other Styles
To understand more about what modular cabins are and how they're made, it may help to compare them to other home construction styles:
Modular: Built in a factory and delivered to the homeowner's property
Site-built: Built from materials that are brought to the property; construction happens outdoors and typically requires the coordination of a variety of different independent contractors. Also known as stick-built
Kit: Built from materials that are processed in a factory and are ready to assemble according to a basic set of instructions; kit homes are typically built by the homeowner and allow for savings on construction labor
Manufactured: Built in a factory and delivered like a modular home, but is easier to transport once installed and is typically not as sturdy or spacious as a modular home. Also known as mobile home or trailer
Each of these styles has its own pros and cons, but if you're looking to save money, avoid performing construction work on your own and purchase a solid, sturdy cabin-style house, the modular style is likely best for you.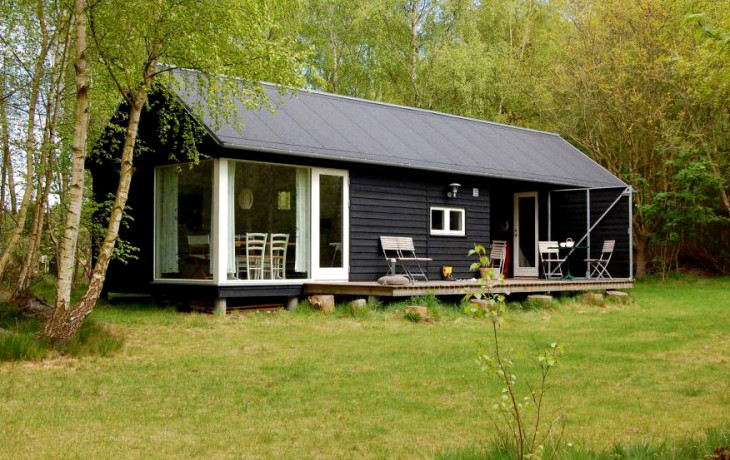 This is especially true if you're looking for a rustic cabin-style building that balances quality, efficiency and budget.
Pros and Cons of Modular Cabin Construction
The modular home style is fantastic for landowners who want to save money on a customized cabin, but it's not without its drawbacks. Before you decide whether this housing style is right for you, consider these pros and cons.
Modular Cabin Pros
Speed: Construction is much faster on a modular home than on a traditional site-built house. In some cases, your modular cabin can be built in a matter of weeks, and you can start living in it the day it's delivered.
Desirable style: Modular cabins can be designed with all the rustic details you want from a cabin, including log walls, wood floors, A-frame styling, spacious front porches and more.
Finances: Once they're installed, financial considerations such as tax, insurance and value depreciation are the same for modular homes as they are for site-built. These are permanent structures that qualify as "real property."
Construction quality control: Because they're constructed indoors in a factory setting, modular homes are subject to strict quality control by the manufacturer. They can be built to code for any jurisdiction. Third-party inspections and other quality control measures are in place for modular home manufacturing.
Weather concerns: While site-built homes are often subject to Mother Nature's whims, modular home builders work rain or shine. Only in extreme cases will modular home construction get held up by a random storm. The fact that your home is built in dry conditions also eliminates construction-related mold issues.
Shipping prep: The fact that modular homes must ship from the factory to the installation site actually makes them sturdier than site-built homes. These houses have to be able to withstand the stress of being moved, so components are affixed more sturdily and the houses as a whole are heavier than most of their site-built counterparts, meaning you end up with a stronger building with greater structural integrity.
Customization: Most modular home manufacturers will allow you to customize your basic cabin blueprint to add or eliminate any features they offer. This can include adding luxury features such as skylights or eliminating extra bedrooms you don't actually need.
Efficiency: Factory home construction generates very little waste, and more precise factory fabrication techniques usually result in tightly sealed, energy efficient homes. Modular cabins also often have more insulation installed than other housing types.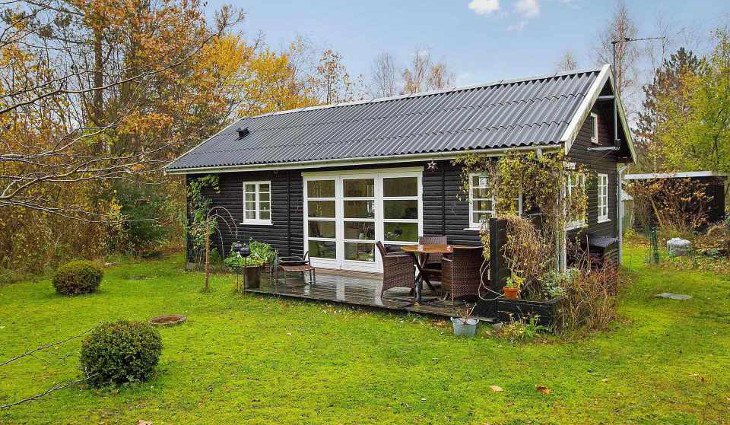 Modular Cabin Cons
Limited options: Though customization is an option for most modular cabins, you'll have a limited number of building company options to consider. 
Land ownership: You'll need to own a piece of land or have permission to build on land you don't own if you purchase a modular home. The land purchase is not part of the home purchase as it is with a site-built home.
Utilities: Utilities installation and hook-ups typically aren't part of a modular home installation, so you'll need to get those services taken care of separately from purchasing your home. Depending on how complex your utilities needs are (e.g., how many bathrooms you need plumbed, whether you plan to have central heating forced-air heating installed), you could end up adding several thousand dollars to your final home cost just to get electricity, plumbing, HVAC, gas and telecom services set up.
Resale stigma: Though this perception is changing, some prospective homebuyers feel that modular homes are lower quality than a site-built home. Though your home's value will likely be comparable or even higher to similarly designed site-built cabins, you might have a hard time selling it at a desirable price. If you don't intend to sell, however, this isn't a concern.
Choosing a Manufacturer
The first step toward actually making your cabin dreams into reality is to find a modular home manufacturer. Choosing the right builder requires a fair amount of research, but in the end, you'll end up knowing a lot more about who built your cabin and how than you might otherwise.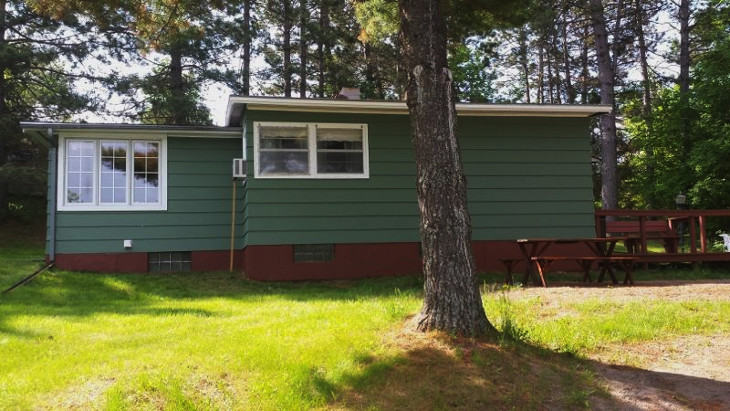 You can start your search by casting a wide net, perhaps by performing an online search with broad keywords such as "modular cabin company" and seeing what you find.
At this point in the process, you aren't necessarily doing a deep dive. You just want to make sure the builder makes cabins in a style that matches with your needs and has a clearly defined work process.
After you assemble a list of prospective builders – you'll probably want to consider at least five different options at this point – it's time to narrow down your options to your final choice.
What to Look For in a Modular Cabin Builder
Ultimately, the builder you choose should be the one that best suits your budget, needs and personality. You're not looking for a best friend, but if you expect quick responses or need your cabin built as soon as possible, you don't want to hire a builder that takes a few days to get back to you every time you answer a question.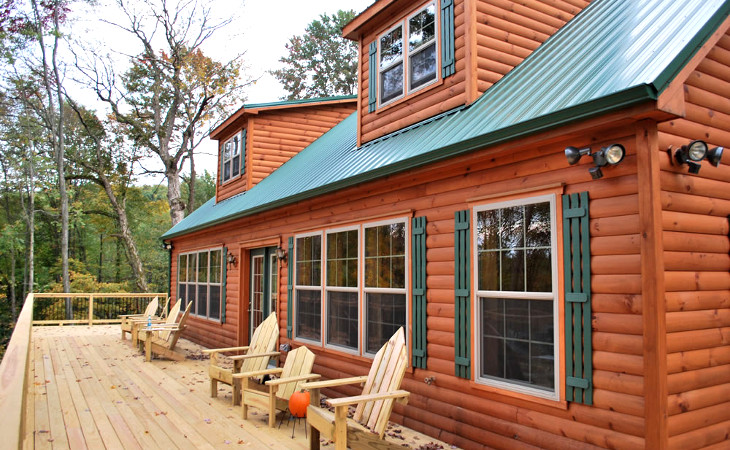 If you're more laid back or have a flexible timeline, this criteria might not matter to you as much. Look into these areas to find your perfect modular cabin manufacturer:
Portfolio
Reputable, experienced manufacturers should have a portfolio or gallery of completed cabins for you to look through. Browse through these photos to check out construction style and see what the available floor plans look like in real life.
If a builder has a style you really love, you can move them to the top of your candidate list. If, on the other hand, you don't like anything you see, you can eliminate that builder.
Detail
How detailed is the builder's website? Do they discuss their process, provide FAQs, list contact information and provide floor plan samples? If the website isn't detailed, are they vague when you try to ask questions over the phone or via email?
Evasiveness and sketchy details at this point in the process spell disaster once your project is underway. Don't work with a builder who isn't upfront and helpful.
Helpfulness
Even if the website is detailed, you should still give the builder a call or send an email. How long does it take them to get back to you? Is the person you talk to friendly and helpful? Are they giving you detailed answers to your questions or spouting boilerplate that's repeated on their website?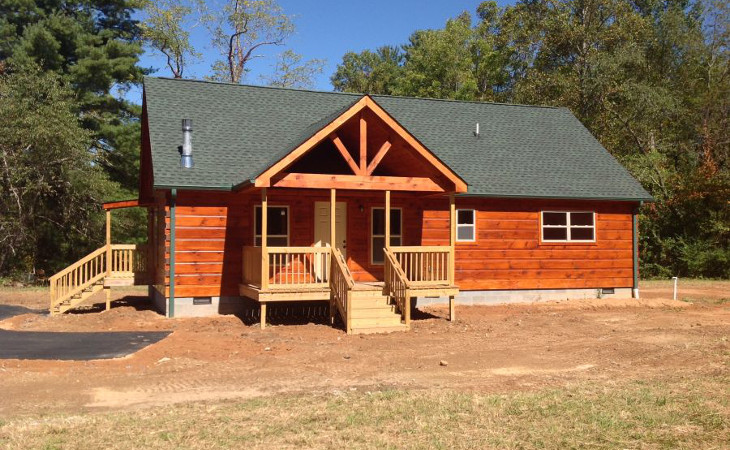 Again, this speaks volumes about what it'll actually be like to work with the builder, so don't hesitate to knock out any candidates that fail to pass the helpfulness test.
Warranty
As with all big purchases, you'll want to look out for information about warranties and other assurances. Read the fine print and find out if the warranty is actually a favorable deal for you.
Price
A trustworthy modular cabin manufacturer should be able to give you a rough estimate of how much your project will cost. They should also be clear about how their estimates and pricing works, what kind of contracts you'll sign and any other details relating to financing.
Keep in mind that until you actually hammer out a specific design, the prices you're quoted will likely be estimates. Estimates aren't an automatic sign of bad faith, so don't get scared off if your initial pricing questions aren't stated as final figures.
Delivery and installation
The builder should be able to tell you exactly what will happen when they deliver and install your cabin. They may even ask questions about what your property is like to get a better idea of what the installation process will look like.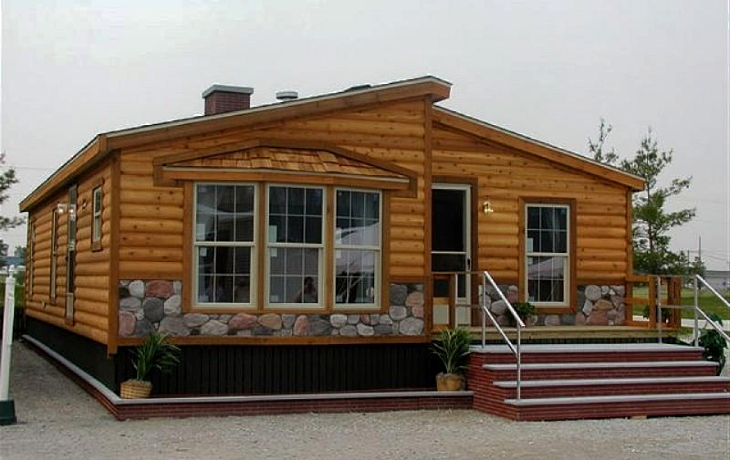 You should also get specific answers to questions about how delivery happens and what precautions the shipping team takes to ensure your cabin stays safe on the road.
Financing
You should be able to get specific answers to questions about financing and paying for your cabin. Be sure to look into this carefully and have an exact idea of what your payment process will entail before you make a firm commitment.
Turnaround time
If you're eager to get your cabin complete, you should be able to get an estimate for how long it'll take for the home to be manufactured and delivered. Again, this number may be a rough estimate at first, but you should be able to get specific answers about averages.
Aside from all these details, though, it's important to find a builder who's the right "fit." If you have a choice between multiple builders that fit your criteria and offer plans that you like, it's not necessarily a bad idea to fall back on intuition as a tiebreaker.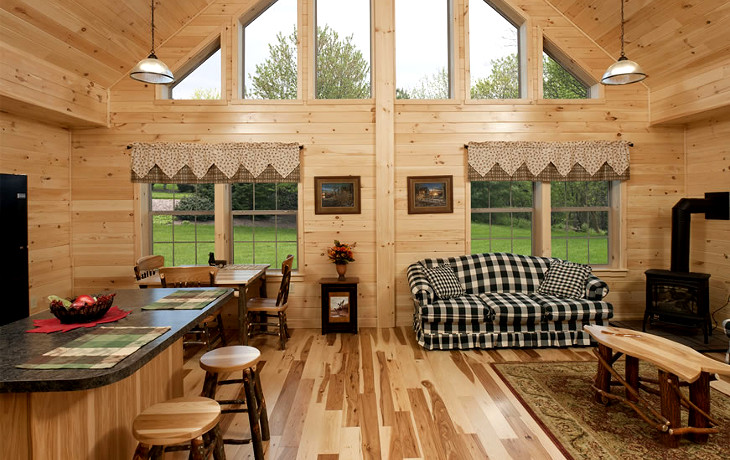 If you like the people you're working with and feel confident about the relationship you're building, the process of designing your cabin, waiting for it to be built and having it installed will feel much easier and less stressful.
Selecting a Blueprint
Most modular cabin manufacturers have specific floor plans or blueprints for each of their building models. The blueprint you choose should suit your needs as precisely as possible. If you find a blueprint that's slightly off, ask the manufacturer if they can customize to your exact specifications. Before you get to customization options, though, you need to pick out a floor plan. Here's what you need to consider:
Square footage: This is the most basic spec to concern yourself with. Your cabin needs to actually be able to fit on your land, and you also need to provide enough space for your family to stay or live comfortably.
Total room/bathroom count: You can consider the room count in tandem with the total square footage of the cabin to get a better idea of how the space is used. You should be able to look at a blueprint or floor plan diagram to see how the rooms are laid out within the available square footage.
Floors: How many stories does the cabin have? Is the second floor completely closed off or loft style?
Additional features: If you're looking for specific architectural features such as an abundance of storage closets or a spacious front porch, make sure the floor plan you select either includes or allows for these features to be added on.
Foundation types: Most modular cabins can be built on a variety of different foundation types, including those with crawlspaces or full basements. If you want to have a basement space under your cabin, be sure to verify that the blueprint you're considering can actually install over a basement foundation.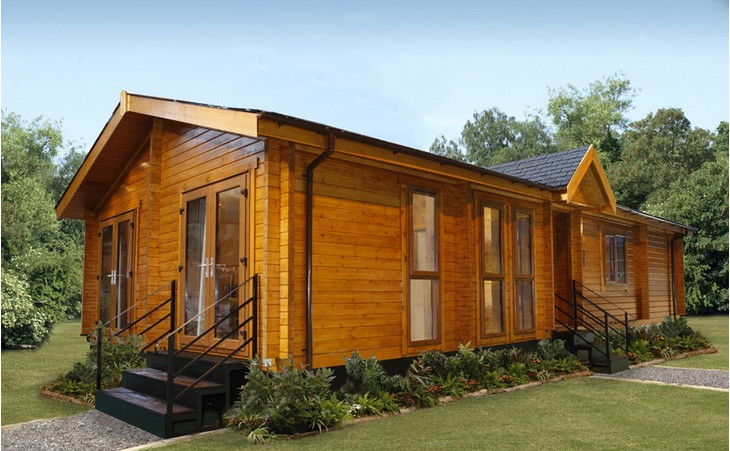 Customizing Your Modular Cabin
You may have a few ideas of what you definitely want from your cabin, and those features may or may not be included in the list of standard features for the floor plan model you choose. Some modular cabin manufacturers offer a variety of different customization options for you to consider. Here are some popular options:
Luxuries: Skylights, additional porches or decks, granite countertops, beautiful hardwood flooring, custom finishes, screened doors, pocket doors, built-in shelving
Efficiency: Solar panels, extra insulation, double-paned windows
Layout: Room orientation or size changes, added features, extra windows, larger bathrooms
Square footage: Higher ceilings, smaller overall cabin size with identical layout, add half bathroom
Exterior finishes: Roofing material changes, siding changes
If you're looking to save some money, you can opt for some customization changes that eliminate rather than add features, including:
Cabinetry
Staining/painting
Porches/decks
Half bathrooms
Some manufacturers offer even more detailed customization options, including:
Additions: Most modular cabins are designed to allow for future expansion and additions – if you think you may be interested in making your cabin bigger in the coming years, be sure to confirm that your chosen model can accommodate this desire.
Complete customization: If you have a very specific vision for your cabin, you may be able to get a modular home manufacturer design and build something that meets your exact specifications. You may be able to have the cabin of your dreams without making compromises.
You should be able to get exactly what you want out of your cabin. If the manufacturer you're considering doesn't seem amenable to make changes, you can move on and find another.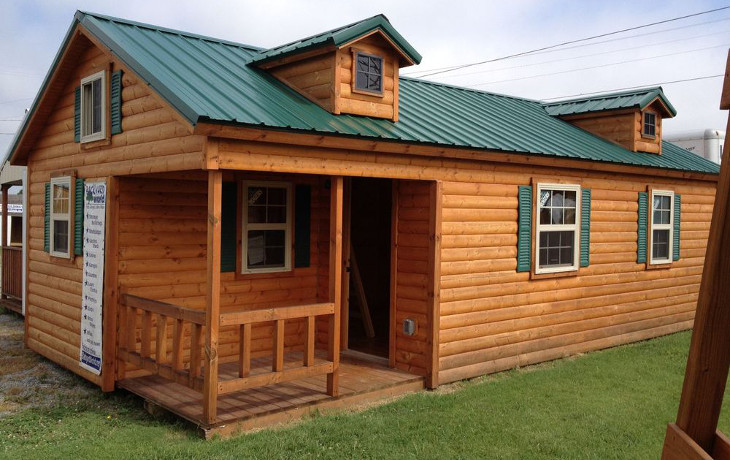 It's not unusual for modular home manufacturers to get customization requests, so don't hesitate to ask for exactly what you want.
Enjoying the Cabin Lifestyle
Now that you've got your game plan in place, it's time to venture out and start looking for the modular cabin plan of your dreams. Whether you're looking for a permanent home or you want an escape from city life for vacation or emergency situations, a modular cabin is a great choice. These solid, comfortable homes offer great value and give you the power to customize your very own dream cabin.
This is the perfect way to balance efficiency and quality construction with your own personal wants and needs. If you search carefully and choose wisely, you can end up purchasing a customized cabin from an excellent manufacturer, giving you a solid structure to enjoy for years and years to come.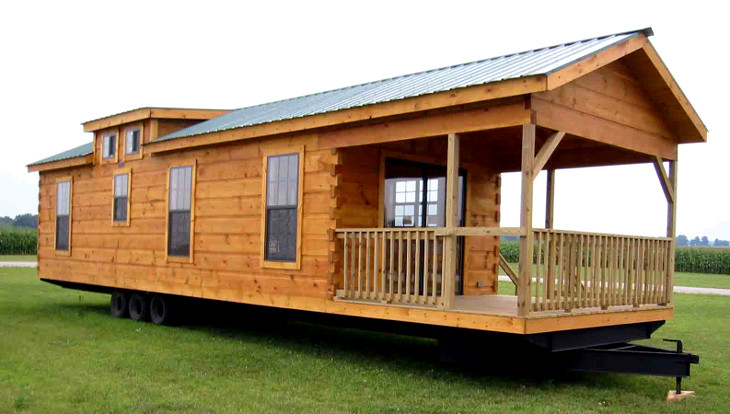 Do you have experience building your own modular cabin? Share some advice with other readers in the comments.