Modular homes are sturdy, attractive, comfortable, affordable and efficient, making them extremely appealing to anyone who wants to get the best bang for their housing buck. But the process of choosing the right modular home style can be a challenge.
There are a lot of different modular home floor plans out there to consider and each one offers both potential drawbacks and potential perks. Choosing the right one requires careful research and a good foundation of knowledge.
There's a lot of opportunity to get exactly what you want from your house when you choose this prefab construction style, so it makes sense to take a careful approach to the vast array of floor plans you'll find in your research.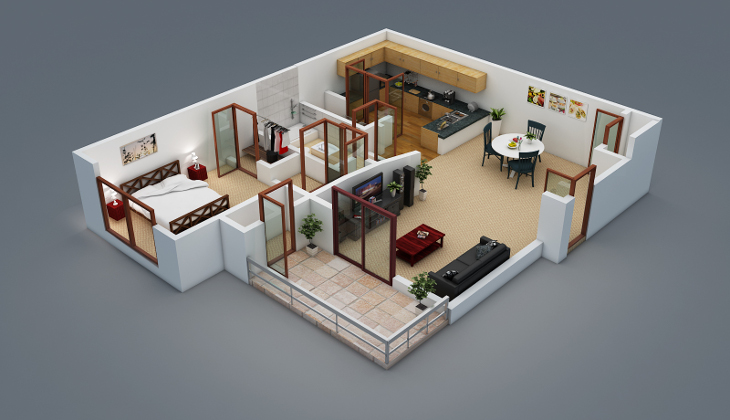 In this article, we'll walk you through some common floor plan features, provide some insight into what the best floor plans look like and give you the power to pick the ideal layout for your modular dream home.
Reading Floor Plan Diagrams
Modular homes are also known as prefabricated or prefab homes, and there's a reason for that. These houses are made in a factory according to exact specifications. When the home is built well, what you see on the floor plan is what you're going to get in real life.
That makes floor plan analysis a vital part of your modular home shopping process. It's arguably the most important part, though. You should also feel comfortable with your builder, stay within your budget and weigh other logistics quite heavily.
The words "floor plan" in the context of a home construction might make you think you need a contractor's license or an architecture degree to really understand what you're looking at, but that's not actually the case. Effective modular home manufacturers know that their floor plans are basically their bread and butter.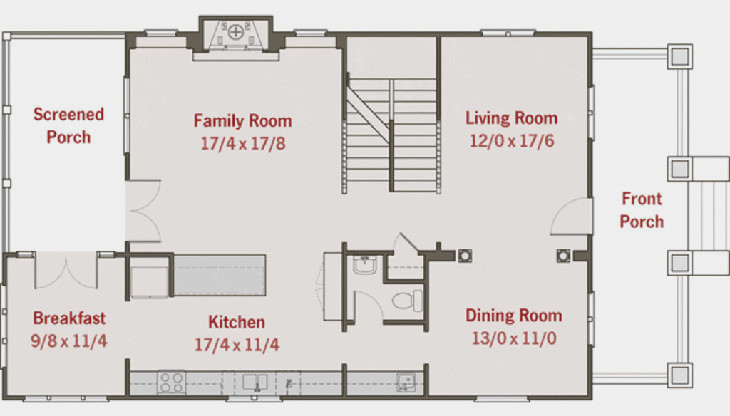 They're an extremely effective marketing tool, and they help set customers' expectations in a realistic place. That's why floor plans for modular homes are typically drawn to be as simple and easy to understand as possible. They're essentially just simple, flat diagrams of the home's layout.
What Floor Plan Drawings Tell You
Though you don't need special training to understand what you're looking at when you analyze a modular home layout diagram, it's best to have some knowledge so you can fully understand what you're in for when you make your final choice.
There's some common sense involved, but it's best not to make assumptions. If you're ever unsure about what you're actually looking at or what an abbreviation stands for, ask the manufacturer.
There's a lot of information packed into these diagrams, and if you make an incorrect assumption, you'll be in for a rude awakening when your home is all setup and installed. The builder should be willing to walk through your chosen prefab home floor plan layout in detail before you sign anything.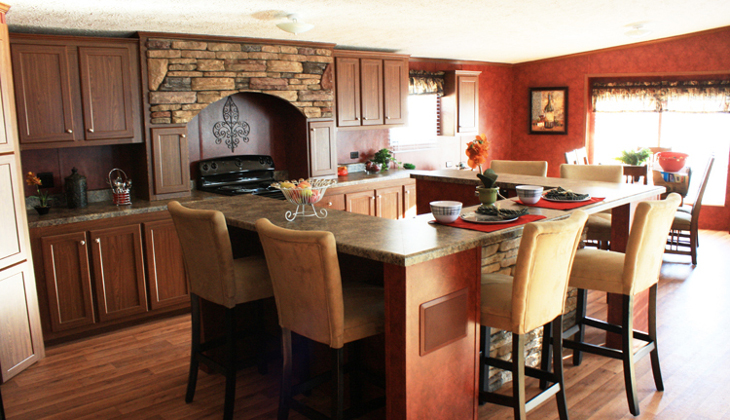 Prefab home floor plan diagrams should give you the following information:
Scale: Make sure you pay attention to any scale information that's included with the diagram. If the drawing is to scale, what's the ratio of inches or centimeters to feet? If the drawing isn't to scale, are there dimensions listed for each of the walls, doors and windows? Be wary of any floor plan that doesn't provide this kind of context.
Layout: Floor plans should tell you exactly how the home is set up. How does the layout flow? Imagine yourself waking up in the bedroom and walking to the bathroom, then heading into the kitchen. The drawing should be simple enough for you to carry out simple thought exercises like this. In many cases, this is as close as you'll get to actually being able to tour the home, so if the floor plan doesn't allow you to paint this vivid of a picture, you should either ask for more detail or move on.
Stories: As part of your understanding of a modular home's layout, it's important to see how the space is broken up into separate levels if it's got more than one story. You should know which floor you're looking at, and each floor's diagram should not only be separate, but also presented in the same orientation. That way, you'll get a feel for which rooms are stacked on top of one another. You should also be able to see staircases as part of the layout.
Room design: A useful floor plan includes interior walls in addition to exterior walls so you can get a feel for how the rooms fit together. You should be able to look at the drawing and know exactly where you'd put certain pieces of furniture and plan which rooms will face which parts of your property. Details such as half walls and closets should be included in the plan.
Doors: These diagrams are usually drawn in 2D, meaning vertical features like doors and windows are marked with special lines. In the case of a door, you'll see a break in the wall with a diagonal line pointing out in one direction. That diagonal line represents the door in an open position, so you can get a feel for how open doors will use up space in your modular home. Minor details like this shouldn't be a complete deal-breaker unless the manufacturer doesn't offer any customization at all, but it's still an important feature to look out for.
Fixtures: Most modular home builders include fixtures like sinks, toilets, showers and bathtubs in their builds, so these features should be included in the layout diagram. Appliances like refrigerators and stoves might not be part of the build process, and if they aren't, you'll want to make sure the floor plan allows room for these essentials.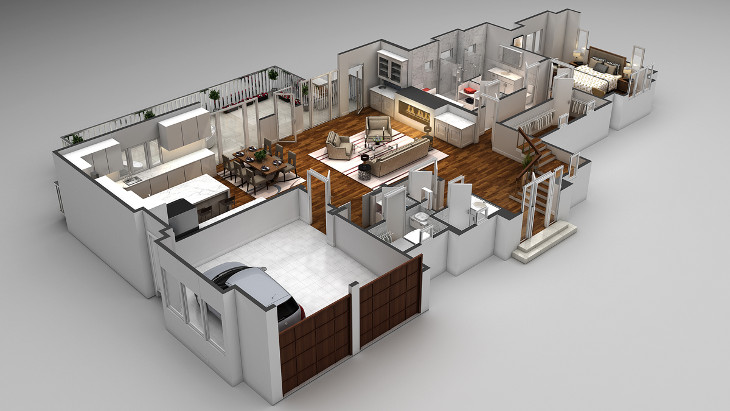 Comparing Different Floor Plans
Once you understand what you're looking it, it's easier to tell the difference between two separate floor plans. Some modular home manufacturers have hundreds of floor plans with dozens of iterations of the same concept, so you'll want to pay careful attention to minute differences and run through all the features listed above to understand which layout is best for your needs.
After you've narrowed down your options, you may even want to print out your prospective floor plans and tape them up on a wall so you can see them side by side and really get a sense for how each one uses its space and features.
Prefabricated home floor plans often have colorful names like "Sea Breeze" or "Country Elegance," and while these names may seem like marketing nonsense at first, they're actually a really helpful tool for remembering which layout belongs to which floor plan.
If you refer to layouts with their given names during your selection process, it'll be a lot easier to keep everything straight than if you say "this one" or "the two-bedroom."
Backing Up Your Understanding With Examples
Even without customizations, though, getting a home that looks exactly the way you expect it to can be a bit of a gamble, which is why it's so important to thoroughly understand the layout you're buying. Modular home builders should have photos of what their floor plans look like in real life.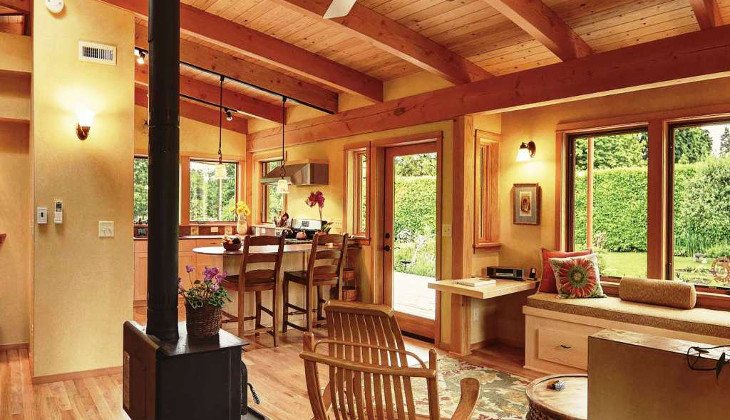 This is true even of young companies – you don't want to live in the very first structure to roll off the assembly line, do you? Don't skip this step.
If the manufacturer's website doesn't offer these photos, ask to see some examples of the specific floor plans you're interested in. Some of the photos in their portfolio might be from actual customers' homes, which will give you an accurate feel of the actual scale of the home.
As you look through these photos, be sure to ask the builder if any of the featured houses have customizations that significantly alter the floor plan. Even minor customizations like added windows and an added half bath can throw off your sense of proportion and make a floor plan seem more spacious than it actually is.
Engage your critical thinking skills during this step, and most importantly, be sure to share the photos with any family members who are going to be living in the house with you. Their input matters too!
What to Look For in a Modular Home
Knowing how to look at floor plans and understanding what the modular home looks like in practice is just half the battle. Ultimately, you're in this to fill a specific housing need for yourself and your family, and that means knowing up front what you're looking for in a floor plan.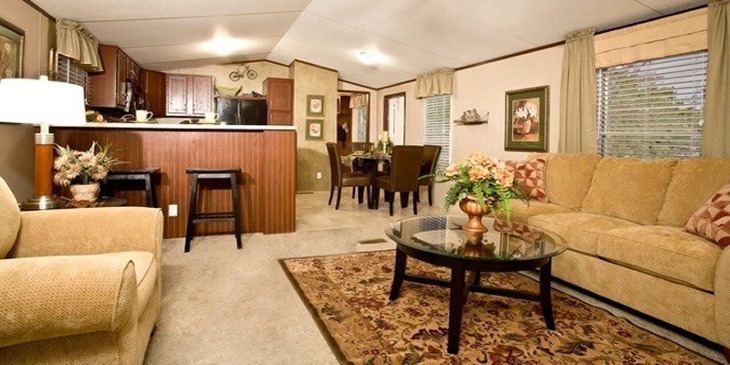 Make a checklist of the features you want to see, and use the big criteria, such as square footage and bedroom/bathroom numbers, to narrow down a list of semifinalist floor plan options. Use the smaller checklist items, such as storage and laundry, to narrow down from semifinalists to finalists.
Square Footage
Depending on how your brain works, it can be difficult to get an accurate mind's-eye picture of how big a space is based on its square footage. That may well be true, but the bottom line is that you need to be able to imagine scale based on square footage to make a smart modular home selection.
You can start by finding out what the square footage of your current living space is. This is useful even if you're living in a tiny 400 square foot apartment. Think about it this way: if you double your current apartment you'll have an 800-foot home.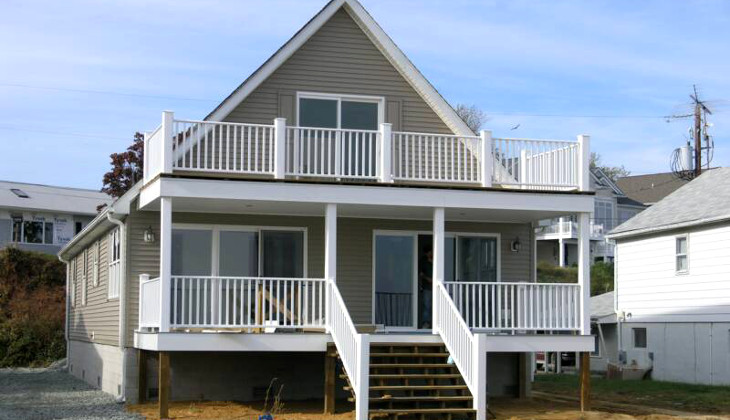 Is that enough, or do you want to triple it? It's the same all the way up the scale to a spacious multi-story home. Do you want more or less space than you currently have? Keep an eye out for those numbers as you shop through floor plans.
Multi- or Single Story?
Whether you want more space or less, how do you want it arranged? In general, multi-story modular homes tend to be larger than single-story options, but that's not necessarily the case. If you want a two-story prefab tiny house, you may be able to find just the floor plan you're looking for.
One thing to keep in mind about a multi-story home: if you're planning to live in your prefab house for the rest of your life, it might be a good idea not to invest in something with stairs just to keep getting around the house easy as you age.
Bedrooms
How many people are going to be living in your house? How many of them need their own bedroom? If you're shopping for a modular cabin for family vacations, the kids might be able to tolerate bunking together for the weekend, a generous gesture that could save you thousands of dollars on a floor plan with fewer bedrooms.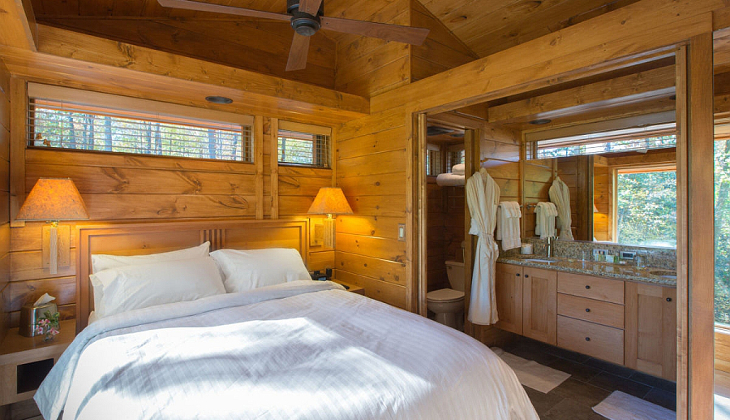 Remember, too, that it's always possible to make additions to modular homes. If your family currently only needs one bedroom but may need more in the future, you won't be stuck with your current floor plan layout.
Bathrooms
Bathroom considerations are similar to bedrooms, though if you're dead set on certain features, like a double sink or separate shower and bathtub, you'll want to keep an eye out for floor plans that accommodate this need.
If you plan to entertain a lot in your modular home or the layout sees the bedroom areas set far back from the living space, you might want to make sure your chosen floor plan has a half bath in addition to adequate full bathrooms.
Living Space
Do you want a spacious living room where you can set up a giant projection screen, or do you plan to use your living room mostly for book storage and reading? Your lifestyle should have a huge impact on the living space allowance in your prefab home floor plan.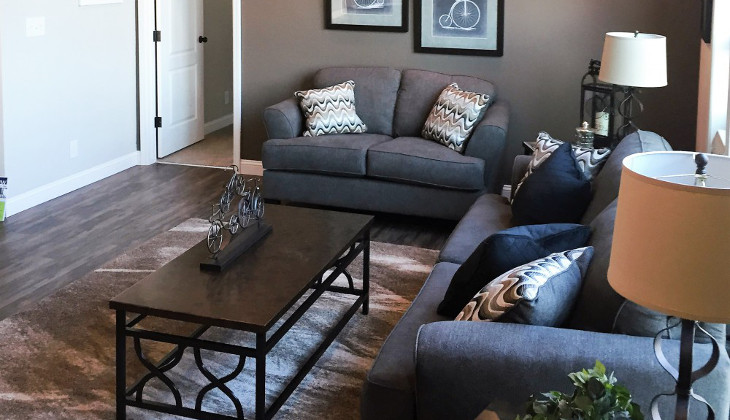 Everything from formal dining rooms to playrooms for the kids can be yours if you make sure to look for it. There are no accidents in modular home planning, so think carefully about what you'd ideally like to see.
Kitchen
Lifestyle again has a big impact on kitchen design and layout. Modular homes are incredibly versatile, and you can find floor plans with everything from palatial eat-in kitchens with room for a wine fridge to tiny, efficient cooking spaces with a fridge, stove sink, counter and no frills.
Some modular home manufacturers don't include cabinetry in their plans, so analyze the floor plan to see if there's a pantry or any room for cabinets.
Storage
The storage space you see on a modular floor layout diagram doesn't necessarily tell the entire story of the space you'll have available once you move in. Modular homes can be built on basement foundations, and you can also have outbuildings like garages installed on your property as well. Still, for day-to-day storage needs, keep an eye out for the bedroom, linen and coat closets you want to see.
Garage
While the outbuildings themselves usually aren't included in a modular home layout, some floor plans do include a first-floor garage. This is especially common for homes that will go on beachfronts or city lots. If you're working with a small property or you simply want to limit the amount of space you occupy with buildings, look for plans with an integrated garage.
Laundry Space
If you plan to have a washer and dryer in your modular home, make sure there's room for it built into the floor plan. If there isn't a distinct laundry room included, ask the manufacturer for recommendations.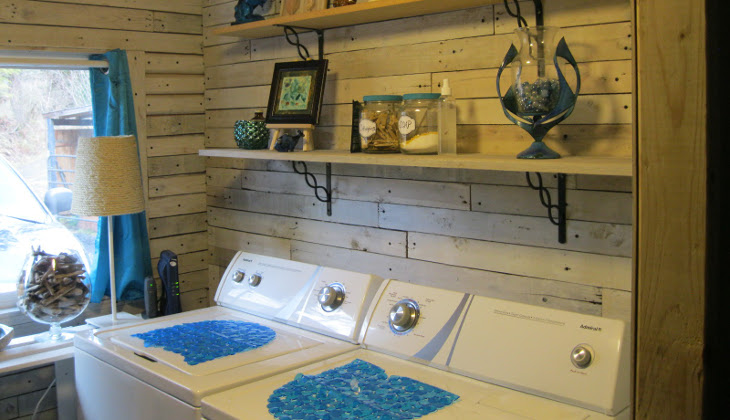 They should know the plan well enough to make suggestions. If there really isn't room for the laundry facility you want, they should either suggest similar plans that meet your laundry needs or offer to customize.
Additional Architectural Considerations
There are plenty of other features to consider, from having a spacious front porch to understanding whether the second floor of your tiny prefab cabin floor plan is a loft or a distinct second story. That's why having a list of desired features is such a good idea – looking at a bunch of different floor plans can be enough to make your head spin, but having that list to guide you will make the process much simpler.
What to Do When The Floor Plan is Almost Perfect
What happens when you find a floor plan layout that's almost perfect but is just a little too small, a little too dark or not quite as luxurious as you want? This is where the efficiency of modular home building really gets to shine.
Customizing a modular home is so simple that most manufacturers have a set list of customizations on offer, and if what you want isn't on that list, you can simply ask if it's possible.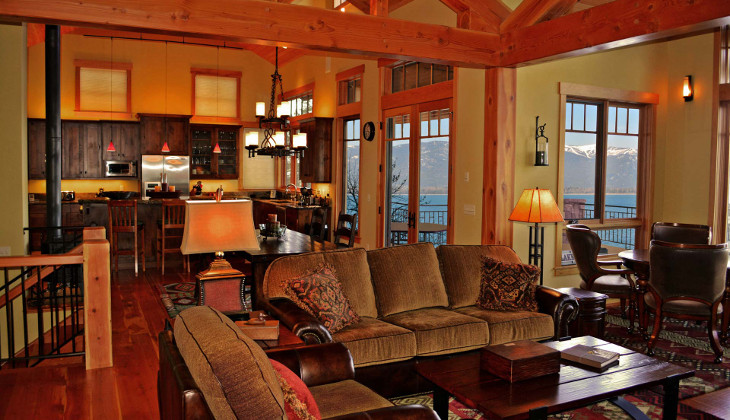 This isn't an uncommon part of the process, either. Most prospective homebuyers have a "must" list of features they really don't want to do without. This is no less true of modular housing than it is of traditional stick-built homes.
The process for getting these "must" features is actually pretty similar in both instances. You'll have to either get the home custom built from the ground up or pay to have modifications made so you can get what you want.
The difference is that modular home manufacturers are used to getting customization requests, and you won't have to hire a contractor or wait for the modification work to be completed. Your customizations will get integrated into your design from the very beginning of the build process. That means your modular home can look exactly the way you want it to from the moment it's installed.
Customize or Compromise?
Sometimes, the perfect modular home layout just isn't out there. You might have very particular needs or simply feel underwhelmed by everything you're seeing. If that's the case, you've got an important decision to make: customize or compromise?
In some cases, compromising is the best idea. Homebuyers make compromises all the time when they're picking out a stick-built house, so you aren't going to be making an unprecedented sacrifice if you allow some concessions in your modular home shopping process.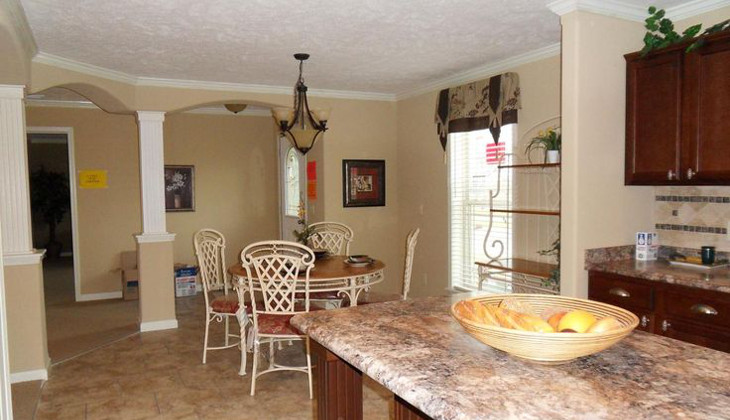 However, as we discussed earlier, customization isn't that crazy of an idea, and you don't have to get a completely custom-designed home built, either. Little things like window style upgrades or closet placement modifications can be part of your build, and if that's all it takes to sell you on an almost-perfect floor plan, it may be worth the investment.
Are You Ready to Take the Next Step?
Sorting through available prefab home floor plans is a major undertaking, and it's easy to feel some pressure as you look through available plans. However, if you stay focused on your end goal and think about how happy you'll be when the process is finally over, you'll have the motivation you need to see the selection process through to the end.
Understanding the floor plan is a hugely important part of your modular home selection journey, and now that you know what to look out for and how to find it, you're already on a path to success.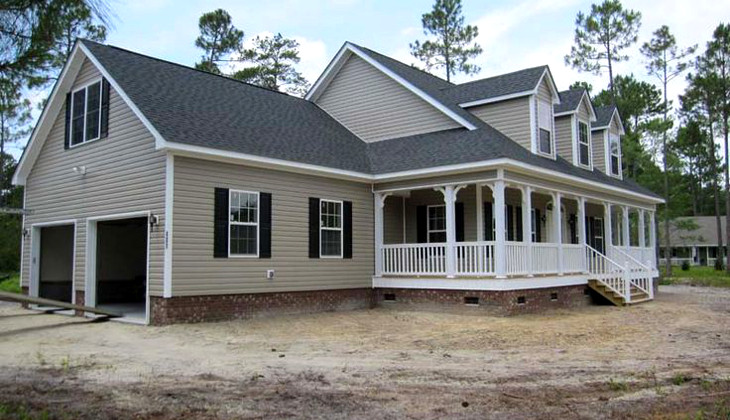 What did we not cover? Do you have any experience with modular home floor plans? Send us your thoughts and questions so we can all try to find the best floor plan for our new homes.