Prefabricated homes, in general, are on the rise, and so are prefab metal homes. Prefabricated homes otherwise known as prefab homes or modular homes are a convenient way to build your dream home. With prefabricated homes, the house is built at a factory, then transported and erected on-site.
This makes them cost effective and quick to build. Using metal as the main material in construction adds several advantages. Firstly, metal, such as steel, is durable. Secondly, metal/steel buildings require little maintenance.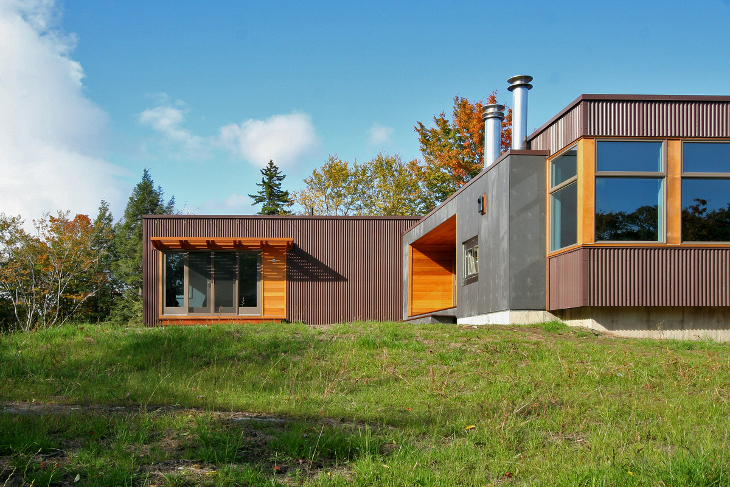 Lastly, metal homes allow you to save on repairs and maintenance needs, and on heating and cooling. With all these advantages, why not build a metal building home today?
Types of Prefabricated Metal Homes
If you want to build a home quickly and with no hindrance, then prefab is the way to go. This is because these pre-built houses are constructed in large factories in modules (sections), where unfavorable weather conditions are not a problem. For added durable, you should consider metal modular homes.
Manufacturers use the latest and most innovative building technologies in the construction of metal homes. Currently, the two most popular type of pre-built metal homes are the pole barn homes and the shipping container homes.
Shipping container homes
This type of pre-built homes is made out of steel shipping containers. Shipping container homes can also refer to metallic homes constructed in the shape rectangular prisms. A shipping container home can be as simple a container with a door, windows and perhaps a deck and stairs.
Container homes can also be constructed using several containers attached to one another, forming multiple floors. Some look stylish enough to fit into high-end locales.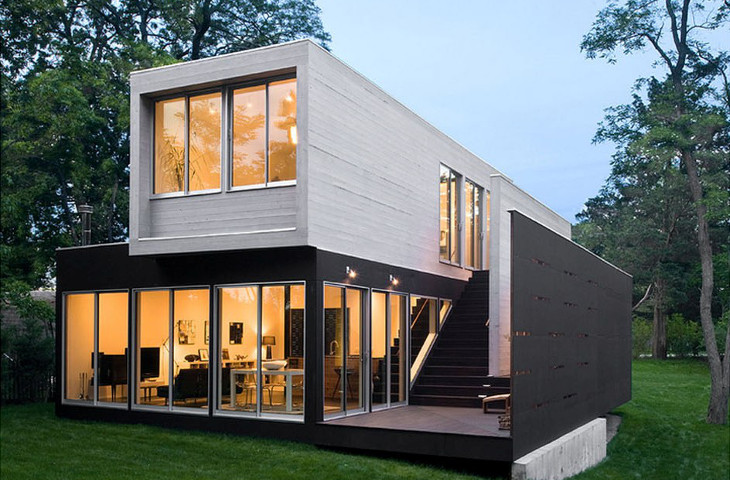 Shipping container homes are usually minimalist in style, but they can also be rather elaborate. The structure can be lined with floors of your choice from hardwood to concrete.
The ceilings can be high and opulently designed. Moreover, all the needed amenities and utilities such as but not limited to bathrooms, toilets, plumbing, electricity can be hooked up to the building.
The best part about choosing a shipping container home is the fact that they are affordable. This is due to their simplicity. DIYers can buy the container separately for about $2000 and then revamp it into a beautiful living space at a minimal cost.
Pole Barn Homes
Pole barn homes are simply homes built using metal frames and supports. In today market, you can get a pole barn home that looks just like a traditional looking home. These houses can be built to limitless specifications.
You can furnish, and finish this type of metal home with bathrooms, lighting, and plumbing, just as you will a traditionally built home. It is usually impossible to tell the difference between a pole barn home and any other type of home. As such, you can say that this type of metal house functions and serves the same purpose as a regular home.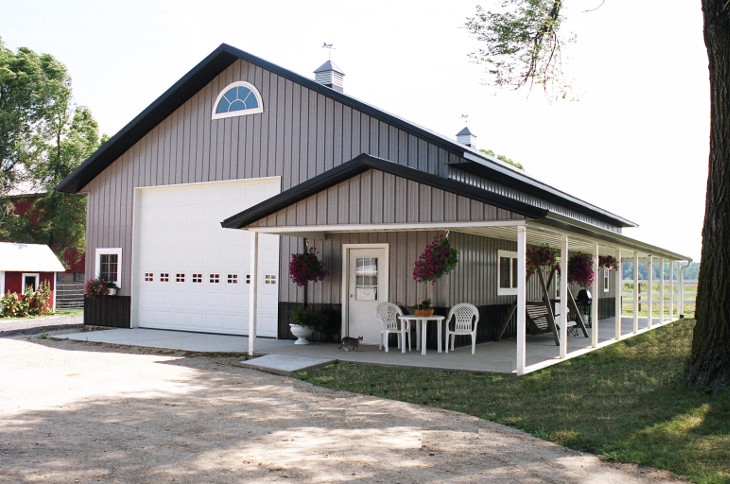 The main difference between a pole barn home and a traditional home comes when you start to inspect the structure of the home. With pole barn homes, metal is used for both the roofing (in most cases), and for the framing.
As such, pole barn homes are very durable. In addition, you will save more when you build a pole barn home over a traditionally built home.
From the sidewalls to the roof of the building, pre-built metal homes are cheaper and simpler to maintain. There is no need to worry about the occurrence of rot, and mold. Pole barn homes can go several decades with little maintenance.
Rigid Frame Structures
A straight wall is also called rigid frame structures. This is because these structures have clear interior spaces and upright walls.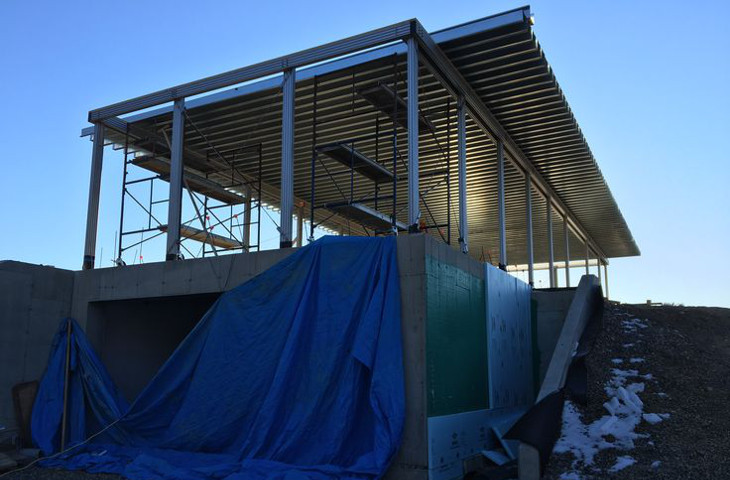 Straight wall structures are best used for business applications such as retail stores and offices. Regarding straight rigid frame structures, we will not go into details since we are dealing with metal homes.
Building a Shipping Container Home
Shipping container homes are growing in popularity especially among minimalists since they are simple and low maintenance. Also, for those who wish to lead a minimal carbon footprint, shipping container home is a great way to recycle old containers that will otherwise be left sitting at port yards.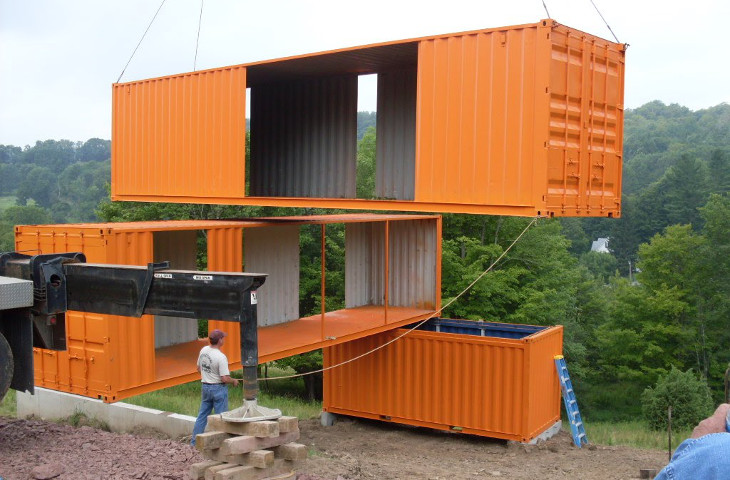 With creativity and the use of innovative technology, these abandon shipping containers can be transformed into sustainable eco-friendly homes. They can also be used as an annex to a traditionally built home.
Shipping container homes can serve as studios, workspaces, guest rooms, and even as a fully functional home. Popular shipping container builders include Hive Modular, Rhino Cubed, Logical Homes, and Quik Build LLC.
With the right architecture, shipping containers can be transformed into attractive living spaces. Since the shipping containers themselves are built to withstand corrosion and damages, shipping container homes are incredibly durable. The architecture of these shipping container prefab homes is spectacular, modernist and state-of-the-art.
A fully functioning fully-sized shipping container home complete with bedrooms, bathrooms, kitchens and so on will cost you around $184,000 as reported by a CNN Money report from September, 2014.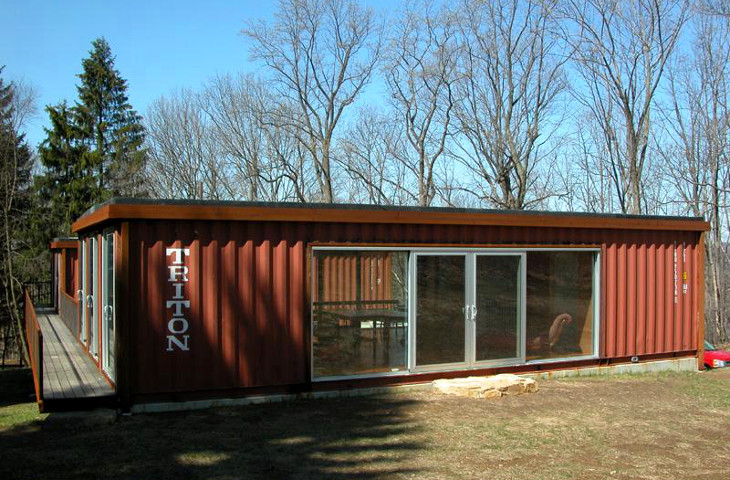 This figure includes the price of six prefab/factory modified shipping containers and the cost of site prepping, erecting, flooring, roofing, insulation, finishing, and the installation of utilities and amenities.  Factory modified shipping containers have been altered for use as a home, unlike a regular shipping container that has not been modified.
A factory modified shipping container will cost you around $19,000, while a large 40 ft. non-modified shipping container will cost you about $3500 for a used container and $6000 for a new container.
Shipping Container Shapes and Sizes
A shipping container can be either a high cube container or a standard height container. High cube means, the container is 12 inches taller than the standard height container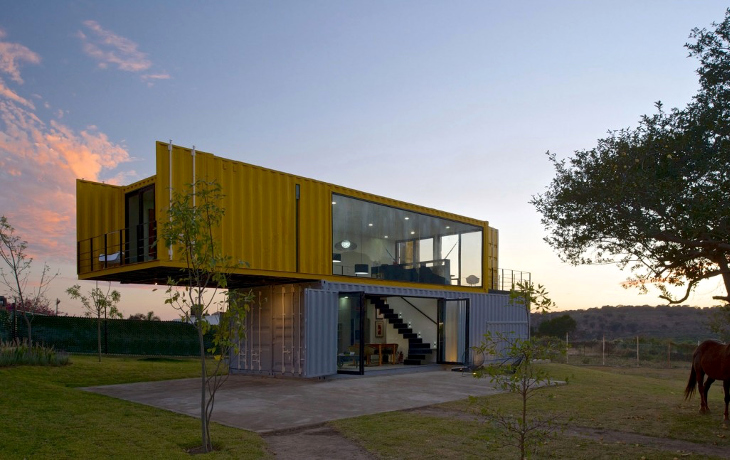 A high cube container means you will have more room to work with. The containers usually come in either a 20 ft. x 8 ft. x 8 ft. size or 40 ft. x 8 ft. x 8ft. size. The most commonly used container is the freight shipments.
The costs of these shipping containers vary, but they are usually between $2000 and $5000. Just as with pole barn homes, you can decide either on a ready-made prefab build or a do-it-yourself project.  Since this article deals with prefab homes, we will stick to the ready-made models.
Estimated Cost of a Shipping Container Home
Here is a breakdown of estimated costs and the processes that go into the setting up of a six-container home. (This can contain as many as three bedrooms and come complete with all the facilities that come with a regular home.)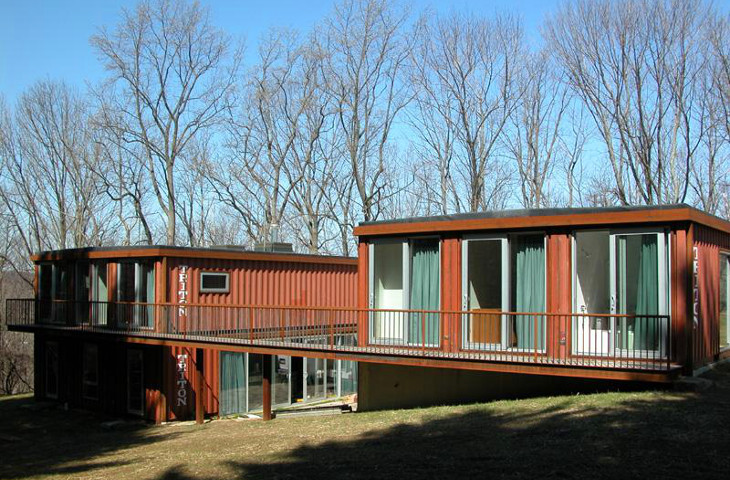 The following includes the rundown of the processes that needs to occur before the container home is ready for use. This pricing is given by the popular Quik Build LLC via CNN Money.
Factory modified shipping containers (6x) – $119k
Site prep – $119K
Setting up the home – $2.5K
Roofing – $3K
Flooring – $5K
Plumbing – $7K
Electrical – $7K
Insulation – $5.5K
Heating, ventilation and air conditioning (HVAC) – $7K
Interior works $8K
Finishing the walls(both interior and exterior) and painting – $6K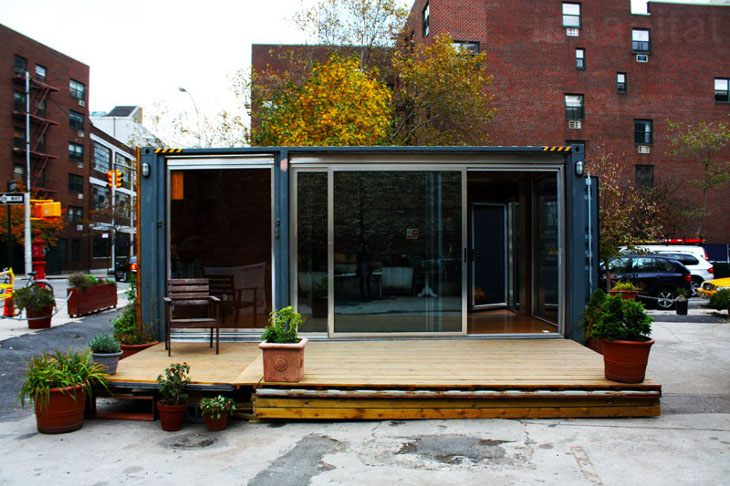 Estimated Total Cost (Excluding Shipping And Cost Of Land) – $170,000
The pricings listed above will vary from builder to builder and from city to city. Similarly, the cost of shipping will depend on how accessible the build site is.
Since different people have different needs not everyone will need a $170K+ shipping container home.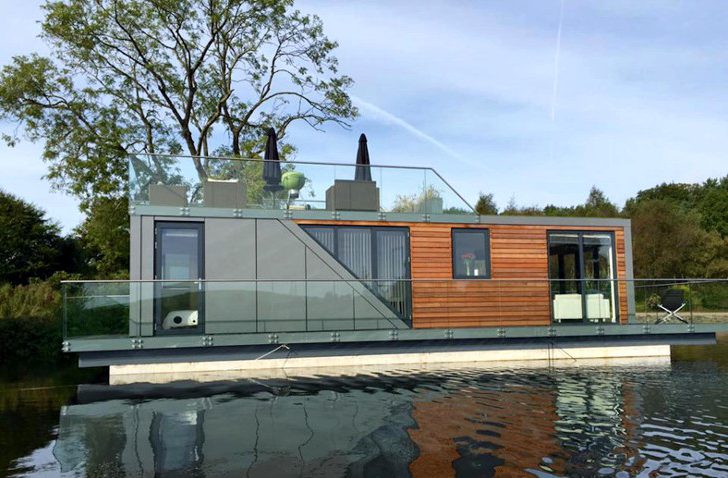 Not to worry. For between $45,000 – $65,000 you can acquire a 160 – 320 sq. ft. shipping container home equipped with electricity, lighting, plumbing, a bathroom with toilet, a sink, and a shower, and a kitchen complete with appliances, cabinets, stoves, and sinks.
Further down the price range, you can acquire a 160 to 200 sq. ft. container home with a single room complete with kitchen, and bathroom for as little as $24,000. Similarly, high-end luxurious shipping container homes can cost as much as $400,000.
Building a Pole Barn Home
Unlike traditional homes, pole barn homes have an unusual support system. Instead of foundations, pole barn homes are supported with the aid of metal panels (usually steel) driven deep into the ground. This means that pole barn homes are very sturdy.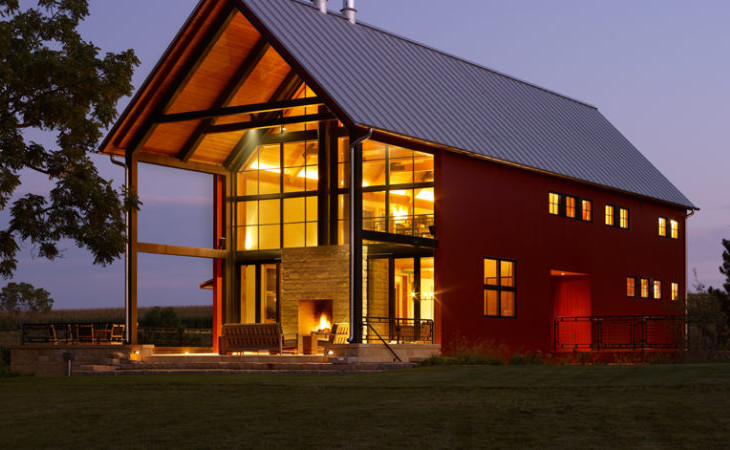 Of course, it is the frame and support of a pole barn home that is made of usually metal, not the entire house. You can decorate the interior just as you will a regular home. The walls in the home do not need to be metallic.
The exterior can be finished in such a way that, you cannot tell the difference between a barn pole home and any other home in the neighborhood. You have probably walked or driven by prefabricated metal homes without even knowing it.
The Installation Process
Just like traditionally built homes, pole barn homes are available in different sizes, styles, and prices. A modular homebuilder such as Morton Buildings usually offers several models/kits to choose to consumers. These are usually available in particular specifications.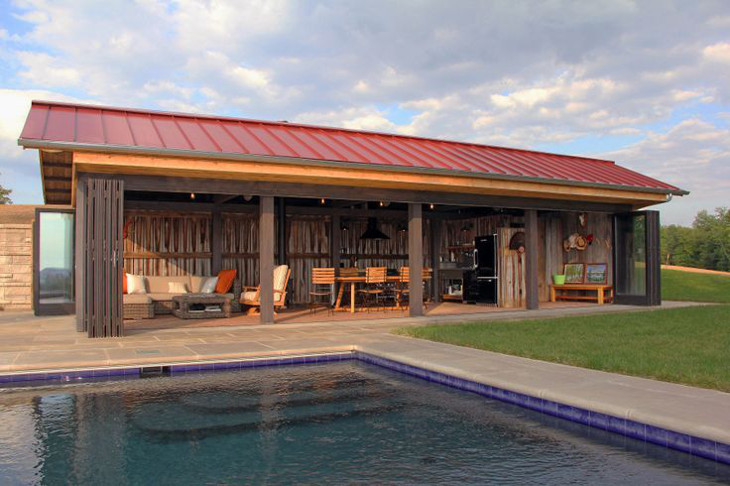 There are usually customizations and upgrade options available. This will allow you to build the house to fit your needs and preferences. The process of building a pole barn home is not singular and there are several paths to take.
For DIYers
Some of us like to do things ourselves. The best way to set up a pole barn home is by using a building kit. These kits include all the sections and parts needed, and also the steps needed to complete the build. If you have building experience, you can undertake the installation of the home.
Depending on the size and purpose of the home, you may need to hire the professionals for aspects of the build when necessary. If you are building a fully functional home complete with several bedrooms, a kitchen, living room, and bathrooms, you will require professional help.
If however, you are erecting a getaway cottage-style home in the woods, you may not need to hire any professional. All you will need is a couple extra pair of hands to help with the assembly process. Since prefab homes have already been built, all you need to do is put them together.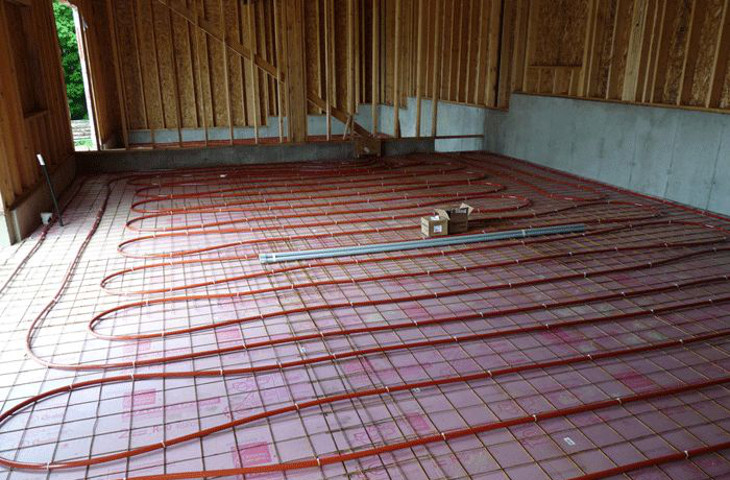 Flooring is one aspect of the build that usually always requires a professional touch. If you want concrete flooring, a professional is crucial.
The installation of utilities such as getting hooked up to the power grid, plumbing and such will require licensed and certified professionals depending on the complexity of the job, and the building laws and codes of the locality.
The prepping of the site and the landscaping will also require professional hands. Apart from the job being risky, it needs to be done well.
Professional Builds
Having a professional company take care of the building process can be cheaper, quicker, and not to forget safer. Professional prefabricated home construction companies can provide you with both the building kit and the services needed to install the building and get it hooked up to the grid.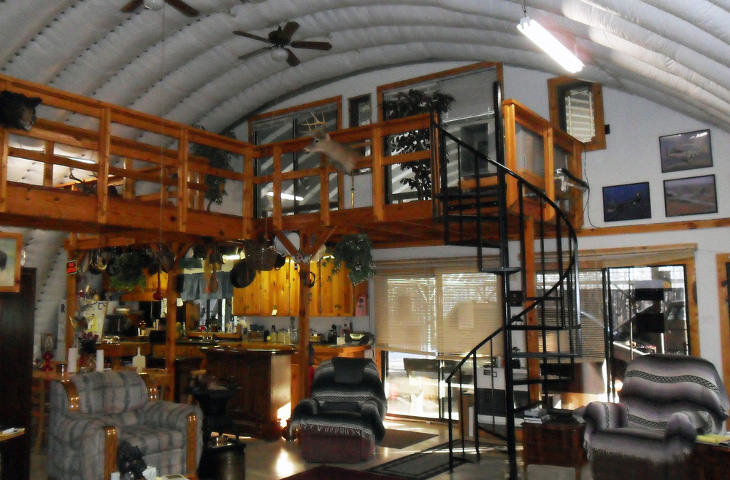 Some builders will only take care of the exterior work and not the interior works such as the furnishing, installation of power lines, and providing functioning utilities. Services usually do not include prepping the land and landscaping. You will have to do this with the aid of a general contractor, hopefully, one with experience working on pre-built metal home.
On the upside, a professional builder will get the job done professionally and quickly. On the downside, they will cost you money. However, this is usually the better options for most.
If you attempt the installation and erecting process, you do so at your own risk. When installation is not up to standard, you may need to call a professional who will change more in the long run.
Acquiring a Pole Barn Home Kit
Retail depots and home improvement stores such as Lowe's offer pole barn kits. These include all the modules and parts needed to build the home. These inclusive kits also contain building plans. The prices are however usually high.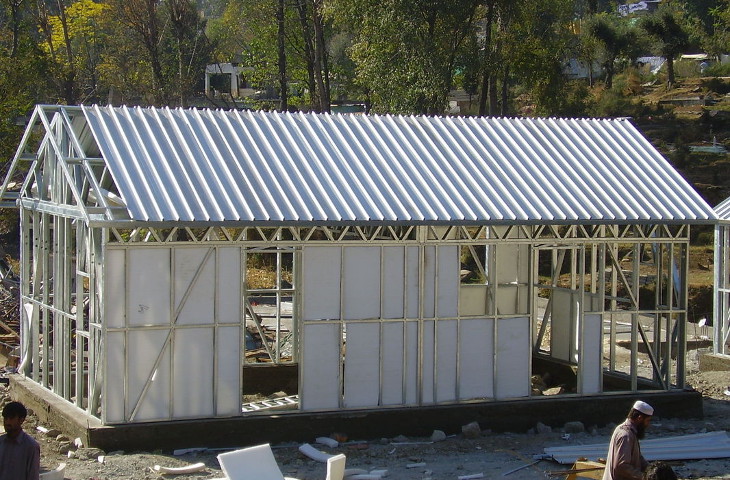 However, these prices of these kits do not include the cost of services, and are therefore lower than prices quoted by building companies. As such, if you want to undertake the assembly process all by yourself, you will save a few thousand dollars.
Nevertheless, things such as fitting a functioning plumbing and electric system will always require professional expertise.
The Finished Pole Barn Home
Pole barn homes have come a long way. They do not have to look all metallic on the outside. They can look like normal houses with decks, porches. The interior of the home can have any number of rooms.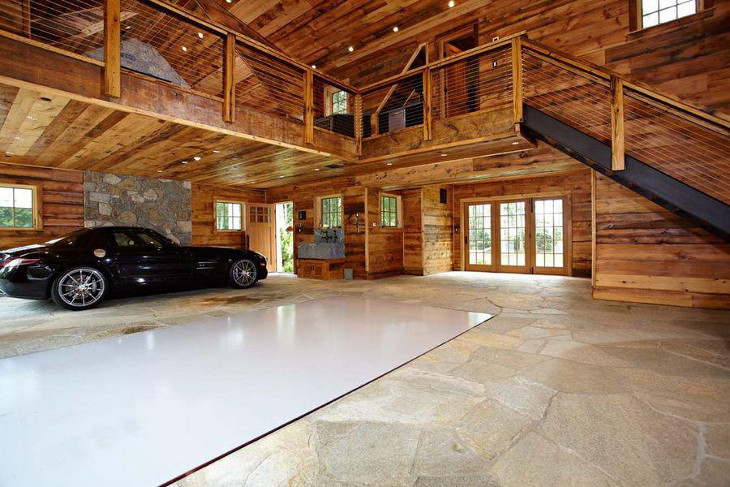 Metal prefabricated/ modular homes can have all the functioning amenities and utilities of a normal home such as running water, electricity, bathrooms, and cooling and heating systems.
Estimated Cost of a Pole Barn Home
Just like shipping container homes, pole barn homes come in different sizes, and prices. Simple pole barn kits can cost as little as $4,000, while sophisticated kits can cost as much as $100,000.
Apart from the price of the kit, you also have to consider installation costs, land cost as well as site prepping and landscaping. These are not included in the costs below.
A large 5000 sq. ft. barn kit that includes a porch and a loft will cost you around $100,000 – $80,000.
A 2500 sq. ft. pole barn package kit that includes a porch and a loft will cost you roughly $60,000 – $50,000.
A cottage style 1500 sq. ft. pole barn kit will cost you approximately $40,000 – $30,000.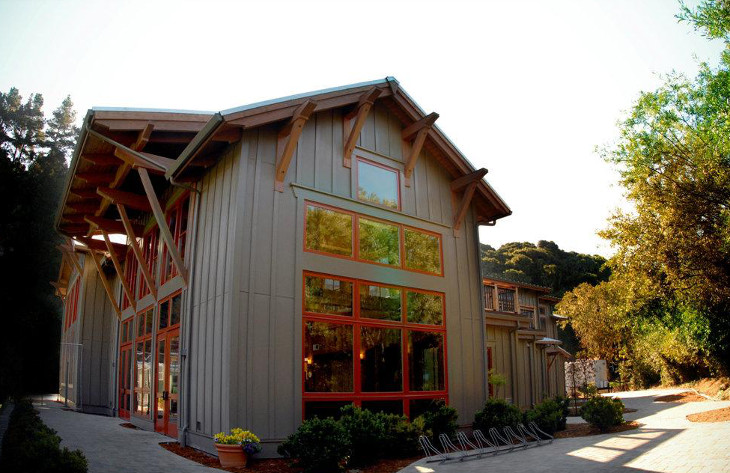 The prices of the kits will vary from manufacturer to manufacturer and may not include the cost of site prepping, insulation, and labor.
Other Costs
The cost of labor will typically cost you $10 to $5 for every square foot. That means for a 5000 sq. fat barn home, the labor costs will be about $50,000.
Pouring a concrete foundation will improve the stability and durability of the home. This will cost you roughly $10 to $5 per every square foot.
Insulation is also crucial. This will cost from $1 to $3 for every square foot.
Financing Prefab Steel Homes
Paying for a steel prefab home is slightly different to paying for a traditionally built home.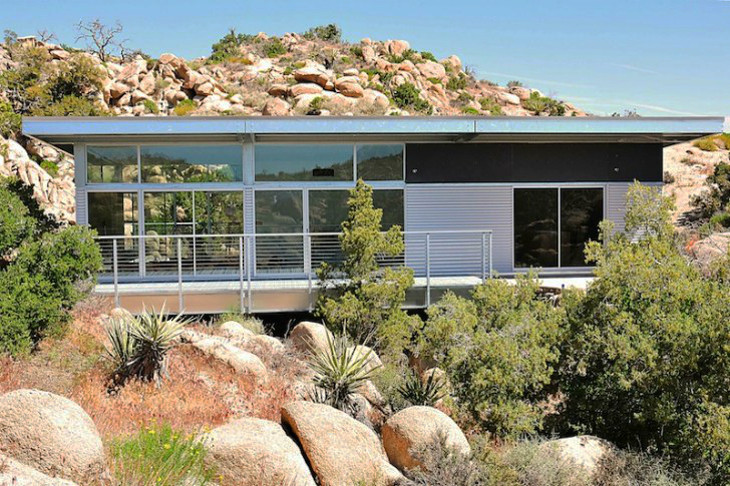 However, most banks offer the same mortgage plans to both buyers of site-built homes and buyers of prefab/modular homes.
Get a quote. There are several metal home manufacturers out there. As such, it is important that you choose the right one. You should try to go with a manufacturer that is experienced when it comes to building prefab homes, for example Morton Buildings. The price should be within your range. When you acquire a quote, you need to be sure of what is included in the quote. Does the price include furnishing? Does it include the installation of amenities? In addition, you should ensure you factor in prepping if the land, and, customizations and upgrades to the home. The needed customizations can be due to landscaping needs, adding extra rooms, additional insulations and such.
Get a building site. Naturally, you cannot construct a building, if you do not have a site to build on. When it comes to finding a site, you will need to familiarize yourself with the building regulations of the locality. The more accessible your site is, the cheaper it will be for the transportation of building materials and the building modules. The physical nature of the site also counts. Some sites, such as rocky sites or sloped sites, may be more difficult to work on.
Choose a manufacturer. After researching on and communicating with several modular metal homebuilders, you can now make an informed decision. We will recommend that you choose an experienced manufacturer. Experienced manufacturers will be able to deal with any issues that arise with much panache, as they may have already faced these problems in the past and know the simplest way to solve them. They can also navigate the legal and constructional quagmires that come with building a prefab metal home.
Get a general contractor. A general contractor will take care of the prepping of the site and the finalization process such as constructing the sidewalk, and landscaping. Some prefabricated home manufacturers may offer these services. Just as choosing a manufacturer, the more experienced the contractor, the better. If you find a general contractor that has experience working with prefab/modular homes, that is a plus.
Finance the project. Depending on the size of the metal home you wish to build, you may have to take a mortgage loan. This process should be similar to taking a mortgage on a traditional home. You should try to include the cost of the land and the cost of contracting general contractor into the loan deal. The total cost of the build can be anywhere between a few thousand dollars to as high as two hundred thousand dollars.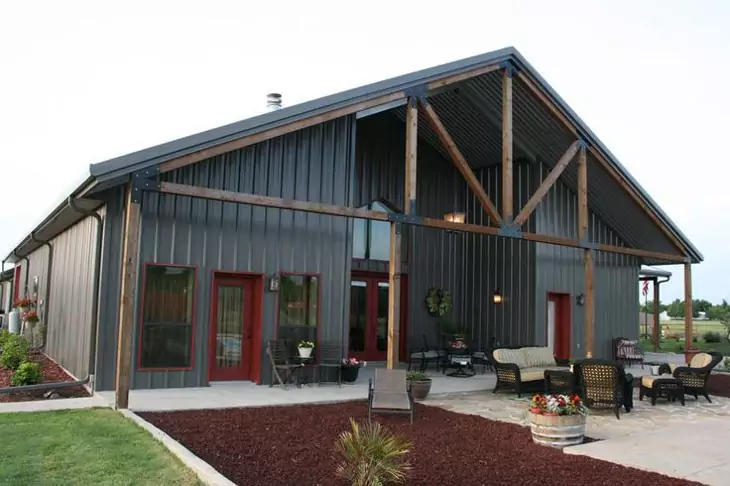 A Recap of the Building Process
The prefab modules/sections are manufactured in a factory.
Delivery trucks transport the modules to the build site.
The building is erected in sections. A crane may be used to lift the modules off the truck and set them down.
The manufacturers work on and complete both the foundation and the site work concurrently.
The manufacturers then install remaining parts of the building.
The manufacturers stitch/weld the modules and other parts of the building together.
Amenities and utilities are installed.
Either a general contractor or the manufacturers apply the finishes and do the landscaping.
Metal Homes: Residential Building Engineering at Its Finest
Whether you wish to build a home in cold and snowy Alaska, or in warm and sunny Texas, pre-built metal homes are available that will thrive in any atmospheric and climate conditions. These well-engineered structures will last for decades and require little maintenance.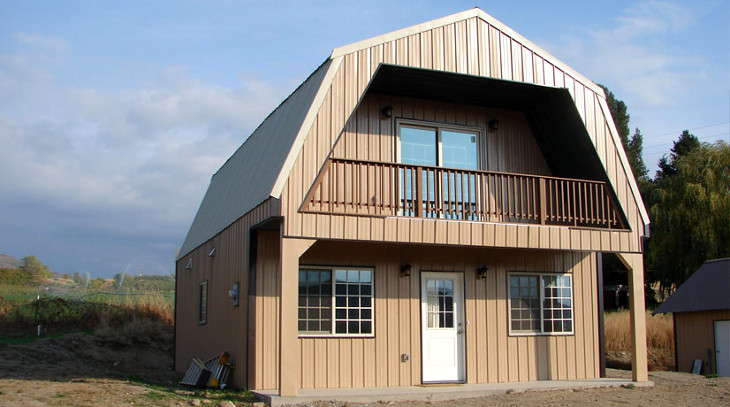 Just ensure that the company and contractor you choose to work with have the experience needed to meet both building code and environmental requirements in your locale. That way the whole process goes smoothly, from site prepping to moving in.