When you think of home, the first thing that comes to your mind is safety and peace. Safety from all kinds of influences from which you have to protect yourself.
In order to keep your home safe, you can take all kinds of precautions and use different means of protection. However, the initial safety checkpoint in your home is situated in your doors.
Every home owner knows how important it is for your doors to be strong, durable, aesthetic and practical. There are various types of doors made out of all kinds of material, and they each have their good sides and their bad sides. If you own a mobile home, storm doors are the best way to insure the safety of your house in more ways than one.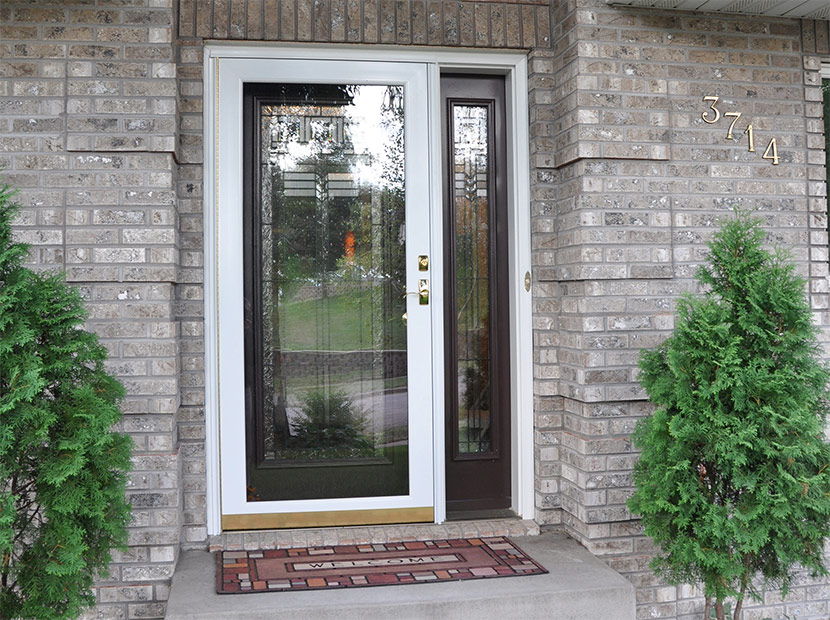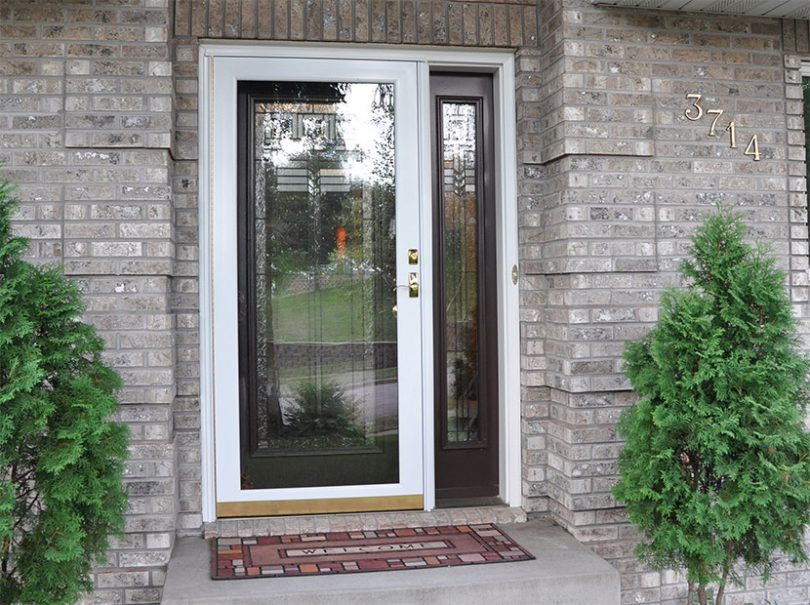 This is why in this article we are going to look into what types of mobile home storm doors there are, see all their advantages and disadvantages and more. We shall also see some accessories that you could find useful and talk about their use. All in all, by the end of this article you will have full knowledge regarding this interesting topic.
Storm doors – use, materials and design
Storm doors are a special kind of exterior door which is meant to allow airflow through your home while protecting it from very bad weather, hence the name "storm doors." These types of doors usually provide good visibility and keep the insects out of your home, thanks to interchangeable panels.
In most cases there are two sets of panels, one made out of glass and the other is called screen panel. Screen panels represent a framed mesh, usually made out of synthetic materials, and their purpose is to keep the insects out while providing a constant airflow.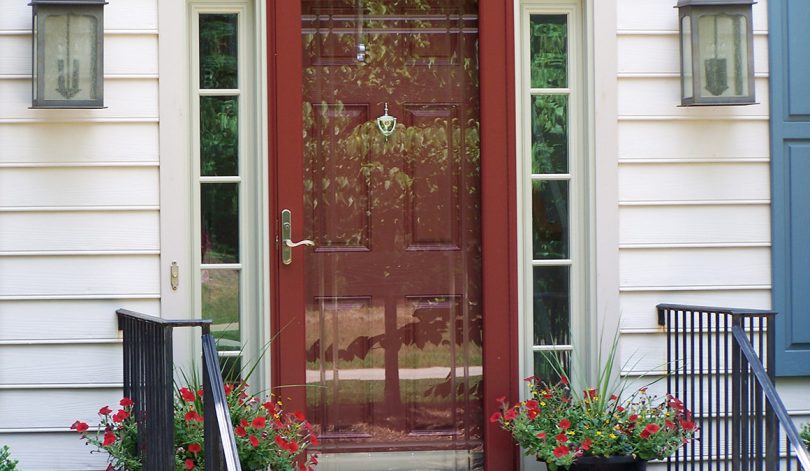 And it's not only insects, screens will also allow air to flow into your home and keep the dust and leafs outside. All you have to do is clean up when the weather settles.
When it comes to materials which can be used in order to build storm doors, the choice of materials is pretty much summed up into three most commonly used:
Aluminum
The main reason why aluminum is an excellent choice for your storm doors is its high level of resistance to corrosion. Next to that, aluminum is a very durable material so it's not going to bend or break so easily.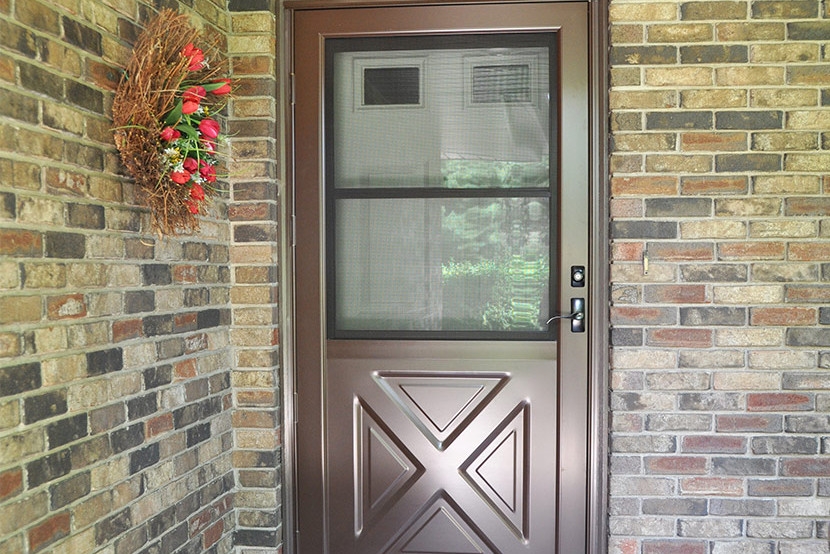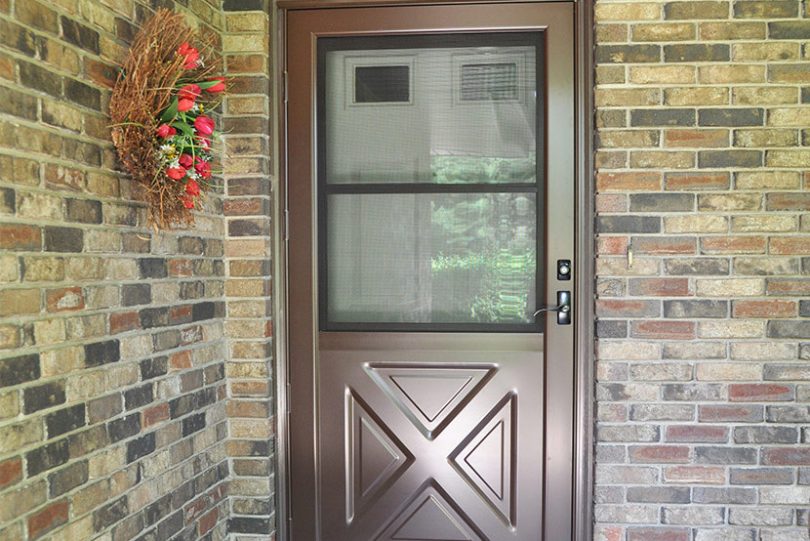 The maintenance costs are also very low, because there is no need to paint your doors as often as you would do it with wood. Aluminum storm doors can be found in various levels of thickness, which also determines the price of your doors in a way. Simply put, the thicker the door, the more money you have to provide.
Wood
Storm doors made out of are generally speaking more aesthetically pleasing, compared to other materials. However, when it comes to maintenance costs, wood requires a little more investment as the time passes.
In order to protect wood, you need to repaint it or otherwise coat it. In case you don't protect your doors, they will be more susceptible to weather, especially rain and snow. Wood is mostly the material of choice for screen framing.
PVC
Often called "vinyl," this material is extremely resistant to corrosion and the elements. In terms of maintenance costs, PVC doors are the most cost-effective choice, as there is no painting or coating necessary. The fact that these types of doors are molded allows for various shapes and decorations, which can give your door an elegant look, as well as provide security.
Some PVC storm doors have steel frames inside, which provide additional strength and durability. There are also those with thicker materials, so there is no need for any additional reinforcements. More expensive PVC doors are manufactured in a way that keeps the material safe from peeling, cracking or discoloration.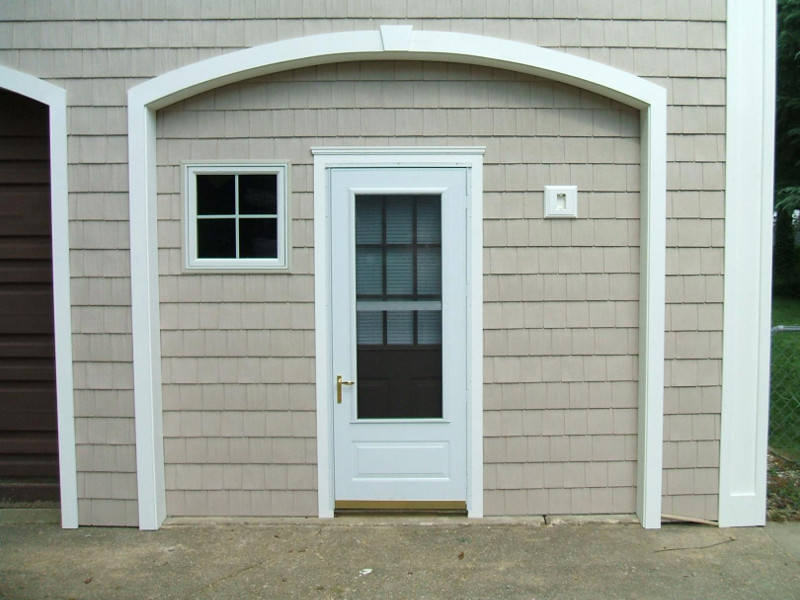 All these changes are likely to occur due to exposure to the sun's UV light in case of a lower material and production quality. So it would be smart to ask if your PVC doors have UV light protection, as not all of them possess this feature.
These three types of material have proven to be the best solution when it comes to storm door manufacturing. As you could see, each material has its own features that separates it from the others. It goes without saying that the material used for manufacturing also determines the price of the storm doors.
Apart from material usage, we can say that there are three basic design types of storm doors. Each of these design types have their upsides and downsides, so the choice is entirely up to your personal affinities. The basic design types of storm doors are:
Full-view storm doors – These types of storm doors offer a full view because their entire surface is covered in glass, except for the framing. In case you want to switch to a screen, the glass panel has to be removed and screen placed instead. Once you've changed the panels, all there is to do is to store the glass panel somewhere safe, for future use.
Ventilating storm doors – The name speaks for itself. These types of storm doors allow you to open up the glass panel and leave the screen closed in order to protect your home from insects. It's an excellent choice if you're living in a hot area, as it will allow a breeze of fresh air to circle through your home, and keep those nasty bugs out.
Rollscreen storm doors – These doors are actually pretty interesting and convenient. The screen is attached to the top of the storm doors, and can be rolled down when necessary. This means that there is no need for additional frame, and the fact that the screen rolls up gives your house entrance a more elegant look.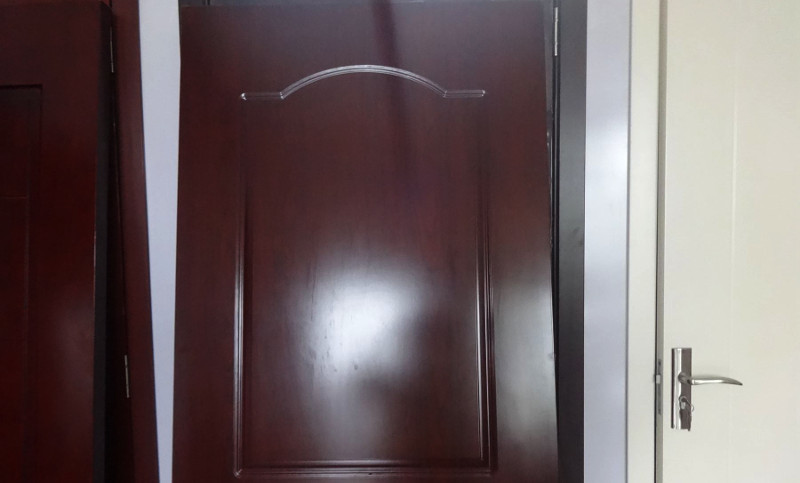 In terms of manufacturing materials or installation process, there is almost no significant difference between these three types of storm doors. The only difference lies in specific sets of features that each of these design carries.
Installation process
Before you decide to buy and install your storm doors, there are a few important things to pay attention to. You can't just buy any door you like, so pay attention to next few lines.
First, you need to check the dimensions of your jamb. The jamb is the opening in which the doors are installed, and not every jamb is the same. You will need a tape measure in order to check the width and height of your door jamb. Based on these measures, look for adequate door size.
The next important thing to pay attention to is the side of your hinges. Hinges are what you attach your doors to. In order to decide whether you need a right hand or a left hand doors, you need to step outside your home and look at the position of your hinges.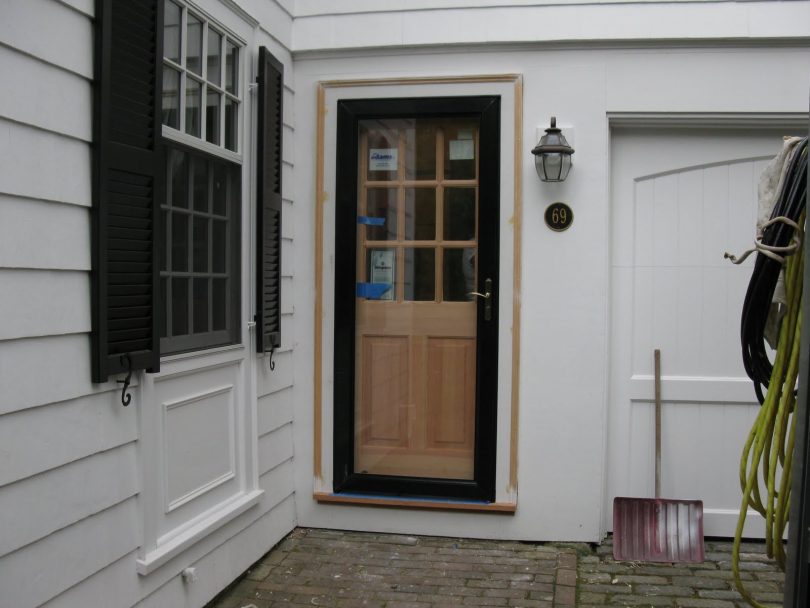 If your hinges are on the left side as you look at your doors from the outside, you need to buy left hand doors. The same goes if the hinges are on the right side; you need to buy right hand doors.
So now that you've taken into account all the important things, you can buy your doors and start the installation process. For this, you will need some putty tape and some screws. In case you didn't know, putty tape is necessary in order to prevent any gaps between the doors and the jamb.
Putty tape will also protect your home from any water leaks, and it could prevent the cold to get inside your home. Screws are needed to secure the doors.
One thing you must not do is open your doors before installing them. So keep your doors closed at all time during the installation process. Once the process is complete you can open your doors, and check if everything is ok.
One more important notice, during the installation process, make sure that you have protected yourself properly. Always use work gloves and safety glasses if you need to drill holes for your screws. It's important to keep yourself safe at all time.
In addition, always read the manufacturers installation guide before you start the process. Make sure that you have all the materials you need, as realizing you are missing something in the middle of the process will be a problem..
Step 1: Apply Tape
Take your putty tape and place it all the way along the backside of the door's mounting rim. Keep in mind that most putty tape brands have protective layer that you need to strip after you apply it.
Make sure that all the surfaces are properly covered. In order to make sure that the putty tape will stay there, feel free to press it down gently. This will keep your doors well sealed in the future.
Step 2: Place the Door
Move your doors into the jamb, being very careful while doing it. In case you need any help, make sure that you have an assistant. As you place your doors inside the jamb, move it towards the hinge side. Be sure that the door sill is on the floor and is secure. Once you align your doors with your hinges, secure them with some screws.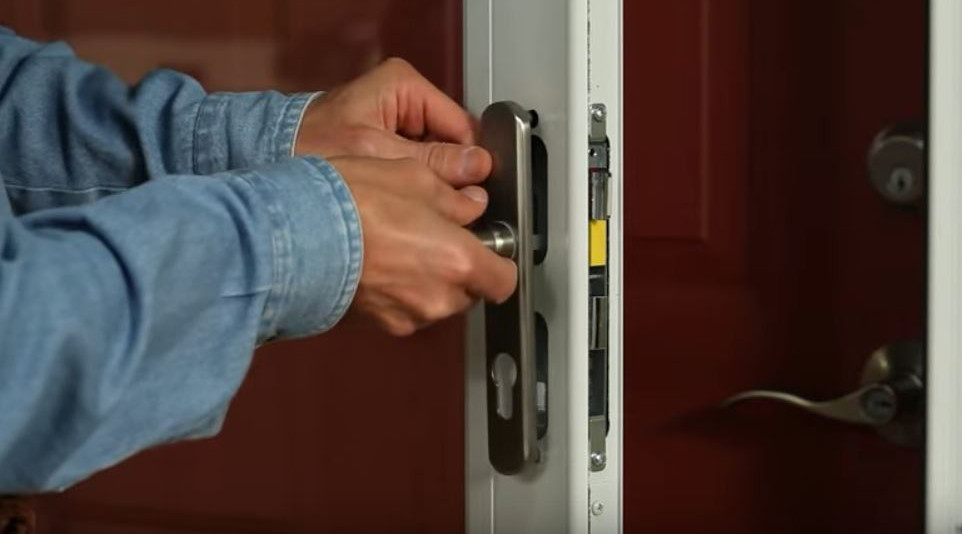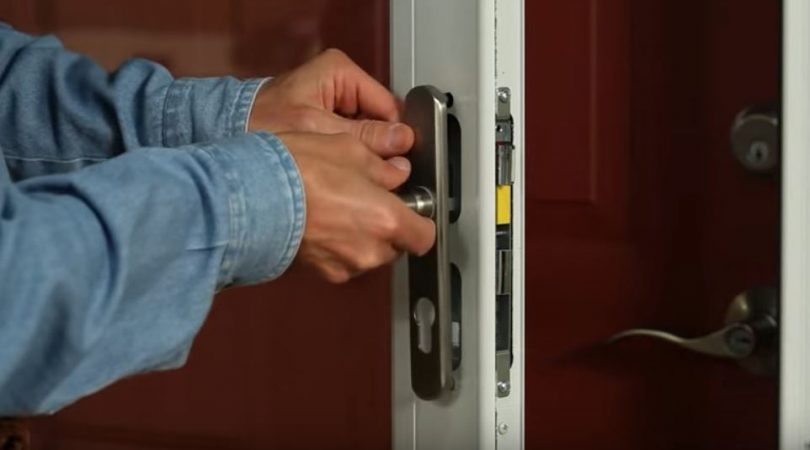 Depending on the manufacturer and the overall design of the doors, the position of the screws may vary. That's why you should check the installation guide provided by your seller or doors manufacturer.
And that's all there is; installation is that simple. Of course, if you don't feel up to the task, it's always a wise decision to call a professional. You don't want to end up doing more harm than good.
Mobile home storm doors accessories
There are a few accessories that are recommended to install on your storm doors. They could help you prevent any damage, so you can consider it as an investment that could easily pay off in case of a really bad weather.
We will only mention the types of accessories that might be useful for you; the brand is entirely your choice in case you decide to install any of these products.
Pneumatic storm door closer
This is a really handy addition to your doors. Door closers are placed on the top side of your doors, usually on the hinge side. The base of the door closer is fixed to the jamb, while the top, extracting side is fixed to your storm doors.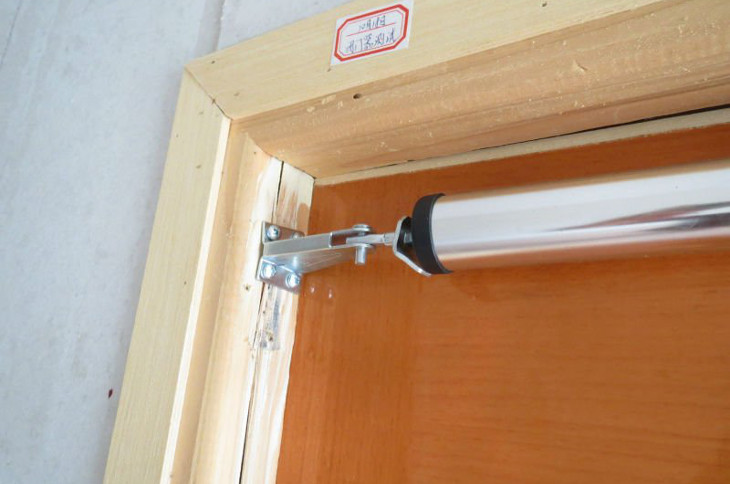 The purpose of this accessory is to automatically close the door in a controlled manner that will not allow door to bang and cause damage. Additionally it will let you open doors wide open and keep it open until you decide to close it. So basically, no need to worry if the wind will blow and slam the doors.
Door spring
A door spring is a safety mechanism that will keep your doors from opening and slamming back during winter days. This is a simple metallic addition in form of a spring. The installation process is simple and anyone can do it.
You need to secure one side of the spring on the hinge side of the jamb and the other side secure to your storm doors. It's simple as that, and it will prevent your doors from getting damaged, causing damage or hurting anyone.
Shut the Door!
As we could see, there are so many different variations regarding the design and the materials of storm doors. It's up to every individual person to decide which one best suites their interest, taste and budget, of course. All things considered, storm doors are a useful addition to any mobile home.
They  will provide you with additional safety and give you peace of mind. With low maintenance cost and simple installation process, this is a perfect solution for any home owner. This is the main reason why so many mobile home owners decide to install storm doors.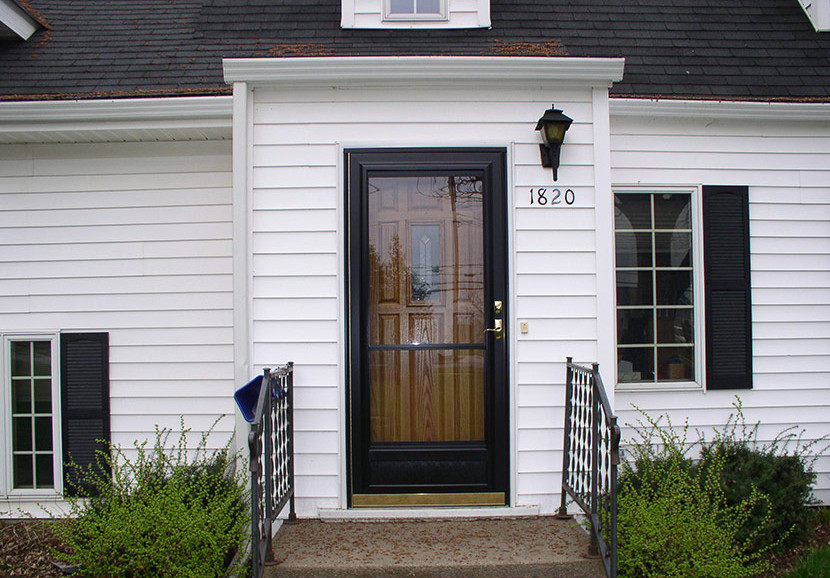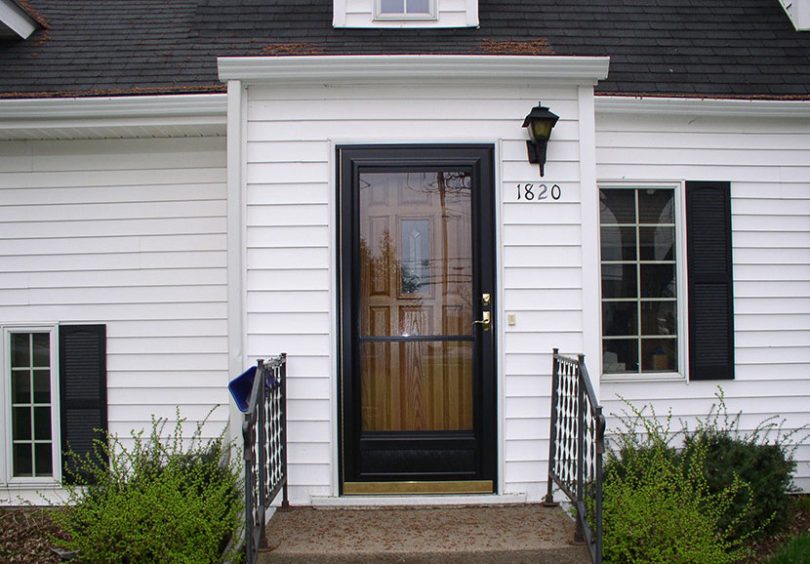 We tried to bring you all the information you need in order to decide what would be the best option for your home, now it's up to you to use this information to your advantage. Also, we would like to read about your experience regarding the storm doors that you have installed on your mobile home.
What tips do you have for other readers? Is there anything we missed? Let us know, and, shut the door!