Mobile homes make an affordable alternative to conventionally built homes while offering quality that often exceeds that of a 'stick-built' (site-built) home. Today's mobile homes are often referred to as manufactured homes and are built in specially designed factories.
When you begin looking at mobile homes to buy, you will need to compare the advantages and disadvantages of purchasing a new home compared with purchasing a used home. There are few disadvantages to buying a new manufactured home, and several potential disadvantages to buying a used one.
Once you decide on buying a mobile home, you need to think about property ownership and location for your manufactured home. Another important detail to look at is financing, which can be a bit different from getting a loan for a site-built home.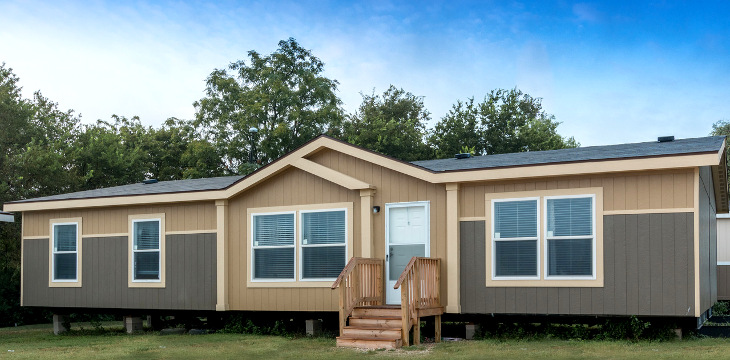 Finally, after property and financing are secured, and the arrangements are made for transportation, it is time to consider how your manufactured home will be installed on the property.
What is a Mobile Home?
The origins of this term are not what you may think — it actually refers to Mobile, Alabama, where the first manufactured homes were made. As we understand it today, a mobile home is a prefabricated home that is built in one or more pieces then transported to a property where it is more or less permanently installed.
Manufactured home is an alternative term that describes how they are built. Improved manufacturing processes, use of high quality building materials, and technology work hand-in-hand to build homes that are designed to last a lifetime.
When your manufactured home is set on a foundation, it is permanently installed. This means that your home, for all practical intents and purposes, is no different than a site-built home. If you plan to have your manufactured home permanently installed, make sure this is reflected in the deed to your house and its property.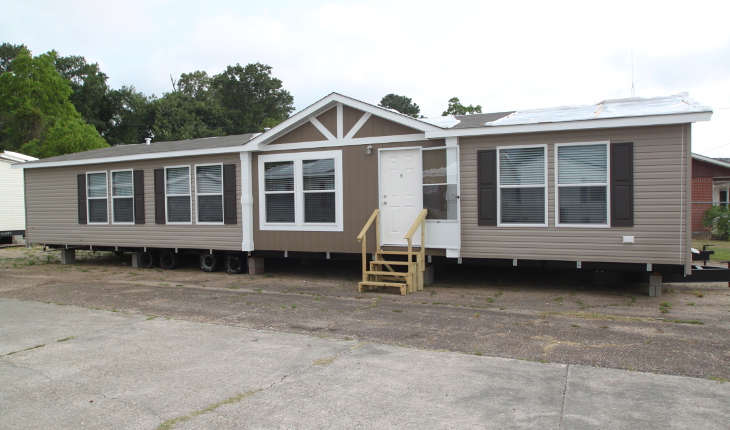 This will boost your property value. Another benefit is that your property value will appreciate over time. When a manufactured home is not permanently installed, its value depreciates over time.
A permanently installed manufactured home is set on a foundation, just like a site-built home. When permanently installed, a manufactured home has the same status as a site-built home.
Construction
Manufactured homes are built inside factories where all components of the home are made and assembled. Homes built in these factories must comply with HUD and other federal regulations, ensuring at least a minimal level of quality and energy efficiency.
Most homes built inside a manufacturing facility use the same lumber and building materials as site-built homes, with processes that make a manufactured home even stronger and more energy efficient than their stick-built counterparts.
Since they are built inside, the building materials used in manufacturing a home are never exposed to the elements. This eliminates wind and water damage to parts of a site-built home left exposed while being constructed.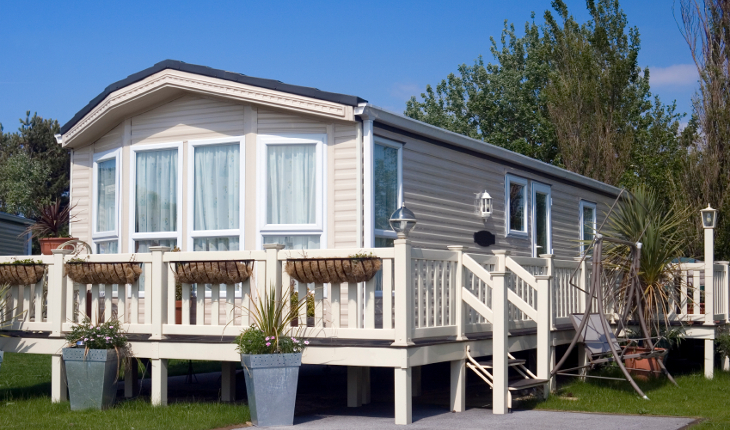 Today's manufactured homes are built with quality, brand-name building materials, using the same dimensional lumber as that used in site-built homes. Energy efficiency is built in with quality insulation, double-pane windows and insulated doors in draft-proof frames. Building techniques that seal spaces and incorporate proper ventilation also contribute to the high energy efficiency of a new manufactured home.
Design
A big advantage of buying a new manufactured home is the ability to design a floor plan that suits you and your family. The home manufacturer's design team will sit down with you to help you choose these floor plan that's best for your family. After that, the design team will help you choose flooring, wall finishes, cabinetry and appliances based on your budget and needs.
All flooring, wall finishes, cabinetry, fixtures and household appliances are available from quality brand names with options to fit every budget. Once you sign off on your home's design, it is scheduled for construction. Now, all you need to do is sit back and wait for your new home to be built.
Selecting a Mobile Home: New or Used?
When considering which one to choose, it is important to look at the total purchase price and cost of ownership for both new and used mobile homes. As a general rule, new manufactured homes will have much lower maintenance and energy costs than an older, used manufactured home.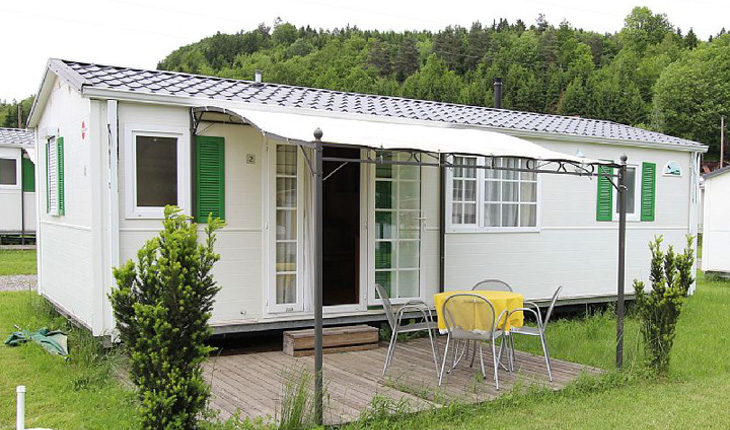 Older manufactured homes tend to be more expensive to maintain. Heating and cooling also tends to cost more due to old/poor quality insulation.
New manufactured homes
Since everything is brand new, ownership cost is low. Few repairs will need to be made during the first several years and the appliances that came with your home should last a long time without needing replacement.  Here are some of the main advantages:
Purchase price includes household appliances and transportation costs
Tremendous savings when compared with a site-built home
Financing options similar to that of a site-built home
Design it the way you want it at no additional cost or for a small fee
Short construction and installation time when compared with a site-built home.
Warranty on materials, home construction, appliances, and installation on property
Low maintenance cost due to the fact that everything is new
Lower energy cost due to manufacturing practices, building materials, and appliances that meet or exceed energy efficiency guidelines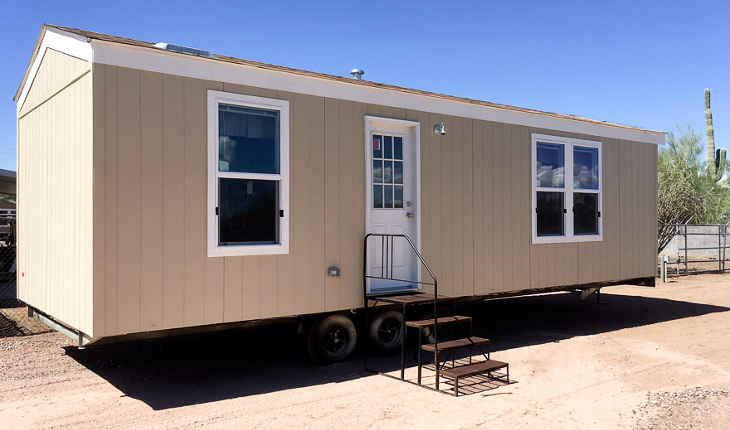 Here are some of the key disadvantages to new manufactured homes:
Damage during transportation sometimes occurs (make sure this is covered in the warranty for your new home).
May have to hire transportation to remove the old mobile home from your property (manufactured home sellers may offer to remove your old mobile home for free, if they can take ownership and resell it).
Used manufactured home
A general rule of thumb for used manufactured homes is to avoid buying any home that is more than a few years old.  The inferior quality of older mobile homes makes them more costly to maintain. Furthermore, heating and cooling will cost much more, due to old insulation and low-quality doors and windows. Here are some of the main advantages:
Purchase price may be much lower than that of a new manufactured home
Financing options are available, even for bad credit
Appliances already installed may be included in purchase price
Quick move-in time because you don't have to wait for it to be built
Transportation cost may be included in purchase price
Some of the disadvantages include:
Sold "As Is" with no warranty on the home or its appliances
May use non-standard plumbing sizes and fixtures, which can make repairs even more expensive
Cannot re-design to suit your needs (although you can remodel it on your own)
Lower energy efficiency, depending on how old the used home is (this translates to higher energy bills)
Financing may be difficult (lenders generally don't like to loan money for used manufactured homes)
Higher maintenance costs depending on age and overall quality of manufactured home
Home's structure has already been weakened by having been transported once
Transport damage may not be covered by any warranty
May have to hire transportation to remove old mobile home from your property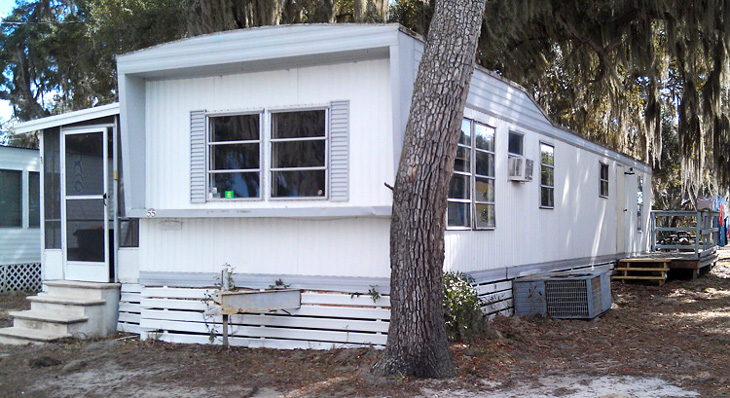 Private ownership
If you already own the property where you plan to install your manufactured home, then you have already taken care of the first step. However, you still have some things that require your attention, but they are typical for most homeowners. Here is a quick checklist of some things you will need to consider:
Property location Depending on where your property is located, you may be subject to laws and ordinances that place limits on the number of structures allowed on your property, along with restrictions on the types of structures allowed.
Public Utilities You will be responsible for the cost of running utility services to where you intend to put the mobile home. This includes, but is not limited to, electricity, water and sewage. If you plan on installing the home in a rural area, you may need to look into installing a well for potable (drinkable) water and have a septic system installed to treat household sewage.
Property taxes How you install your home may increase your property taxes. If you have your mobile home installed on a foundation, it will be considered the same as a site-built home for tax purposes. This almost always boosts property value, hence the increase in property taxes.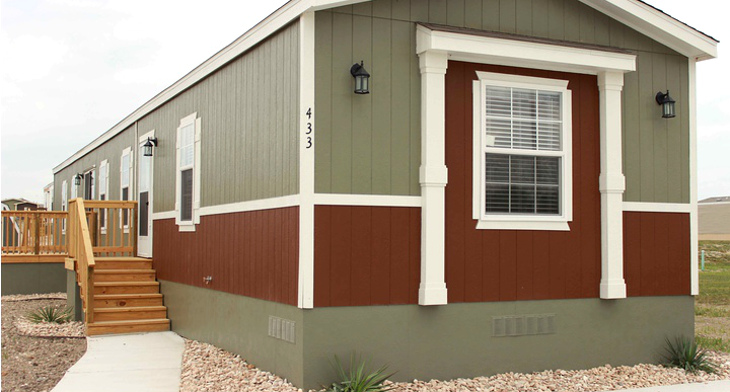 Rented or leased property
If you plan to live in a manufactured home community or trailer park, your mobile home will have to meet the standard allowed by the property manager. You will also have to pay lot rent or sign a lease. In most cases, you will have to pay for your own utilities and trash removal.
Financing Your Mobile Home
When looking to purchase a manufactured home, getting a loan can be a bit more confusing and substantially more challenging. This section will cover mortgages and other types of loans you can use to finance your manufactured home.
What is a Mortgage loan?
A mortgage is a loan that a bank gives you to help finance the purchase of real estate or property, using that property as collateral. If you find a home on a piece of property that you want to buy, the bank will loan you a certain amount of money, based on the value of that property.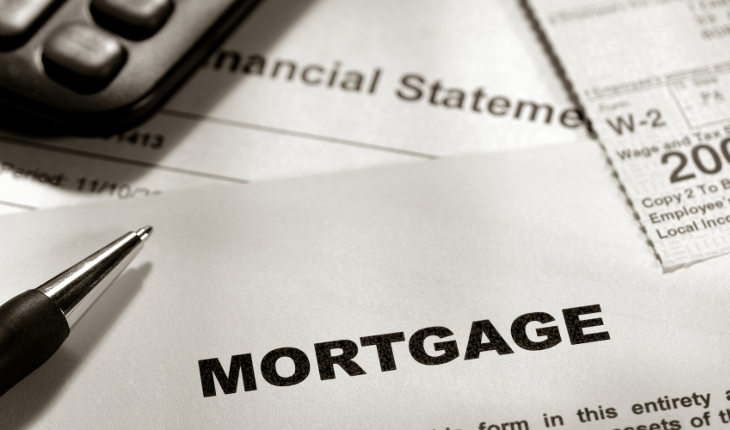 You, in turn agree to surrender the property to the lender should you get substantially behind in payments or become unable to pay the remainder of the mortgage loan.
Loan-To-Value Ratio (LTV)
A Loan-To-Value Ratio is a comparison between the loan amount you are borrowing and the value of your home. To calculate the LTV ratio, the lender divides the loan amount by the lesser of the home's appraised value or purchase price. A lower LTV ratio usually translates to a lower mortgage interest rate.
Private Mortgage Insurance (PMI)
Depending on your LTV ratio, you may be required to pay Private Mortgage Insurance. To avoid paying PMI, you can offer a down payment equal to 20% of the value of your mortgage loan.
Financing Options
Mortgage loan options
There are several mortgage loan options available for new and used manufactured homes:
Conventional 97 mortgage loan — Offers a traditional mortgage with 3% down at signing. Certain terms and conditions apply.
FHA Home loan — A mortgage loan that is insured by the Federal Housing Administration that features more flexible underwriting standards and rates that conventional loans.
VA loan — This type of loan is guaranteed by the Department of Veterans Affairs under its Home Loan Guaranty program. The VA Home Guaranty program protects mortgage lenders against defaults, which allows banks to offer lower interest rates to borrowers.
USDA loan — Known formally as the USDA Rural Development Guaranteed Housing Loan, it provides access to discounted rates, making them lower than comparable low-downpayment loans.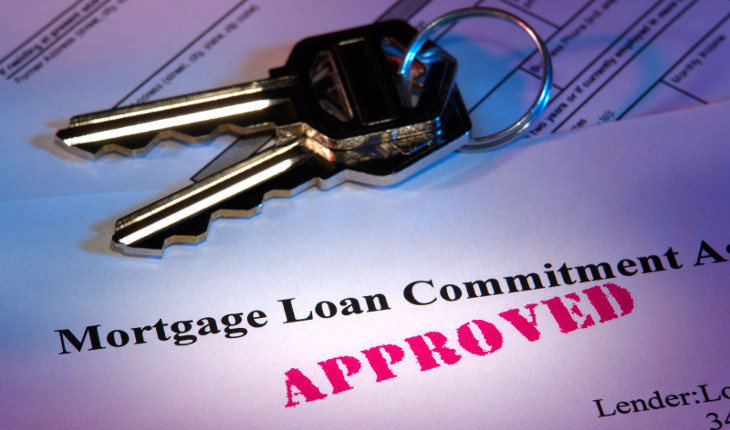 Retail Installment Contract
This is not a loan. It is an agreement between the buyer and the seller where the buyer agrees to pay the seller, over time, the value of the home plus interest. This is the same kind of contract used for payday loans and 'buy here pay here' used car lots. The retail installment contract has a bad reputation for defrauding consumers; sign one at your own financial peril.
Transportation of Your New or Used Manufactured Home
The companies that move manufactured homes have specially trained teams that prepare your home for transport, taking care that it arrives at your location with no damage. Skilled drivers with experience moving manufactured homes drive trucks designed specifically for delivering your manufactured home.
Even with the most skilled team and driver, there is a risk that your home may be damaged during transport. When talking with a seller about buying a manufactured home, ask how the damage to a home is covered in the event it is damaged during transport.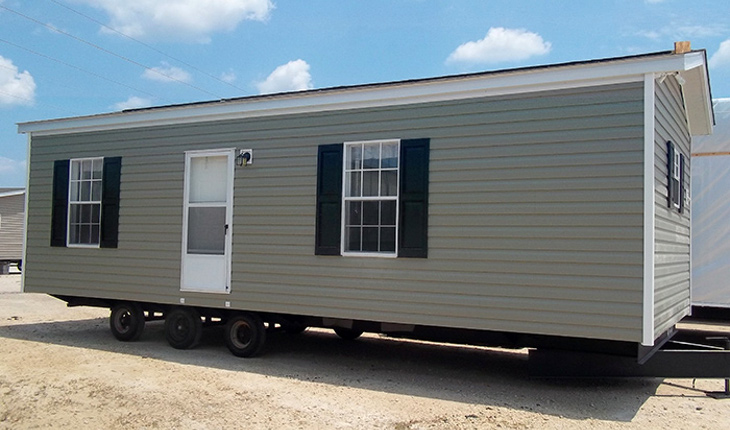 New homes are likely to be covered by a warranty. However, a used home may require you to purchase a warranty or some kind of insurance to cover damage that may occur while your home is being moved. Make sure it's covered — repairs to transportation damage can easily run into thousands of dollars.
Installation for Your New or Used Mobile Home
How you have your home installed affects both the property value and the resale value of your home. This will also have an impact on how easy or difficult it is to access the underside of your home for repairs.
Pier and soil
A team comes in and levels the ground where your new home will sit. After the ground is leveled, concrete piers will be set and leveled. Your new home will be set on top of these piers, with additional support provided by steel footers to help prevent your home from moving around on the piers.
After your home is set on its piers, the crawl space is enclosed with interlocking plastic panels that slide into grooves or tracks on the home and the ground. These help keep animals and debris from getting under your home.
Pier and Concrete
After you have ordered the home, you have a concrete slab poured where your new manufactured home will sit. Once the concrete is cured, a team will come in and set and level piers.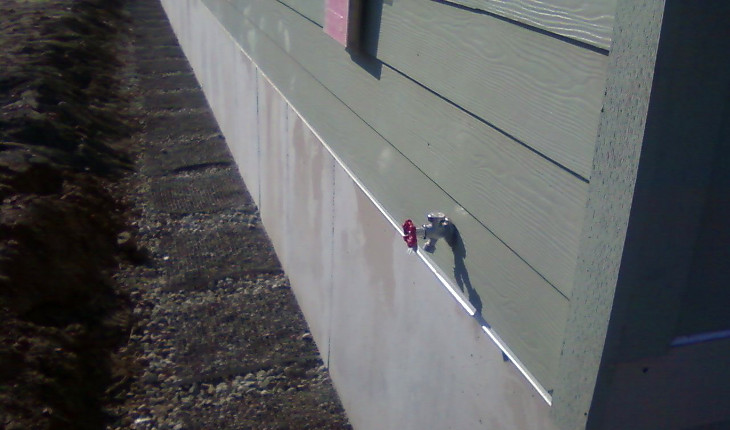 Your new home may be anchored to the concrete slab, or they may use steel footers as with the pier and soil installation. The crawl space is enclosed with interlocking plastic panels that slide into grooves on the home and the concrete.
Foundation with crawl space
This is similar to a pier installation, but with a brick, concrete block or poured foundation wall that the manufactured home will be set upon. Since the home is being set on a foundation, your house will be considered no different than if it was built on-site.
This will improve the value of your property. If you opt for a foundation, make sure the crawl space is ventilated and has at least one access door, just in case you need to access to the crawl space.
Foundation with basement
Your home is set over a poured concrete basement, with necessary weight bearing walls or supports in place to bear its weight. When building a basement, be sure to properly ventilate it and provide drainage.
Since you are permanently installing your manufactured home on a foundation, it will be considered the same as if it were built on the premises. As such, this type of installation will also improve the value of your property.
Manufactured home communities
If you are buying a manufactured home with the intention of installing it in a manufactured home community, you may have the option of buying the land upon which your home will sit. Even so, you may still be subject to restrictions on how your home can be installed.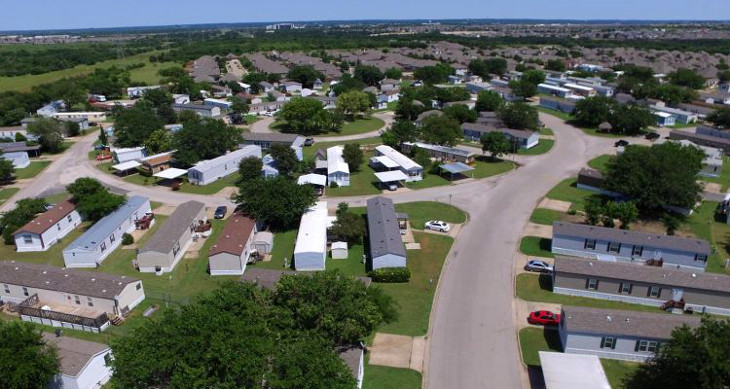 Be sure to check with local laws, building codes, and the property manager of the manufactured home community before building anything.
Wrapping Up
When you begin looking into buying a manufactured home, you quickly find that there are a whole lot of things that have to be done first, such as lining up and preparing the property where it will reside, making sure it will comply with local laws ordinances and property management requirements.
If you're looking to buy a used manufactured home, you need to carefully inspect it and learn how it was originally built. You also have to arrange to have it moved and installed at your new location. Transportation of a mobile home can be quite expensive, often costing thousands of dollars.
You also may need to have public utilities installed, if necessary, and make sure the location is properly prepared for your new home. After the seemingly endless details are covered, and your home is settled into its new spot, you can finally sit back and enjoy it.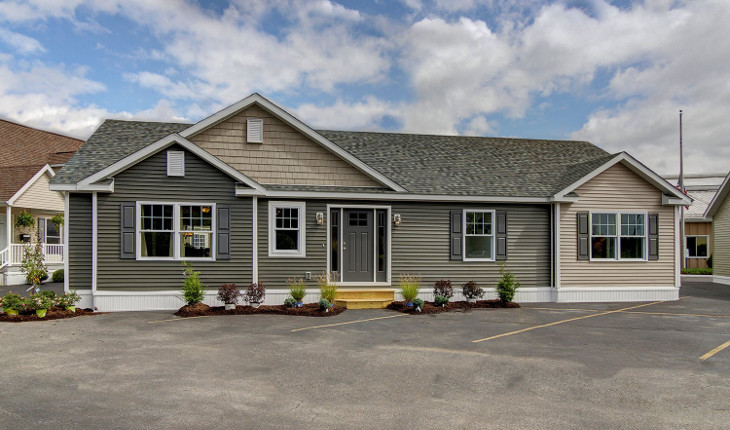 What did we miss? Do you have any experience buying mobile homes? What would you like to know that we haven't covered?
Send us your thoughts so we can all learn the best way to proceed.